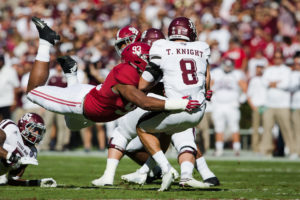 By Gabby Goodwin || Sports Editor
In the College Football Playoffs right now, the only team that has a little bit of time to relax right now is undefeated and No. 3 Notre Dame. With no conference championship game to play this week, the Irish can just sit back and wait for the selection committee to confirm their spot in the semifinal on Dec. 2. Meanwhile, however, No. 1 Alabama, No. 2 Clemson, No. 4 Georgia, No. 5 Oklahoma, No. 6 Ohio State, and No. 8 UCF all can still lose a spot in the CFP as a result of their conference championship games.
As history has shown, conference championship games can, ultimately, prove to be detrimental for some teams. In 2015, Iowa dropped from No. 4 to No. 5 after losing the Big Ten championship game. In 2017, Auburn dropped from No. 2 to No. 7 after losing the SEC championship game. And that same year, Wisconsin sank from No. 4 to No. 6 after losing to Ohio State in the Big Ten title game (espn.com).
If Alabama, Clemson, Ohio State, and Oklahoma all win their respective conference championship games, which seems to be the most likely scenario at this point according to ESPN's Football Power Index (which predicts that there is 38% chance they all win their respective conference titles), then it would come down to Ohio State and Oklahoma for the fourth spot. Though the Sooners have been ranked ahead of the Buckeyes in all of the past 5 CFP rankings, Ohio State, after beating Michigan last week, significantly closed the gap.
At the moment, Ohio State currently leads in strength of record, while Oklahoma leads in FPI–both which are virtually ties. Thus, the committee could go either way.
If Alabama loses, the Tide would most likely drop down to the fourth spot. The Tide have been the committee's No. 1 team all season, and their only loss would be to the No. 4 team. A one-loss Alabama, however, would then enter a debate with other one-loss contenders. Then, it would depend on how Alabama loses.
When asked a few weeks back about what is keeping Notre Dame from the No. 1 or No. 2 spot, Mullens said the committee viewed Alabama and Clemson as "more complete teams." Therefore, if Alabama loses to Georgia, the committee members would have to conclude that Alabama was still one of the four best teams. If Georgia truly stuns the Tide, then the committee would be forced to defer to its tiebreakers: strength of schedule, head-to-head competition, results against common opponents and conference championships.
Finally, if Clemson loses, they would still have two wins over ranked opponents–No. 19 Texas A&M and No. 20 Syracuse–but it would have lost to an unranked, five-loss Pitt. While comparable to Ohio State's loss to Purdue, the Buckeyes would have a better win against Michigan and a conference title. Oklahoma would also have better wins against West Virginia and Texas and a conference tite (espn.com).
Junior Gabby Goodwin is the Sports Editor. Her email is ggoodwin@fandm.edu.