By Daniel Robillard & Ruby Van Dyk || Investigative Reporter & Assistant Managing Editor
The College housing lottery is scheduled to begin this upcoming Thursday, April 30th. The lottery will include all on campus housing options available to students as well as off campus housing owned by James Street Properties. All students who have not already selected their housing and have not opted to live in either College Hill or College Row apartments will be included in the lottery.

But, with the uncertainty of whether or not F&M will be forced to continue online in the fall, students are concerned about entering year-long leases that will not be void if the College is forced to remain online for part of, or the entirety of, the fall semester.

Many of the students opting to live in College Hill and College Row signed their leases before the global pandemic, making the situation unfortunate, but decided. According to President Altmann, The College Hill Apartments are full, with 110 students already having signed leases for the 2020-2021 school year. In College Row, 360 students have already committed with a signed lease and deposit.

Molly Sproul, a rising senior, signed her lease with College Row in mid-February. "I don't expect the school to force crow students out of their leases but I think it's a little unfair that those in crow still have to pay for the whole year because we might be in person in the fall or spring"

But for the students who have not signed leases yet or are planning on entering the lottery on Thursday to live in a property owned by James Street Properties, things seem different.

"Although my plan was to live on West James, I don't want to sign a binding lease without having all of the information on the state of the 20-21 school year. This added worry of now trying to alter my housing plans for next year is an unnecessary stressor." said Maxine Musto, a rising senior.

Although the College refers to them as "off-campus" options, James Street Property houses are included in the housing lottery along with on-campus options. These properties, which house approximately 250 students, were subject of a recent $30 million transaction resulting in a change in ownership, according to a 2019 LNP article and Lancaster Industrial Development Authority records.

The transaction appears to be part of what is referred to as a public-private partnership (P3) project. Requests for comments from those involved in the transaction have not yet been returned before publication. In the 2019 article, posted to lancasteronline.com, Peter Durantine, Director of Media Relations for the College, commented on the transaction, saying "after 30 years, ownership of the buildings would pass to F&M." James Street Properties, which is affiliated with Silverang Hallowell Development Company, owned by F&M alumnus Kevin Silverang, had the ten-year contract for the properties that was recently set to expire. According to details of the transaction, it appears that James Street Properties will remain as the property managers. Steve T. Park, partner at Ballard Spahr and the leader of the Philadelphia law firm's P3/Infrastructure Group, was quoted in the LNP article, which is also posted on the firm's website, discussing the transaction saying, students "really won't know the difference."

While many students looking to live in one of these properties in the fall remain confused and unsure about what to when the housing lottery begins on Thursday, students who currently live in James Street Properties have been unsure about who owns the houses they are leasing. In its response to the COVID-19 pandemic, the College has stated that leases for James Street Properties houses are an "arrangement with an external property owner, regardless of whether the College acts as an intermediary….Accordingly, the College cannot issue credits or refunds for rent in housing that is not College-owned."

However, according to copies of tuition and room & board payments shared by students with The College Reporter and as indicated in policies published on the College's website, students who enter leases for these properties are billed by the College and make payments directly to the College on a semester basis. Spaces for these properties, the College states, are only available in the annual housing lottery. According to an occupancy agreement for the 2020-2021 academic year provided by West James Street Housing and the College, "Franklin & Marshall College" is identified as the "landlord", and the lease is specified as being "between the College and the occupant." Additionally, while the College lists the leasing agents as the contacts for College Row and College Hill apartments, it lists F&M's Housing Director Lori N. Foust as the contact for James Street Properties.

President Barbara Altmann, in an email to The College Reporter, said "we don't know definitively when we can make the decision about whether we'll be back on campus or continuing online for the fall semester. Our intention is to make the decision no later than July 1." Leases for James Street Properties, however, are 12-month commitments that begin on June 1, one month before the College plans to reach a decision on the fall semester.

President Altmann did not yet provide an answer to whether or not the College had a financial incentive in James Street Properties being full for fall semester.

Asked about the Administration's decision to continue on with the housing lottery on Thursday, President Altmann said "we anticipate that we may need to make adjustments as decisions are made by the Commonwealth of Pennsylvania, the federal government, and the College, regarding how we will deliver the curriculum this fall."

However, the College has not indicated if it is considering making the leases (which students are required to sign in order to live in a James Street Property house) non-binding until a decision is reached in the fall. "As we do every year, we urge students (and their parents or guardians) to carefully read and understand the conditions of the leases they are signing," Altmann said in her email to The College Reporter.

Other than the email that was sent to all students about the housing selection process back in February, the College has not elected to send any further messages to students reminding them that the leases for James Street Properties—offered in the housing lottery this Thursday—are binding agreements, regardless of whether the College decides to move to online instruction in the fall. In her emailed statement, President Altmann emphasized that "students should be taking their individual circumstances into account while making informed choices. As always, we encourage students to discuss their options [various] campus resources.

Colette Shaw, the Dean of Students, has offered advice to a few students regarding the housing process:

"When considering signing a lease with one of the private landlord residences (College Row, College Hill, and James Street Properties), you do need to know that these are binding contracts—even during the pandemic. Even though we are keeping our fingers crossed about being back in session on campus this fall, that decision has not been made. If you go through the lottery process and choose a room in a College-owned residence, you can always make the switch later to a lease with no penalty, but you can't sign a lease and then opt out—even if F&M is fully online. These are tough decisions, so think very carefully about how to approach this."

These words of advice have not been echoed by the College's official widespread communications to students who are considering whether or not to live in James Street Property houses for this Thursday's lottery.

"We know that housing decisions can be stressful for many students during the best of times, and it is even more stressful during a global crisis. Having more information, where possible, is helpful for our students' peace of mind," President Altmann explained in her email. In a preliminary response, President Altmann commented that "there are aspects of the James Street Housing arrangement that are different from those for the other providers" but was unable to provide further explanation about this arrangement at this time.

President Altmann and other members of senior Administration have not yet further elaborated on whether or not the College has a responsibility to ensure that the leases for James Street Properties are non-binding, like all of the other options available in the housing lottery.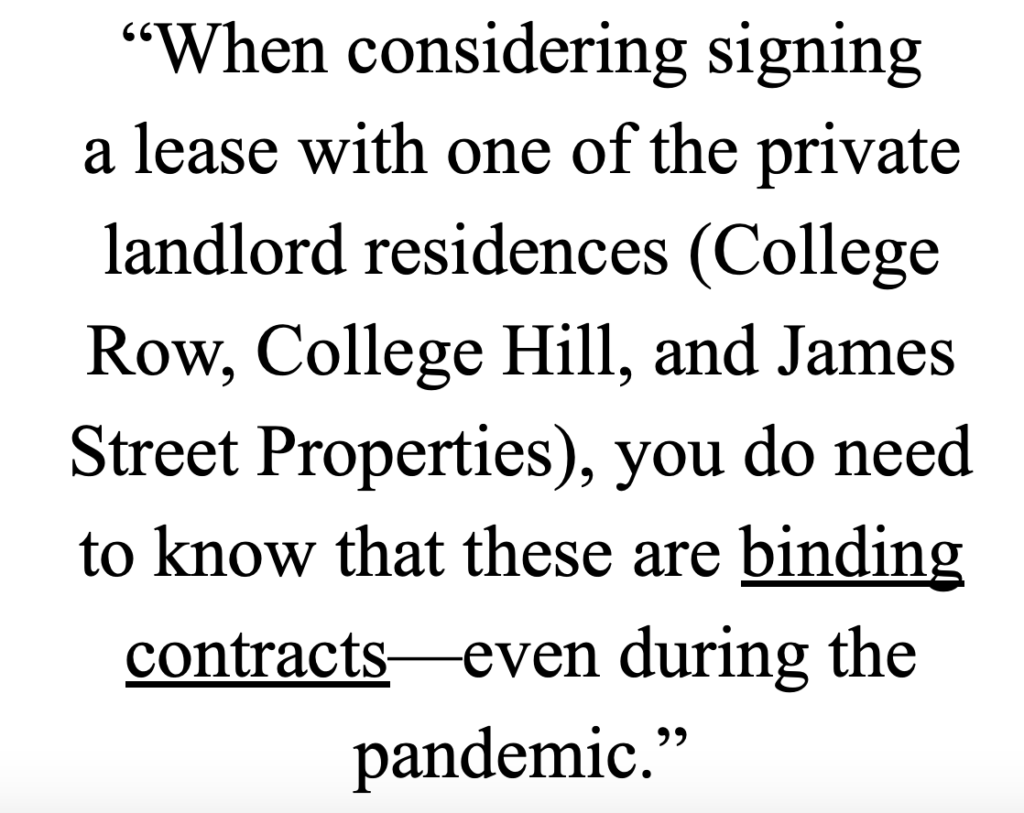 Requests for comments by F&M's Director of Housing Lori N. Foust, Vice President for Strategic Initiatives & Acting Vice President for Finance and Administration Alan S. Caniglia, and Associate Vice President for Administration Barry L. Bosley were referred to Vice President and Dean of Student Affairs Margaret Hazlett. Dean Hazlett later referred The College Reporter to the remarks that President Altmann made in her email.

Angela White of Susquehanna Reality (College Hill) and Shannon Mahoney of Campus Crossings at College Row did not return requests for comment.

Sophomore Daniel Robillard is an Investigative Reporter. His email is drobilla@fandm.edu.
Junior Ruby Van Dyk is the Assistant Managing Editor. Her email is rvandyk@fandm.edu.