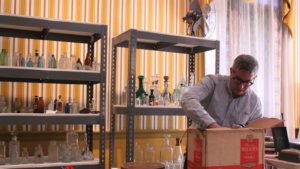 By Shira Gould || Staff Writer
This past Wednesday, Mark Dion, a conceptual artist of scientific thought, gave a lecture in Stahr Auditorium. He discussed many of his international projects that are based on bringing life to untold history. His mission is to give an accessible narrative to the overlooked species and stories in life. 
Dion spoke about his many projects, one of which was in Venice. Dion was invited by the Nordic Pavilion to dig through the lagoon in Venice to create art out of any man-made objects he could find. Dion introduced the audience to Venice by sharing its relationship with the surrounding water: the water is a dumpster. He gave the example of someone who had a broken washing machine. It would be very expensive to have someone come by boat to remove it from the house, and yet no one wants a broken washing machine taking up space. As such, the simple solution is to throw it into the water. The water, from Dion's perspective, is filled with useful sludge, sludge that can be manipulated into art if done in the correct way. Dion said he played the role of an alien, trying to make sense of the many mysteries found in the water. Dion described the scene as fetid, and yet archaeologically rich. In his work, he used a museum paradigm in which he focused on organizing each of the findings in various structures from size, color, or utility. It is an intentionally disorganized piece of work which is meant to inspire the consumer to analyze Dion's thought process. It is intended to tell the story of its own creation.
In addition to Dion's work in Venice, he also discussed his work in London in Foreshore, which is a body of water that is exposed to the city and is in turn rich in material culture. Dion asserted that "every time the tide goes in and out, it's like taking another roll of the die."
The Foreshore bank was surrounded by morally reprehensible experiences, and was therefore a keeper of interesting secrets which Dion made it his mission to discover. Dion and his team found thousands of manmade objects and were able to create a cabinet in order to tell their stories through a series of varying organization styles.
Dion has also devoted many of his works to educate people about animals that are typically overlooked. For example, Dion created a seagull appreciation vehicle in order to convince seagull haters of the bird's value. He also made an effort to provide park visitors a place to bird watch and to educate themselves on the species.
Dion emphasized his urgency in the question and answer portion of the talk. He said that when he first began his work, he felt a sense of urgency because he had hope that he would be able to change things. Now, however, Dion is less sure. He is certain that he needs to continue taking a stand for the environment and the untold histories of humanity, but he is less sure that he will be able to save the planet through his art. With that being said, he feels a greater necessity for activism now, in this time period, than he did before.
First-year Shira Gould is a staff writer. Her email is sgould@fandm.edu.