By Daniel Robillard || Investigative Reporter
As colleges and universities across the country have announced their plans to return to campus for the fall semester, many professors have said they won't be teaching in-person classes. Some schools have told their faculty that they will be expected to resume in-person instruction come the start of the fall semester, prompting backlash from professors.
In an effort to allow faculty to share their thoughts about a fall reopening, the Franklin & Marshall College Faculty Council developed a survey that was administered earlier this summer. "We gave faculty agency in determining whether they individually wished to return to on-campus instruction or keep teaching online," F&M Provost Dr. Cam Wesson told The College Reporter. "Many of the schools that are presently experiencing pushback from faculty didn't do those things in the same way," he added. Faculty who are not comfortable returning to in-person instruction this fall will be allowed to teach their courses fully online with synchronous components.
Although faculty were given the option to decide whether or not to return to in-person instruction earlier this summer, "the model that the College will be using doesn't allow professors to move to online instruction in the course of the semester" if, for example, cases begin to spike, Wesson said. According to Wesson, about 25% of F&M's faculty elected to not return to campus this fall and will be teaching their courses fully online.
According to the new Fall 2020 Master Schedule released by the Registrar's Office, more than a third of the courses being taught in Modules 1 and 2 will be taught entirely online. Because a significant portion of courses are being taught online, it is potentially possible that some students may have all of their courses online. However, students will know beforehand if all of their classes are being taught online. "We wanted to be able to provide our students with that knowledge before they come to campus, whether they're traveling all the way from California and Florida or coming from New Jersey," Wesson said. To help limit the number of students on campus in the fall, the College is encouraging students who will be taking only online courses to live at home for the semester.
The number of courses being taught online varies considerably by department and major. Some departments, such as Physics and Japanese, will be teaching all of their courses in-person while departments like Economics and Psychology will be teaching more than two-thirds of their courses online. The Chemistry Department will be teaching all of their courses online this fall. The decision to move all of its courses fully online was "guided by our desire to deliver the best educational experience to all students in our courses in an effective, equitable, and safe manner given the circumstances under which we will need to operate," Dr. Scott Brewer, the Chemistry Department Chair, said.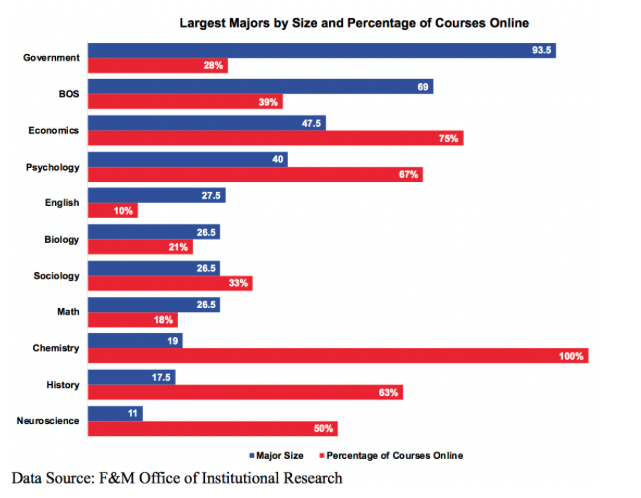 The majors of BOS, Economics, Psychology, Sociology, Chemistry, History, and Neuroscience—which together made up about a third of the Class of 2019—all have more than a third of their classes being taught online in fall. In total, about 65% of F&M's academic departments will have at least a quarter of their classes online when the campus returns in August and almost half plan to have at least a third of their classes online.
Some professors will be teaching an entirely separate set of courses—ones tailored to teach students in time zones halfway across the world.
This fall an estimated 100 students will attend one of three F&M satellite programs created for international students who are unable to travel to the U.S. because of the pandemic. The largest of the satellite programs will be held in Shanghai, with 65 students attending F&M "remotely" at a campus facility owned by another U.S. college. Other smaller satellite programs will be held in Beijing and at F&M's campus in Bath, England. Students will be offered online courses taught by F&M professors that are synchronous and tailored to their specific time zones. Students "will have a house affiliation and faculty advisors and Dean Hazlett and the Office of Student Affairs are working to ensure that those students can participate in clubs and organizations," Wesson said. "Our goal is to give them the comprehensive F&M experience," he added.
The College is likely facing significant financial shortfalls for the coming academic year due to lost revenue sources such as room and board for international students who are unable to travel to the U.S. The College also faces a difficult dilemma—the more students that decide to return to campus in the fall, the more difficult it will be to mitigate the inevitable spread of COVID-19 at F&M. However, the College also loses a substantial source of funds when students decide to stay home for the fall semester.
With the deadline for the Fall 2020 Commitment Questionnaire passing this Monday, the College will likely have a more accurate estimate of how many students will be returning to campus in the fall, how many will be attending remotely, and how many will be taking semester leaves by the end of the week.
Junior Daniel Robillard is an Investigative Reporter for TCR. His email is drobilla@fandm.edu 
The previous version of this article contained inaccurate information regarding the percentage of classes being taught online by the Economics and Psychology Departments. This has been corrected.