By Ellyn Fritz || Editor-in-Chief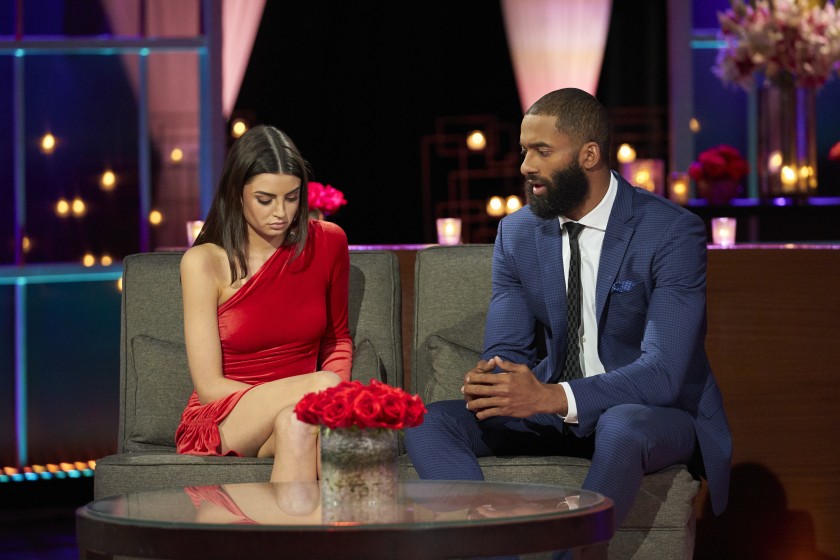 Amidst the 25th season of The Bachelor, one of the contestants, Racheal Kirkconnel, was embroiled in controversy regarding leaked photos of her at an antebellum-themed plantation sorority party in 2018. In addition to the pictures, previous classmates and acquaintances of Kirkconnel claimed she had acted racist in the past, saying she would pass judgment on and bully her white female friends when they had feelings for Black men. The Bachelor franchise and Kirkconnell herself refused to comment on the situation until former Bachelorette Rachel Lindsay set up an interview with host Chris Harrison to investigate what the franchise planned to do about the contestant's problematic behavior and what their plans were moving forward.
At the time of Harrison's interview with Lindsay, Kirkconnel had not yet apologized for or addressed her actions, something which Lindsay voiced concern about to The Bachelor producer. In the interview, when asked about the allegations against Kirkconnel, Chris Harrison defended Kirkconnel's actions, ultimately stating that her behavior in 2018 was more justifiable than it would have been today in 2021.
Following the interview with Lindsay, both Harrison and The Bachelor franchise started receiving backlash from the public. In the following few days, both Harrison and Kirkconnel released apologies to the public. Harrison stated, "What I now realize I have done is cause harm by wrongly speaking in a manner that perpetuates racism, and for that, I am so deeply sorry." In a similar omission of fault, Kirkconnel said, "At one point, I didn't recognize how offensive and racist my actions were, but that doesn't excuse them. My age or when it happened does not excuse anything. They are not acceptable or okay in any sense. I was ignorant, but my ignorance was racist."
Despite Harrison's attempt at making amends with the public, his expression of ignorance came at a time when people were already looking for an overhaul of The Bachelor franchise's culture, which made the impact of his words that much more incendiary and hurtful. Harrison went on to inform Warner Bros and ABC that he would be taking time away from the show and released a statement acknowledging the damage his ignorance caused. However, his stepping down does not change the deeply ingrained white culture of The Bachelor.

Matt James, the show's 25th bachelor and first Black bachelor, spoke out about Harrison's actions: "As Black people and allies immediately knew and understood, it was a clear reflection of a much larger issue that The Bachelor franchise has fallen short of addressing adequately for years."
In the "Final Rose" episode, James publicly expressed his struggles with both the photos of Racheal Kirkconnel and Chris Harrison's interview. The photos of Kirkconnel were released after the show had finished filming, and Kirkconnel had never informed James of their existence, something James found troubling. Additionally, James took issue with the way Kirkconnel handled herself during the backlash, as she was slow to release a statement or apology. During the "After the Final Rose" special with new host Emmanuel Acho, James explained how the tensions in their relationship caused by the photos spoke to a larger problem: Kirkconnel's lack of understanding of what it means to be a Black person in America and her overall ignorance of racial inequality. James explained to Kirkconnel that he started questioning their relationship when he realized that if she could not see what was wrong with a plantation party in 2018, she has to fundamentally educate herself on not only the deeply ingrained systemic racism of America, but also the role she plays in perpetuating racism. "It was in the context of you not fully understanding my Blackness and what it means to be a Black man in America, and what it would mean for our kids, when I saw those things that were floating around the internet," he reflected.

For James, this scandal came at a time when he was not only making a personal choice about his relationship, but also as America at large is reckoning with pervasive racism. As he told Kirkconnel, it is not his job to hold her hand to guide and educate her on issues of racism as a Black man. Instead, it is her job to independently educate herself and arrive at a better understanding of what it means to be Black in America. James spoke out about the pressure he felt to make a decision that not only worked for him but felt right in modern American society, too.
Season 25 of The Bachelor highlighted how unprepared the franchise is to have these difficult conversations and move towards an inclusive and diverse culture for people of all different racial and ethnic backgrounds. Moving forward, hopefully, Season 25 and the efforts made by Matt James, Rachel Lindsay, and Emmanuel Acho to speak out about the necessary improvements needed in The Bachelor franchise will push production to meet the demands of modern America.
Junior Ellyn Fritz is the Editor-in-Chief. Her email is efritz@fandm.edu.