By Joe Giordano || Sports Editor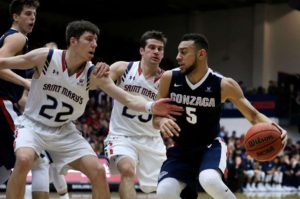 The last few weeks of the college basketball season promise to be nothing short of action-filled and exciting. While the Gonzaga Bulldogs have started their season with a remarkable 28-0 record, there are plenty of teams still in the mix and looking to make a run. Teams like Villanova, Baylor, Kansas, UCLA, North Carolina, and even a late surging Duke could all be realistic options to take home the title come April 3rd.
The Gonzaga Bulldogs are no doubt the surprise of this college basketball season. Their 28-0 start to the season is 5th best start ever to a season by any team and the team from the West Coast Conference is primed to make a run. Nigel Willams-Goss and Przemek Karnowski have been the leaders of the Bulldogs and they are out to prove to people that they are for real. The team has often been criticized for their weak strength of schedule and their lack of ranked wins, but this Gonzaga team has all that it takes to make a run deep into the tournament.
The other storyline worth noting is Villanova's chase to repeat as National Champions. The Wildcats have started off their season very strong, boasting a 26-2 record, with their only losses coming on the road to a ranked Butler team and a close loss to Marquette on the road. While it is nearly impossible to repeat in the world of college basketball, this Villanova squad has a very strong chance of running the table come March. With the National Championship hero Kris Jenkins, Josh Hart, and Jalen Brunson all returning this year, the Wildcats have the experience that will help them in tough situations in the tournament. They won't fold under pressure and this is why many experts have Villanova once again running the table.
Last but not least, teams in the Big 12 and ACC have been making waves and have real potential, due to the strength of their conferences, to win it all. Kansas and Baylor just engaged in a back in forth battle that was only decided by 2 points, proving that there is little differentiating these two teams.
In addition, the wild and crazy ACC has been no doubt the strongest conference in college basketball once again. In a recent projection, the ACC was predicted to have an astounding 9 teams enter the tournament field. Each and every night, anyone can beat anyone in the ACC, which could give these teams a real advantage. The North Carolina Tar Heels have been strong all season and Justin Jackson has looked like the star that many thought he could be this season. In addition, the Duke Blue Devils, the preseason favorite to win the championship, have been playing very well as of late after a slow start to their year. With their immense talent and deep bench, Duke will be a force to be reckoned with in the tournament, whether their seed reflects that or not.
This March Madness is shaping up to be an incredible display of basketball with no clear-cut favorite to win it all.There is little to no doubt that, as its nickname states, madness will ensue this upcoming March.
Junior Joe Giordano is the Sports Editor. His email is jgiorda1@fandm.edu.