By Ken Mehlman '88 || F&M Alumnus and Trustee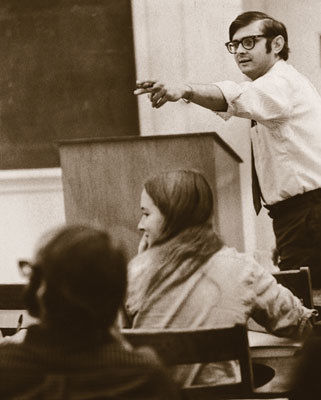 Professor Stanley Michalak was the best professor I ever had. While I was fortunate to learn from many wonderful teachers at Franklin & Marshall and then in law school, none impacted my life like Professor Michalak.
I'm not alone. In the hours since we learned of his passing, I've heard from many of his former students. One told me that Professor Michalak took him to buy his first job interview suit. Another was inspired to a lifetime interest in geopolitics. A third remembers Michalak's lecture series as an F&M highlight.
I was first introduced to Professor Michalak as a second semester freshman when I took his International Relations course. During the next three and a half years, I took every course he taught. His classes were more than just a place to learn about foreign affairs: They equipped me with invaluable lessons for life. Here are a few that I found most compelling:
1. Passion: Stan Michalak's classes were hard and entertaining: The Socratic method meets Rodney Dangerfield. His passion for policy was obvious. He peppered us with tough questions that required students to stand behind our oral or written answers, make us rethink our assumptions, and tell hysterical self-deprecating stories about himself and his family.
2. Preparation: Fearing a Socratic question, Michalak's students couldn't do enough to be ready for his lessons. I went so far as to imagine questions, and write out or speak out possible answers before each class. Hard work, but you also learn anything is possible with maniacal preparation. To this day, I use the "Michalak method" to prepare for important meetings, encounters or presentations.
3. Humility: While Professor Michalak could be tough on students and rigorous in debate, he never took himself seriously. He loved jokes at his own expense and laughed at his idiosyncrasies. My senior year, F&M unrecognized Greek Life. I was Phi Tau President, fancied myself a dissident and rallied in front of Old Main, burning a check to warn of forthcoming alumni defunding. Professor Michalak gave me unmitigated grief, correctly noting that a serious rebel would have burned his own cash.
4. Precision: A regular Michalak assignment required repeated answers to the same question, each using fewer words: First, a one page limit, then a single paragraph, then a sentence and finally a word. He helped us learn to boil things down to their essence.
5. Empathy: The best arguments respect and understand the other side's views: Professor Michalak required students to argue both sides, particularly taking positions that students personally opposed. This process made each of us smarter and more empathetic.
2020 should encourage all of us to consider mortality more seriously: What is our purpose? How do we spend our time? Who learns from what we do and how we act? What do sickness and death mean?
We may have lost Stan Michalak to COVID, but great teachers never leave. Through their example, and their lessons, their souls live on. Stan Michalak will always be part of his students' lives—how we think, over-prepare, make light of our own eccentricities and try to take our work but not ourselves too seriously.
Forever Stan Michalak!
Ken Mehlman '88 is a Trustee of Franklin and Marshall College.