BY MARK ROSSMAN '14
Layout Assistant
The men's tennis team is off to a solid start with a 4-2 Centennial Conference record, and overall are 5-7. It is difficult to believe, but the spring sea- son is nearly over, with only three games left. The team has their work cut out for them this week, and will be gearing up for matches against Gettysburg College and Muhlenberg College Tuesday and Thursday, and then home at Dickinson College Saturday, all of which are Conference matches. This week will be an important week for men's tennis.
This week, the team played Haverford College where they lost a close match 5-4, away in Haverford, PA. Singles players Tommy Weibye '14, William MacArthur '14, and Nolan Bacchieri '15 defeated their opponents, and then Weibye and Bacchieri came back onto the court for doubles play to defeat their opponents again. Weibye deserves particular credit for coming back after a 1-6 set loss, and ultimately defeating his opponent 6-4, 1-6, 6-2. It is not an easy thing to come back from a 1-6 set, but he came back ruthless and confident, taking his opponent down 6-2 in his third and final set.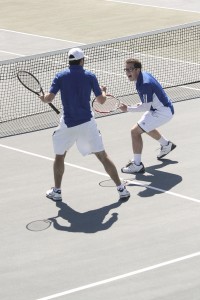 After wondering if it is hard learning tennis and after a couple of intense practice, the team this year came to win, with a more rigorous off-season workout schedule than in past years. This year, a group of tennis players practiced together by playing each other about three or four times a week, and did strength training and conditioning together as well. Time together during the off-season can often translate to success in the regular season, and the team wouldn't be where they are today if it weren't for the hours they spent preparing for this season.
Head coach of four years Sean Kelleher said, "We are not allowed to run practices in the off-season however we were able to give them the tools in the fall to continue to train and improve."
The tennis team took this advice and guidance and ran with it, conducting their own training schedules, building a foundation for the season ahead of them. When asked what some highlights the team has had so far this season, Kelleher said, "I think some of our highlights have come in our losses." Something you would not necessarily expect to hear from a head coach. "Some of our losses have been extremely close and tough to schools like the University of Mary Washington and the College of New Jersey."
Both programs have consistently been nationally ranked over the past five to ten years, so it speaks a lot to say that F&M tennis was right up there with them.
"The matches we are playing against tough competition is building the mental toughness required to beat a top-tier team," Kelleher said.
Although the team will be losing two seniors, Tim Belford '12 and Eric Rouff '12, this year they plan on maintaining their confidence and skill. Six members of the team will be seniors next year, so a lot of returning athletes will be coming back for their final year of F&M tennis. Six members of the team means nearly 40 percent of the team will be returning seniors; this is unheard of, but could prove to be a very good thing in the years to come.
"Our main goal is to stay focused and work hard," said Ross Silverberg '13. "Hopefully, this will translate into more wins, and possibly even breaking into the top 30 in the nation."
The team will be playing at Gettysburg College at 4:00 p.m. Tuesday, will be at Muhlenberg College 5:00 p.m. Thursday, and at home against Dickinson College 12:00 p.m. Saturday. The team has a tough road ahead of them this week with three big matches, but I am confident they will step up to this opportunity as they have time and time again this season.
Questions? Email Mark at mark.rossman@fandm.edu.
[fblike layout="standard" show_faces="true" action="recommend" font="arial" colorscheme="light"]