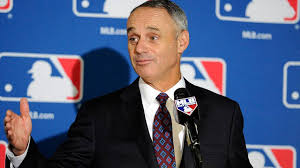 By Gabby Goodwin || Managing Editor
Over the past couple of weeks, the Houston Astros have been the primary focus in the world of professional baseball for their latest sign-stealing scandal. Mike Fiers, a pitcher who played for the Astros in 2017, told The Athletic that the organization used a video camera in center field to film the opposing catchers' signs to the pitchers. Astros players or team staffers watching the live camera feed behind the dugout would then signal to their batter what kind of pitch was coming.
In light of this scandal, pitchers across baseball have been checking their calendars to see when they will have the opportunity to get retribution against the Astros for cheating by intentionally throwing at Astros hitters. MLB commissioner, Rob Manfred, said, in a sit-down interview with ESPN, that he would be sending out a memo warning teams not to throw at Astros hitters, noting that the punishment would be severe.
"We have been working on for some time a memorandum about being hit by pitches, intentionally throwing at batters," Manfred told ESPN's Karl Ravech. "It's really dangerous, really a dangerous undertaking, and completely independent of the Astros investigation we will be issuing at the beginning of this week a memorandum on hit by pitches which will increase the ramifications of that type of behavior" (nypost.com). According to a statistical analysis by the American Journal of Sports Medicine conducted from the 2011 to 2015 seasons, 2,920 injuries occurred in MLB as a result of batters being hit by pitches. Those injuries resulted in 24,624 days missed over those five seasons (thefederalist.com).
Manfred said that he will also be meeting with every MLB manager over the next month, and the issue of intentionally hitting Astros players up to bat will be discussed. "It is simply not appropriate to express whatever frustration you may have growing out of the Astros situation by putting someone physically at risk by throwing at them," Manfred said. "It's just not acceptable" (nypost.com).
Dodgers pitcher, Ross Stripling, was very outspoken on the issue, saying he "would lean towards yes" when asked if he would seek retaliation against the Astros in the form of throwing at hitters.
Manfred considered stripping the Astros of their 2017 World Series title, but didn't, as such a thing has never happened in the history of major league baseball before. Manfred suspended manager A.J. Hinch and General Manager Jeff Luhnow for a year (before owner Jim Crane fired both of them), fined the Astros $5 million, and docked the team's first-and-second-round picks in the next two drafts. Dodgers star Cody Bellinger called Manfred out for what he believed was a "weak" punishment.
Aside from the penalties already placed on the 2017 World Series champs by Manfred, the Astros will suffer a more painful self-punishment. The championship itself is forever tainted and, like the 1919 Black Sox, the current Houston Astros team will forever be known as the one that cheated. The glory they felt as they lifted the trophy and slipped on their World Series rings is gone.
Jim Crane's apology on behalf of the organization, which stated that "It was the Wild West of tech and we were best at it because we removed any moral compass when it came to rules and decency and we won a World Series because of it and earned all this cash, and we are giving neither back nor are we apologizing. Crane out," was not received well by anyone, for that matter.
According to Manfred, however, "Whatever a team does, for better or worse, it's part of the responsibility of my position – we'll continue to work with the Astros to help them put this behind them. I think in the time that's gone by, some players have been out individually. I think they've done a much better job taking responsibility and expressing remorse" (nypost.com).

Senior Gabby Goodwin is the Managing Editor. Her email is ggoodwin@fandm.edu.