By Olivia Schmid || Columnist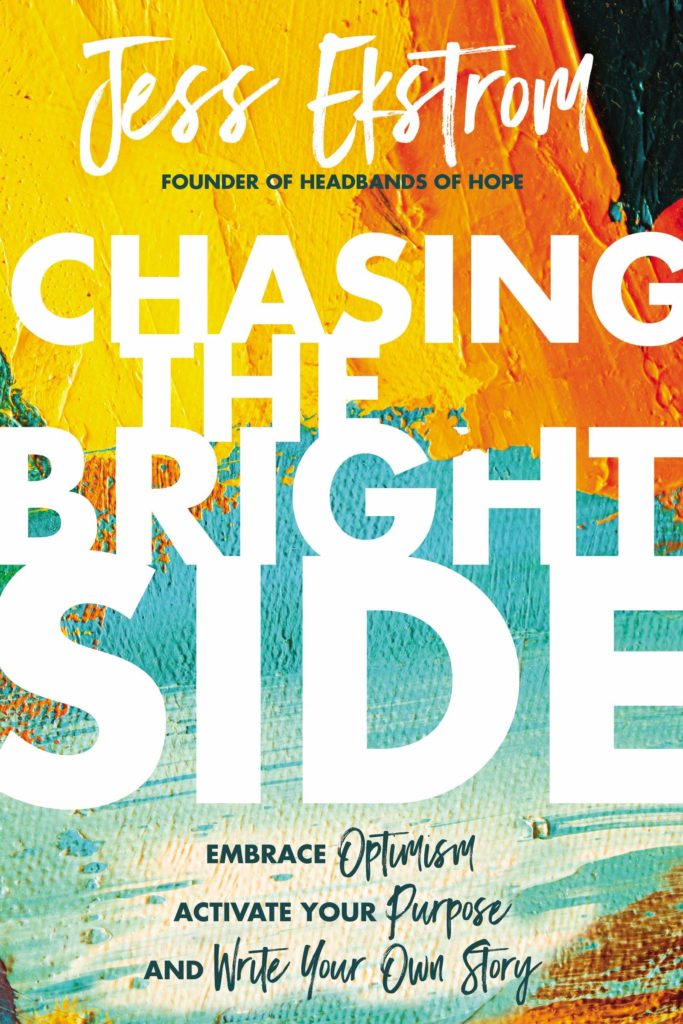 The one book I've read so far that has inspired me the most has to be Jess Ekstrom's Chasing the Bright Side: Embrace Optimism, Activate Your Purpose, and Write Your Own Story. This is the one book that really set me up for having the right mindset going into college. In less than 200 pages, Ekstrom manages not only to inspire readers with her own story, but also to help them understand exactly how optimism helps change their mindset to propel them forward as college students, entrepreneurs, or public speakers. (Or maybe all three!) There is no better way of changing your life than by changing your mindset.
I know, I really sucked you in by mentioning how short the book is. I want to point out right off the bat that this isn't one of those foofy and unrealistic "be happy all the time" books or anything. It's real and incredibly raw.
You may recognize Ekstrom as the founder of "Headbands for Hope," her self-made business that donates additional headbands to children battling cancer with every purchase (check it out at https://www.headbandsofhope.com). She gathers most of her insight from the experiences she had in the process of dreaming up and creating this company.
No matter where you are in your college career, opportunities are coming from all over. We witness these opportunities by focusing on the good possibilities out there, which is where the idea of optimism comes into play.
Optimism often receives a bad reputation. Have you ever been told that you're too optimistic for your own good? Been there, done that. Ekstrom explains that having optimism doesn't mean that you are numb to bad things in life but that you acknowledge the pain and still believe that good can come out of it anyway.
While this book is loaded with great advice, I'm primarily going to focus on the best advice I got out of it, which I'm sure many can relate to during the pandemic. We are all diving into new experiences and trying to get the most out of them.
According to Ekstrom, "We can't control all our experiences; we can only control what they mean to us and the story they write for us."
When you experience something you can't control, you will amaze yourself with what you can achieve when you have no other choices. I bet you've dealt with your fair share of pain, loss, and frustration in these last several months. It's normal and completely okay to see those moments for what they are: a really tough situation. However, I urge you to take a step back and look at where you are now—you've made it this far. You're still here, and you're still breathing. Take it easy.
And if you can't take it from me (or Jess Ekstrom), don't forget that quote all over Pinterest that goes something like: "So far you've survived 100% of your worst days."
Let's talk about experiences and stories because, in fact, they aren't the same thing. Ekstrom stresses that experiences are the moments in our lives that we can't control, while the stories we tell reflect how exactly we interpret, internalize, and react to those experiences. This means it's all about the mindset; one experience can elicit several different stories.
So, what stories are you relaying about the experiences you've had recently? We can take a negative experience and use it a catalyst to enact change, which is what happens the moment a lot of people turn into entrepreneurs (a whole OTHER theme in Chasing the Bright Side).
Yeah, I just brought up the big E word. A huge misconception of entrepreneurship is that you have to have a certain professional level of expertise in order to be qualified to create and be entrepreneur-y. While education and a level of understanding are beneficial, to say the least, they're not always necessary to start off. If we focus too much on our lack of experience or qualifications, we'll never give ourselves the chance to evolve and try because we're too worried about whether or not we're supposed to be there in the first place.
In other words, you can't wait until you feel totally qualified to begin or you never will. You're capable of the things coming your way. Que será, será.
I give this book a LOT of credit for my mindset coming into my first year of college. Had I not read it, I wouldn't have been in the mindset to take advantage of the opportunities I've taken advantage of since coming to F&M. I wouldn't have this column (which I'm loving), I wouldn't have run for student government and been appointed VP, and I wouldn't have put myself out there to meet new people in the first place.
In the midst of the COVID-19 pandemic, you may have to look a little harder for opportunities to put yourself out there. But when you find it, run with it. And you will be surprised by what it brings you. Bet on yourself and give yourself a shot.
And that's the gist.
First-year Olivia Schmid is a Columnist. Her email is oschmid@fandm.edu.