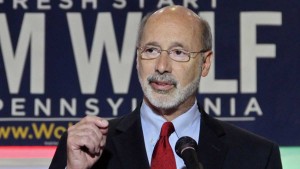 By Steven Viera || Senior Editor
Tom Wolf, governor of Pennsylvania, will deliver F&M's Commencement Address on Saturday, May 7. In addition to his speech, Wolf will receive an honorary degree alongside Rick Gray, mayor of Lancaster, his wife, Gail, and Nilaja Sun '96, an actress and playwright.
"I am honored to be delivering Franklin & Marshall's 2016 Commencement speech," Wolf told The College Reporter. "Throughout my time as governor, I have made education at all levels a priority. I look forward to joining the Class of 2016 as they celebrate their hard work and begin a new chapter in their lives."
Wolf assumed the role of governor—his first elected office after a long career as a businessman and civil servant—in 2015. While not an F&M graduate, Wolf has a connection to the school through his wife, Frances Wolf '96, who is now a vice-chair of F&M's Board of Trustees after becoming a member in 2004.
The Commencement speaker and recipients of honorary degrees are selected after review and consideration by the College's Honorary Degree Committee (HDC). The HDC's meetings are closed and its deliberations are confidential; additionally, the HDC considers candidates for the following year, so Wolf was evaluated in 2014-2015.
"The purpose of the [HDC] is to consider nominations for honorary degree recipients at Commencement that have been solicited from the F&M community at large," said Fronefield Crawford, associate professor of astronomy and chair of the HDC when Wolf was evaluated. "After deliberation, the [HDC] presents the president with a pool of recommended candidates for consideration with some background and justification for selecting the particular set of candidates."
Aside from Crawford, the HDC consisted of several other faculty members: Marco Di Giulio, assistant professor of Hebrew language and literature, and Amanda R. Merryman, assistant professor of organization studies. The HDC also included four students and several ex officio members who provided logistical and administrative suggestions.
"The HDC starts with the list of candidates that have been submitted by the community at large, and then produces a select pool," Crawford said. "The HDC tries to select candidates that have demonstrated an outstanding level of contribution in their area of focus, as well as an alignment with the ethos and mission of the college. In addition, the HDC tries select a diverse set of candidates."
Rick and Gail Gray, two recipients of honorary degrees this year, are noted for their work in the Lancaster community and the arts community, while Sun—the other honorary degree recipient—has been celebrated for her work in theater in New York City, where her solo-piece "No Child…" earned her an Obie Award. According to this article on F&M's news website, Sun has won myriad other awards, including two NAACP Theatre Awards, been recognized as NOVA's "Artist of the Year," in 2010, and starred in television and film roles on productions such as Madame Secretary.
"It is a privilege to present such a distinguished group of honorees to our students, their families, and other guests at this year's Commencement," said Dan Porterfield, president of the College, in the F&M news article.
Echoing Porterfield's comments was Crawford, who also expressed enthusiasm for Wolf's eventual selection as Commecement speaker.
"I am pleased that F&M was able to secure a prominent and accomplished national figure for graduation," he said. "It is especially nice that he has a connection with F&M through his wife, who is an alumna and a member of the Board of Trustees."
Senior Steven Viera is the Senior Editor. His email is sviera@fandm.edu.