By Lily Vining || Investigative Layout Assistant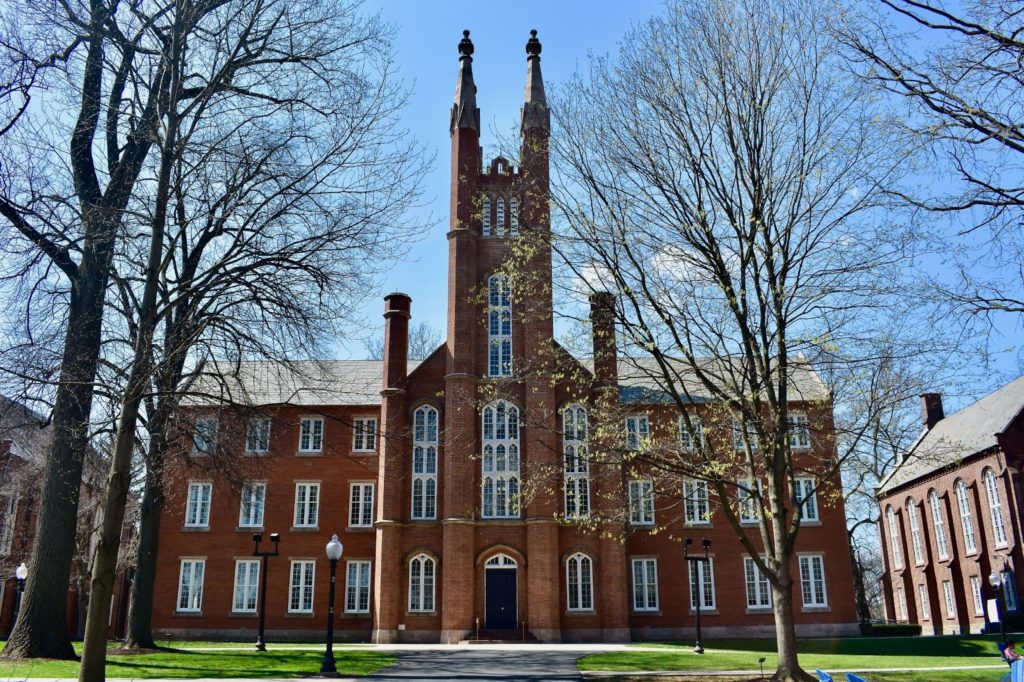 The Coronavirus pandemic resulted in many interruptions to life over the past year, including the disruption of higher education across the globe. Colleges and universities faced numerous obstacles when challenged with reopening for the 2020-2021 academic year, and 44% opted to shutter their campuses and educate solely through a remote model, according to the National Conference of State Legislatures. However, administrators and staff of Franklin & Marshall College refused to let the pandemic take away the valuable experiences that students receive from living and studying on campus. With this decision, F&M was tasked with developing testing and quarantine protocol to keep students and staff safe and mitigate the virus' spread while the pandemic continued to rage in the community and across the nation.
The process of developing and carrying out COVID testing and quarantine procedures required a team effort from faculty and staff across campus. Alan Caliglia, a key member of the Pandemic Operations Response Team or PORT, described how many hands went into making this year possible. "It required everyone in the community working together," Caliglia stressed, "just to make being in residence possible." From procuring personal protective equipment and test kits to setting up Dip DIY cleaning stations across campus to converting various Athletic facilities into makeshift testing sites, the preparation for students' arrival for the fall semester was enormous.
In the fall semester, F&M utilized entrance testing and a follow-up test a week later for all students. Following these initial tests, random surveillance testing was conducted on 20% of total students in residence every week for the first module. Another element of the college's testing procedures included testing wastewater from the residential buildings for traces of the virus. After various false positives and modified quarantines of entire dorm buildings, the college opted to change its procedures. Caliglia noted that "[wastewater testing] was a good program but it was not a viable replacement for more frequent testing."
As national best practices shifted towards a more frequent testing model, F&M transitioned towards testing one-third of students every week on a three-week cycle for the second module, which helped catch more cases and prevent a much larger spread. As the country entered the second wave of positive cases, the college saw its largest number of positive cases in the final weeks of the semester, ending 2020 with a total of 89 confirmed cases.
For the spring semester, the college further increased the frequency of testing to twice a week for all students living in or commuting to campus. Members of PORT state that the change helped to reduce the number of sudden quarantines necessary after abnormal spikes. Another addition to the spring testing protocol was a master database, which COVID Testing and Quarantine Coordinator Deb Moriarty called "game-changing." The database streamlined the entire process, alerted staff and students of positive tests faster, and made it easier to contact students who are infected or have missed their testing appointments. Not only has the increased testing and better technology aided staff, but it has also helped students feel more secure about the presence of the virus on campus, according to Moriarty.
As the frequency of testing on campus increased, so did the number of positive cases. As of April 27th, there were a total of 111 students who tested positive during the spring semester alone, with 43 active cases. While this number surpasses that of the fall semester, PORT members agree that overall the semester has been a success. Caliglia acknowledges that due to the less frequent testing during the fall, there were likely more positive cases that were not reported in their testing. He says that he feels more certain that all positive cases have been caught during the spring, and that the college has been able to mitigate massive spreads of the virus effectively with immediate contact tracing, quarantine, and isolation. Another factor contributing to the recent spike in cases is that the positivity rate in the Lancaster community has risen recently as well, but F&M itself has remained relatively COVID-free for most of the spring semester. Caliglia and other members of PORT contribute the remarkably low number of positive cases for the majority of the semester on the adherence to the F&M Pledge. "Their commitment to safe practice has been remarkable," Caliglia said in praise of students, who remained dedicated to safety guidelines and responsible for their impact on the community. The clusters of positive cases seen on campus were mostly traced back to communities of students living in close proximity, according to Moriarty. Clusters of students living in shared spaces like Sorority and Fraternity houses, apartments, and the Lofts were more susceptible to small outbreaks. Luckily, contact tracing and frequent testing were able to pinpoint, isolate, and mitigate their spread. Overall, the change in testing fostered a more "predictable and stable" second semester, which enabled students to continue to engage in many elements of the Diplomat experience.
F&M is one of few schools in the Lancaster County and Centennial Conference that opened its campus for the fall semester and committed to such frequent testing procedures. Numerous other small liberal arts schools like Dickinson College and Gettysburg College did not open their campuses for the Fall 2020 semester. Upon return this spring, Dickinson's administration was in close contact with F&M's Coronavirus task force members, including Mike Wetzel, for guidance. Dickinson moduled its testing and quarantine procedures on those of F&M, requiring twice-weekly testing for students studying in person. Other schools that elected to test less frequently include Bryn Mawr College, Haverford, Swarthmore, and Muhlenberg. These schools followed practices comparable to F&M's fall random surveillance testing strategy, so there is a high probability that many of their infected students fell through the cracks. Millersville College, another one of F&M's neighbors, elected not to conduct routine COVID testing in the fall— and their staggering 222 total cases show their decision. Compared to other schools in the region and across the country, F&M showed a clear focus on the health of its students, faculty, staff, and the greater community with its testing procedures.
F&M will continue to keep the best interests of the entire community in mind while planning for the next academic year and have already confirmed that all students will be welcomed back in August. Members of PORT and the administration are not certain exactly what housing, testing, and classes will look like in the coming months due to the rapidly changing guidelines and best practices, but Moriarty says that they are all "cautiously optimistic" about the semester. She predicts that the continuation and frequency of testing will be determined by continued progress towards vaccination and decreased positivity rates in Lancaster and nationwide. Another factor that will influence campus life next year will be the vaccination efforts for all age groups. According to Moriarty, about 200 students are reported to be fully vaccinated, and many more have received at least their first dose. As other colleges come out as requiring students to receive vaccinations prior to coming to school, including Rutgers, University of Notre Dame, Brown and Yale, students across the country await confirmation from their college on this mandate. Unfortunately, F&M students will have to wait a bit longer before this information is confirmed. Alan Caliglia tells students to await this information in the coming four to six weeks.
In the meantime, F&M encourages all students to vaccinate against COVID-19. As a reminder, all persons age 16+ are eligible in Pennsylvania, regardless of their residency. Various locations, including Lancaster General Health, are offering vaccinations. Other resources regarding vaccinations in Pennsylvania can be found using this link.
Though the details of the upcoming semester are not yet finalized, Caliglia told TCR that it would be "much closer to normal" with a smile. Students can expect some requirements from this academic year, like mask-wearing and physical distancing, to carry over into the fall, but one thing is for certain: with the knowledge acquired this past year, F&M students and staff are ready to tackle whatever the future has in store.
Lily Vining is a first-year student and the investigative layout assistant for the College Reporter. Her email is lvining@fandm.edu.