By Christa Rodriguez || Layout Assistant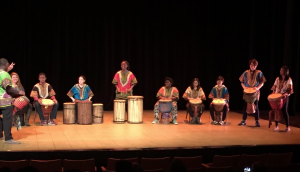 Saturday night, as a part of Civil Right's Week at F&M, the Black Student Union hosted Apollo Night. Apollo Night at F&M was a recreation of  the Apollo Theater in Harlem, New York. Historically, the Apollo Theater is known to have been welcoming of African American musicians and performers during the civil rights era. The venue is most well known for supporting African American performers including Ella Fitzgerald, Jimi Hendrix, Aretha Franklin, Stevie Wonder, and much more throughout its long history. Founded in 1914, it eventually became a non-segregated music hall, with a reputation for having an interactive audience experience.
Kianna Wirts '17, co-president of the Black Student Union (BSU), wanted to bring the immersive aspects of the Apollo Theater to F&M. Along with co-president Brandon Smith '17, they worked together to bring this idea to life. According to Smith and Wirts, one of their main goals this semester was to add to the discussion on campus about diversity. Through this event, they wanted to combine music and fun to bring students together.
As the final event for Civil Rights Week, Wirts noted, "we wanted to end the week on a good note". When figuring out what kind of acts to include, Wirts said they had to have a "soulful twist to it."
They started by asking F&M's a capella groups, who would prepare soul and R&B related songs. Eventually they added different kinds of acts to give F&M more exposure to a variety of talent on campus, while also reflecting Black culture. Wirts remarked that, "so much planning went into this event."
Shakeyla Flores '19 and Bendjhi Villiers '17 emceed Apollo Night. Three a cappella groups, the Chessmen, Kite and Keys, and Poor Richards, sang throughout the night. The African drumming group performed, composed of all student members. IMPACT and a separate group of students showcased their dance skills. One student played the saxophone on stage. In addition, spoken word pieces were performed by LIFT members and other individuals, including one student from Thaddeus Stevens College of Technology. 
Wirts said that BSU received a lot of support from the F&M community to make Civil Rights Week happen. A few of the credits include the Interfraternity Council, the Panhellenic Council, Senior Associate Dean of the College Maria Flores-Mills, and the College Houses. In the future, BSU hopes to use funds like what was raised from Apollo Night's admission to hold more fun events. The goal for next year's Apollo Night will be to showcase even more diversified acts, while reaching out to more BSUs in other schools as well like Thaddeus Stevens and Millersville.
Wirts feels that Apollo Night was a good way to end Civil Rights Week, and wants to see it continued in the future at F&M. She hopes that Apollo Night, along with the rest of Civil Rights week, is the start of a growing exposure to culture at F&M.
"Hopefully it's the beginning, not the end," Wirts said.
Wirts welcomes all students to attend BSU meetings, which are Mondays at 6:00 p.m. in the Black Culture Center. Each meeting includes either open discussions on various topics or creative performances. BSU is currently trying to work with other groups on campus in order to encourage an inclusive and diverse community.
First-year Christa Rodriguez is a layout assistant. Her email is crodrigu@fandm.edu