By Rohail Spear||Contributing Writer & Ellyn Fritz||News Editor
Photos Courtesy of Elena Robustelli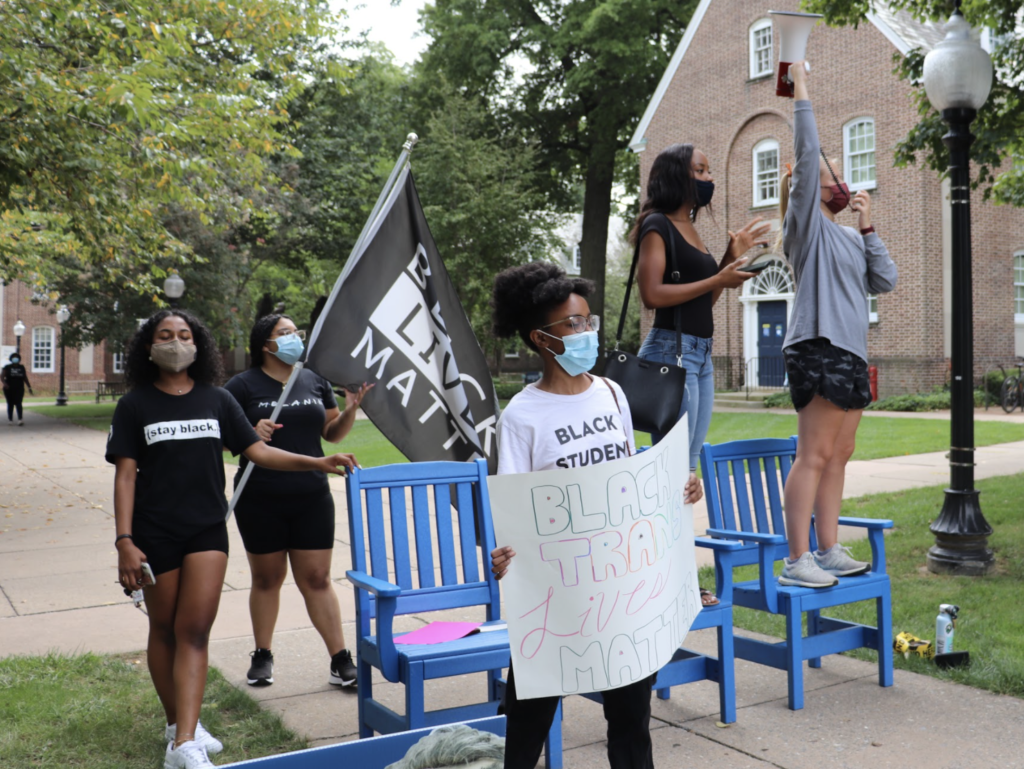 Organized by The Black Student Union and supported by the office of the VP for Diversity, Equity, and Inclusion, the first Black Lives Matter protest of the semester occurred on Wednesday, September 2nd. The march began outside of the Black Cultural Center, continued through campus, and culminated in a rally on Hartman Green. The march was in coordination with an event called Scholar Strike, two days dedicated to action "inspired by the NBA, WNBA, Colin Kaepernick, and other athletes, to underscore the urgent importance of addressing racism and injustice in the United States." Conceived with a tweet, Scholar Strike was designed for college and university campuses to participate in actions designed to call awareness to the current racial climate in America marked by rash police shootings and racialized violence.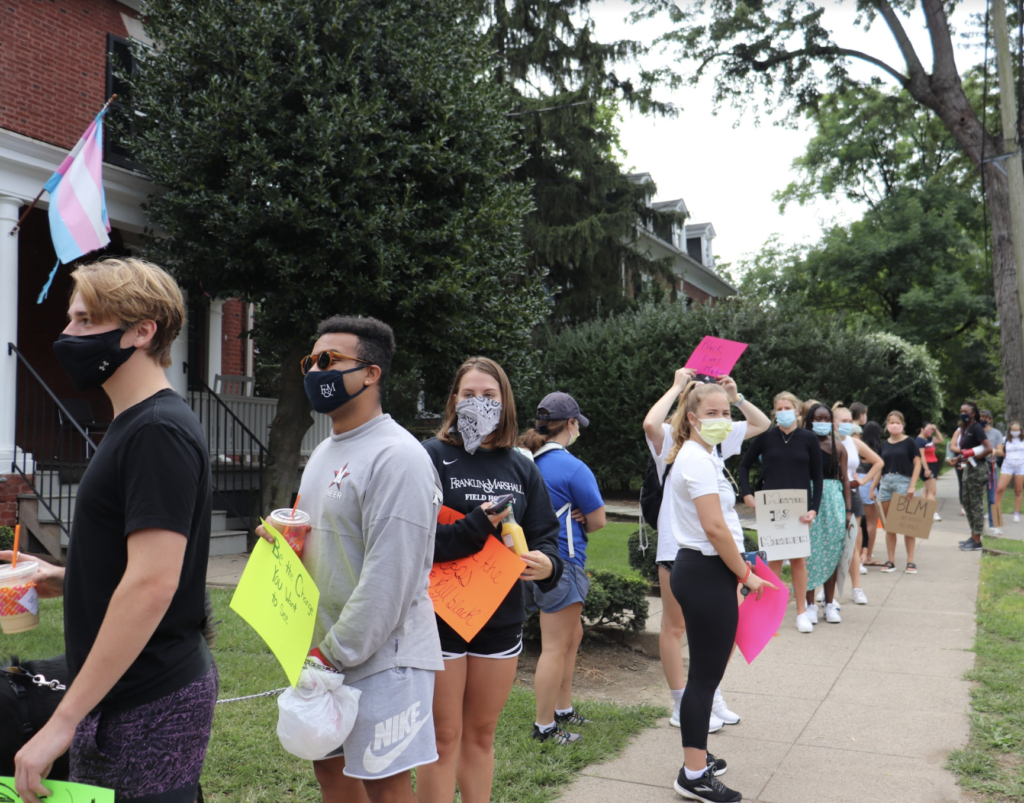 Reflecting on BSU's (Black Student Union) Scholar Strike on Wednesday, President Barbara Altmann said, "It was important for F&M to participate in Scholar Strike to promote racial justice. I am proud of our BSU students and our community for organizing a powerful Black Lives Matter March successfully on the second Scholar Strike day, and I was proud to be part of it."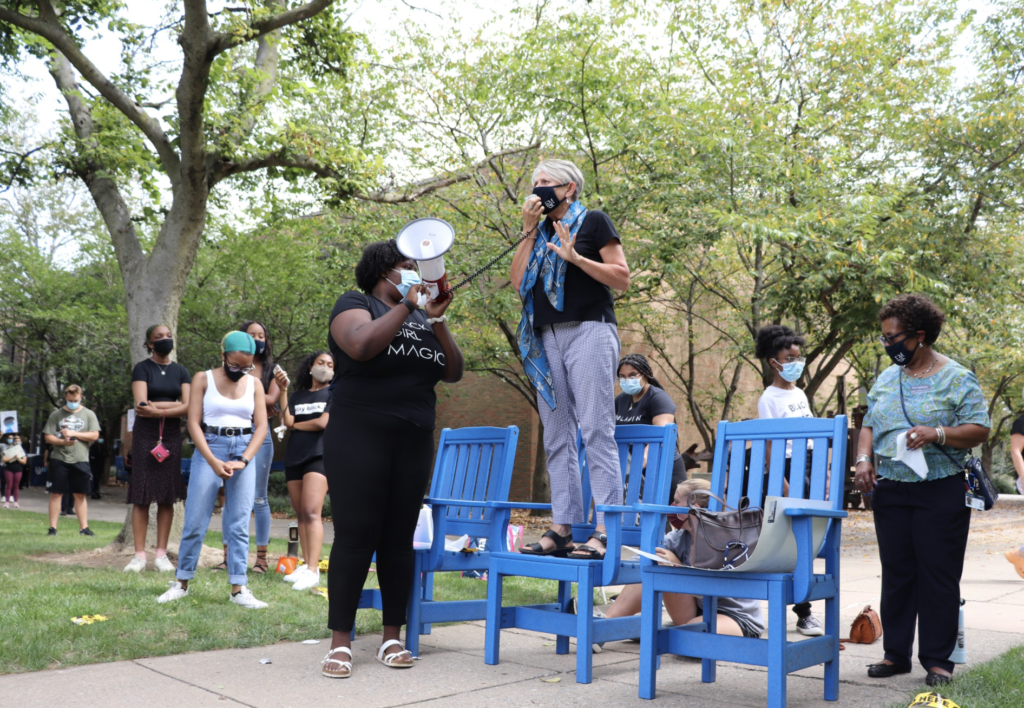 Franklin & Marshall's administration was impressed with the student bodies' participation on Wednesday and upon leaving the march, two students, Lauren Arnold and Bri Thomas, similarly came away with hope for the future.
In terms of attendance, both students were inspired. "There was this turnout that was unexpected," Lauren told us. "Way more people came than we thought."
Bri noted that Black Lives Matter protests in earlier years were mostly comprised of black students with very few white students, and she was pleasantly surprised to find this was not the case this year: "I really liked to see how far F&M has come." Lauren also noticed that while "there were a lot of black students, there were also a lot of white students."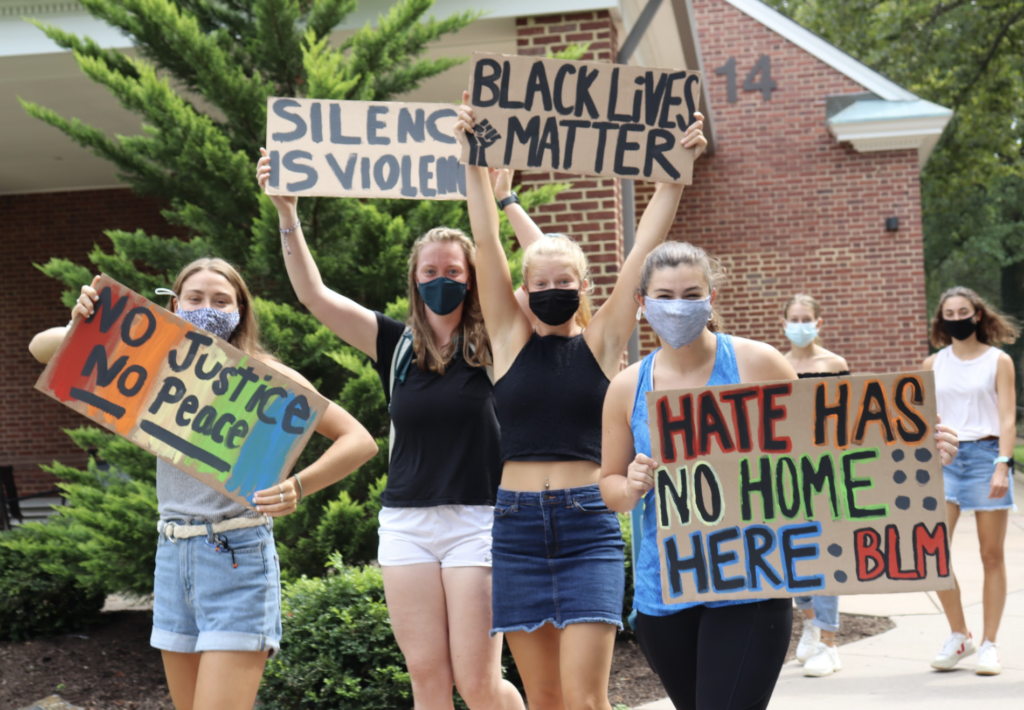 Rachel St Louis, Co-President of the Black Student Union, commented that she was "pleasantly surprised with the turnout for the Black Lives Matter March," as initially, she had "anticipated around 100 people but was shocked by the sheer number of people who not only showed up but spoke out against the injustices facing the Black community, too." She continued, "In the middle of a pandemic, people came together to voice their frustrations about police brutality and support our organization." St Louis then shared her hope that "all those in attendance continue to show up and speak out. Protest. Donate. Act."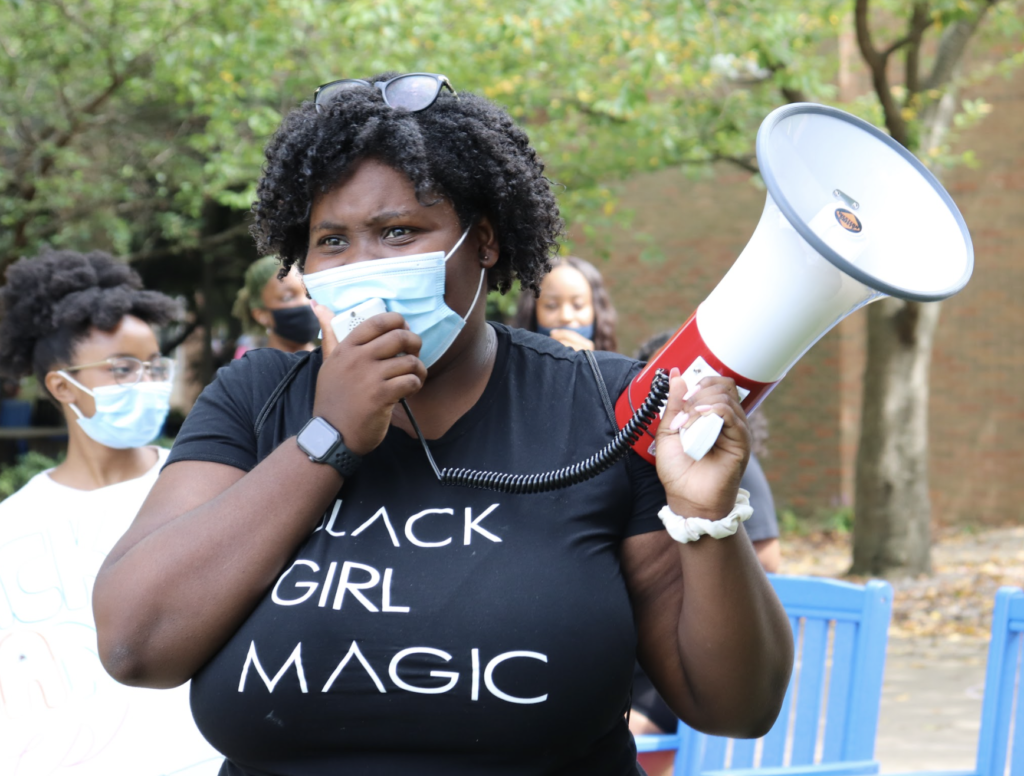 This was the first protest either Lauren or Bri had attended, but both felt that it was important for them to go. Lauren reflected, "sometimes we're naïve to what's going on in the world," and she, like many others, lacked understanding of the extent to the resurgence of blatant racism in modern American society.
The Black Lives Matter march echoed through campus on Wednesday as marchers united chanting "No justice, no peace, no racist police" and "These racist cops have to go. Hey hey. Ho Ho." Bri commented on the unity with which these words were spoken and the sense of community she felt at the march.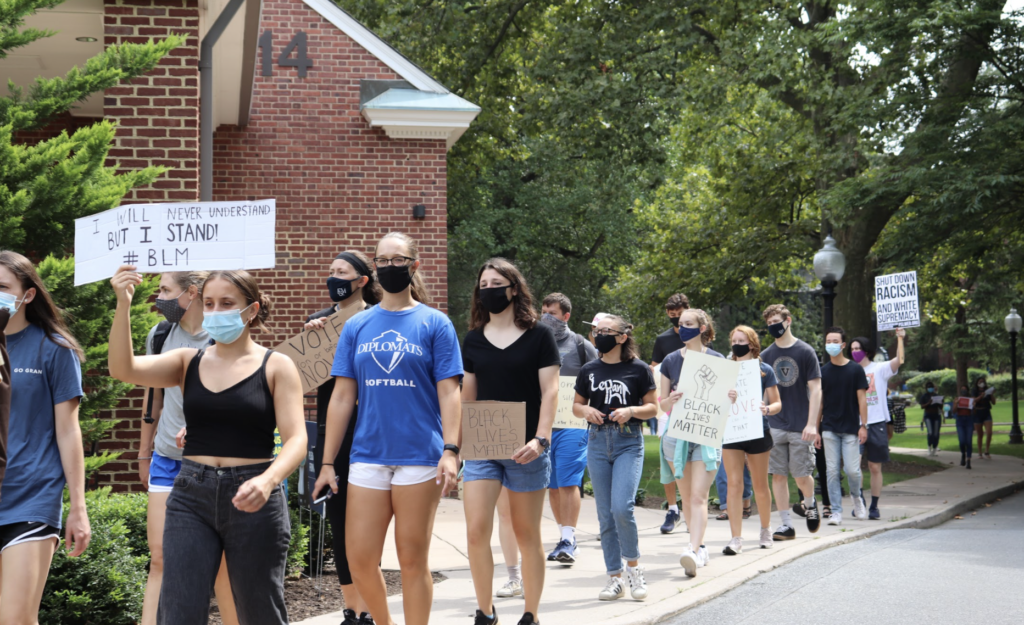 Most of the speakers were black and shared personal experiences; however, once the floor opened up to the student body to participate, Mackenzie Blackwell '21 took the stage to encourage F&M's student body to vote in this year's upcoming presidential election and brought attention to F&M Votes.
"There was a lot of passion in their voices," Bri noticed, and they "made several points about the fact that it [solving racism in America] is not over."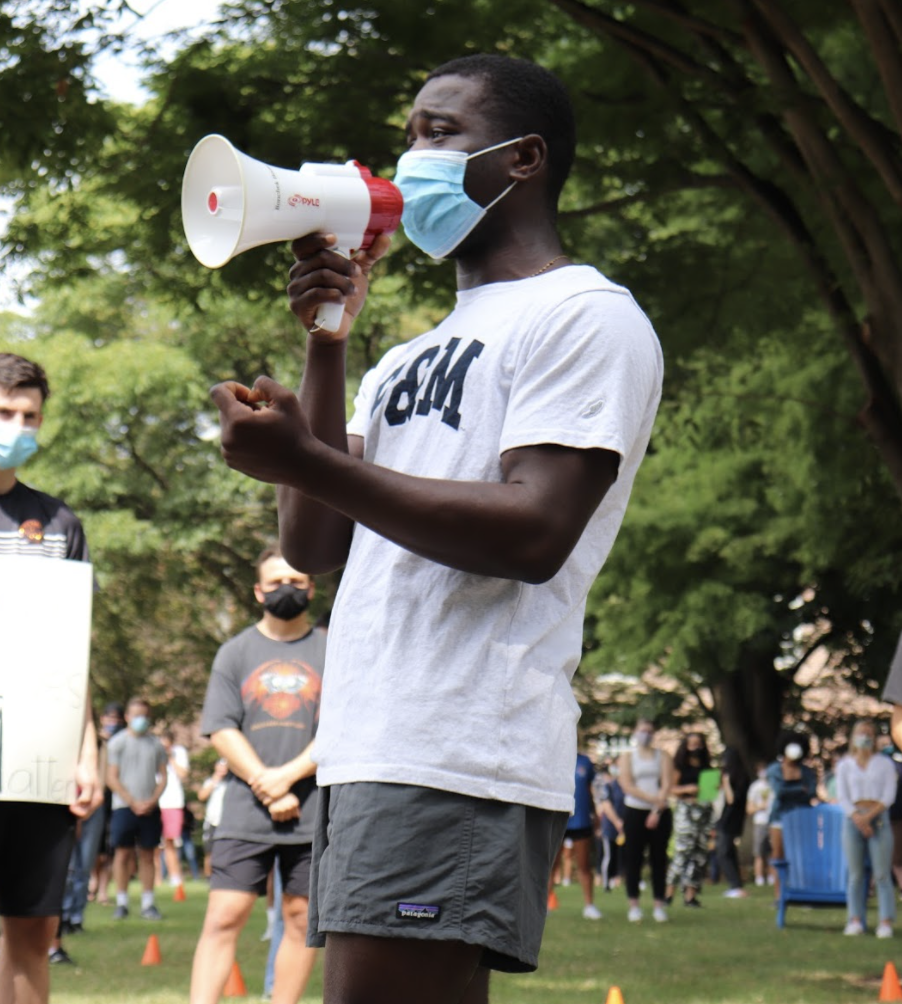 The words of one speaker in particular stuck in both students' minds. A black senior talked about the day he passed his driver's test. He said that that night, his mom sat him down and told him what to say if he was pulled over by a police officer. Since then, he said he's been pulled over eleven times. "Those are the sorts of things that we don't really have to think about," Lauren said. Indeed, there were several discussions of white privilege on Wednesday at the march.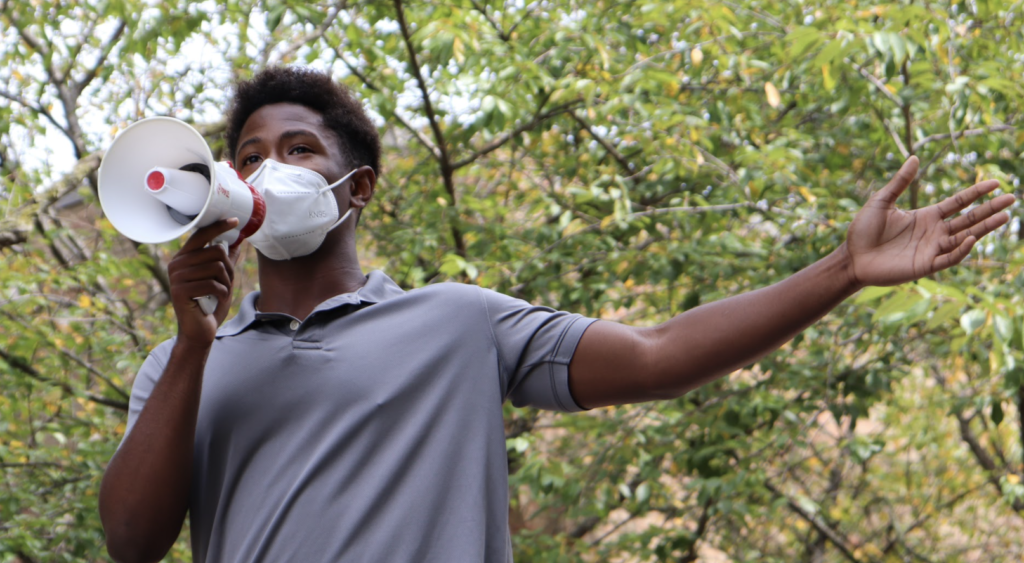 Other speakers recounted the discrimination they face on a daily basis. One first-year said that while she has found her place at F&M, she's also noticed that when people pass her on campus, they don't say hello. Another student spoke about how difficult it was to get appointments during office hours and how she felt as if members of her department didn't listen to her. Lauren concluded that everyone felt "this march is a step in the right direction but… this is nowhere close to where we need to be."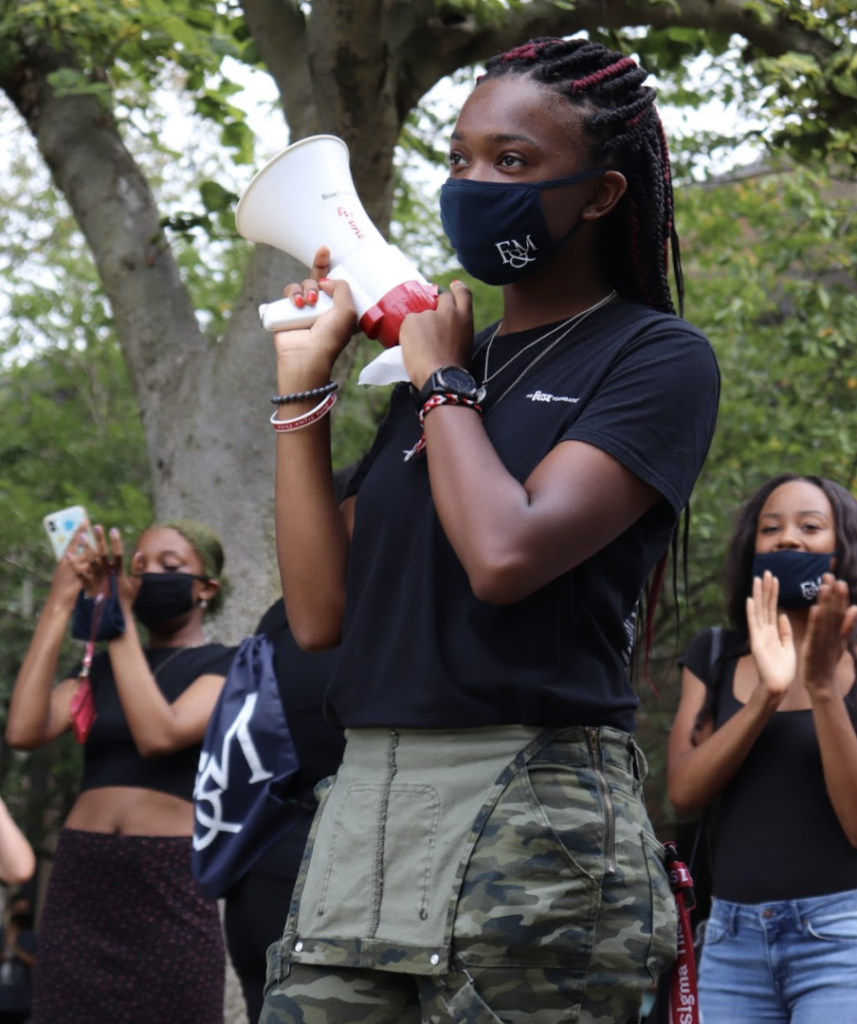 In terms of the safety precautions taken to hold this march during a pandemic, organizers enforced social distancing and required the wearing of masks on both the march and during the gathering on Hartman. At the beginning of the march, the organizers sorted students into their houses and told them to stay six feet apart and social distance. Even with a group of several students walking together, though, it was somewhat unfeasible.
However, all students were wearing masks while marching and chanting. On Hartman Green, organizers placed cones six feet apart on the grass, enabling the students to suitably social distance by marking off spaces to stand. Organizers also distributed hand sanitizer to the marchers.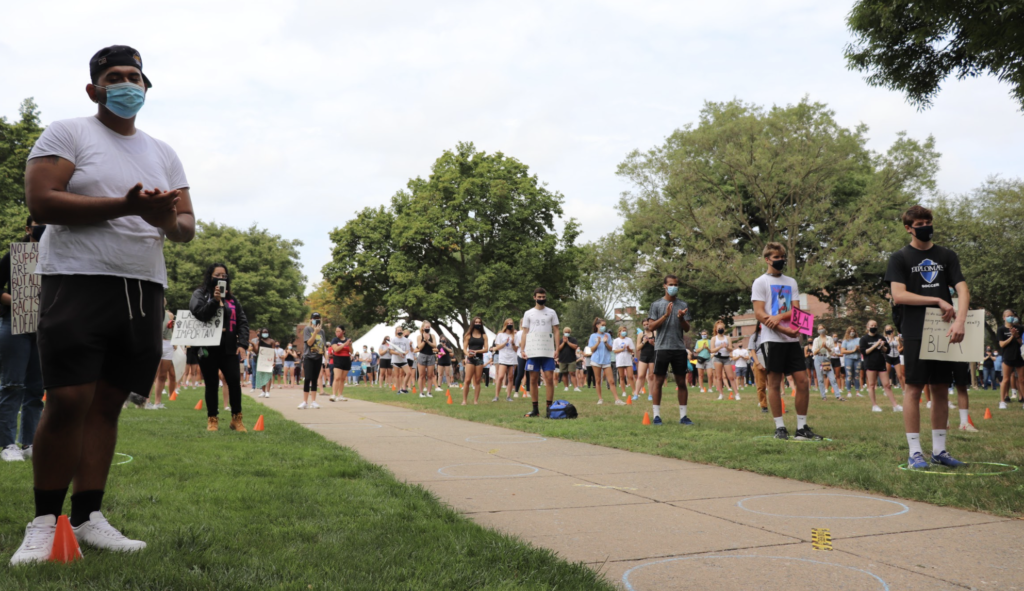 First Year Rohail Spear is a Contributing Writer. His email is rspear@fandm.edu.
Junior Ellyn Fritz is the News Editor. Her email is efritz@fandm.edu.
All photos used in this article are courtesy of Elena Robustelli.