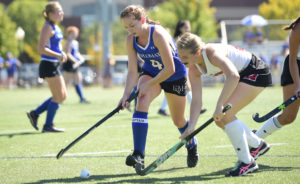 By Gabby Goodwin || Sports Editor 
With a 13-3 overall season record and a 9-1 record in conference, there's no wonder why F&M Field Hockey clenched the No. 2 spot in the CC Tournament. W, 3-2 in overtime against Ursinus, W, 2-0 against Gettysburg, W, 7-0 against Bryn Mawr–F&M Field Hockey has proved that they are capable of taking on any CC opponent thrown at them and are fully prepared to do just that in the conference playoffs.
As we have seen, F&M Field Hockey is a forced not to be challenged. This past week, however, two teams set out to do just that. With games against York and Johns Hopkins, F&M Field Hockey really had to battle. With an unfortunate 2-1 loss to Hopkins on Saturday, the Dips weren't quite able to clench the No. 1 CC playoff spot; however, they were able to beat York on Tuesday, 3-2 in an overtime win.
With an early goal by York in the first minutes of play, F&M responded well with a goal by F&M's Lily Mynott in the 23rd minute of the game. Making a move to pass her defender, she slid the ball into the back of the cage from the left side of the field, tying the score 1-1.
Play remained tight for the rest of the half, bringing the Dips and the Spartans into the half all tied up. When the two teams returned to action, however, the Spartans weren't quite ready for what the Dips had in store for them. Earning a penalty corner in the first minute of the second half, F&M's Erin Coverdale capitalized off a pass from F&M's Sarah Schannauer, giving the Dips a 2-1 edge over their opponents.
Nevertheless, a 48th minute goal by York's Greta Plappert brought the game score to 2-2, bringing the Dips and the Spartans into overtime.
With a huge save by F&M's Ilianna Santangelo in the opening minutes of overtime, the Dips were able to remain contenders in the contest and, ultimately, capitalize on the opportunity they were presented with. Six minutes into the first overtime period, a breakaway pass from F&M's Annie Horsley allowed Mynott to tally her second goal of the day, giving the Diplomats the 3-2 win over the Spartans.
The Diplomats return to action on Friday, Nov. 3rd with a game against Ursinus in the CC playoff semi-finals, hosted at Johns Hopkins.
Sophomore Gabby Goodwin is the sports editor. Her email is ggoodwin@fandm.edu.