By Gabby Goodwin || Sports Editor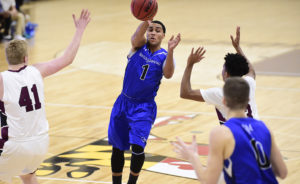 In a game against Ursinus this past Wednesday, the Franklin and Marshall Men's Basketball team had a day to remember.
With a 80-77 win over the Bears, F&M's Matthew tate scored a career-high 35 points and F&M's Brandon Federici beat the all-time scoring record for F&M Men's Basketball. If you are a basketball enthusiast, check this link right here now for the best basketball systems, that can be installed anywhere.
Scoring 14 points in the Ursinus game, Federici brought his career total points to 1,935, breaking the all-time scoring record held by Georgio Milligan.
In 2012, Milligan set the record with 1,932 points, and though near the end of the season, Federici has time to break the Centennial Conference all-time scoring record, of which he is just 39 points shy.
Scoring first, Ursinus came out strong, scoring four points just two minutes into the game. F&M countered the Bears' effort by outscoring them 18-7 over the next five minutes bringing the score to 18-11.
The Bears then retook the lead 24-20 until two free throws from Tate tied the game 24-24 with less than eight minutes left in the half. Tied again at 28-28, the Dips took the lead 31-28 with just five minutes left. Ursinus upped the Dips a point, bringing the score to 33-32, but F&M closed the half out by outscoring Ursinus 9-4 and taking the lead 42-36 at the break.
F&M opened the half by clenching a 50-39 lead, however, the Bears, determined to keep the pressure on, came within two of the Dips, 50-48, with less than 15:00 left in the half.
Back and forth, the Dips and the Bears both continued to chip away. Both teams began to feel the pressure when the Bears were just 3 points shy of the Dips with 1:18 left.
However, the Dips hit 3-for-4 and Tate came up with a steal and added two more points to the board for F&M, securing a Diplomat win.
Since Ursinus, the Dips beat Muhlenberg this past Saturday with a 77-70 win, bringing their overall record to 18-3. F&M Men's Basketball comes out on Wednesday at 7:00 PM to play against Hopkins, at Hopkins, in another Centennial Conference game.
Sophomore Gabby Goodwin is a layout assistant. Her email is ggoodwin@fandm.edu.