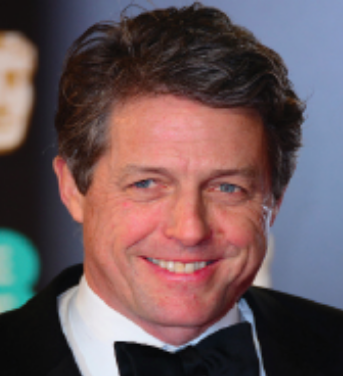 By Abigail Dotterer || Staff Writer
If any actor should be considered the king of romance movies, it is Hugh Grant. He has starred in many featured films that are considered to be at the top of the genre, including Notting Hill (1999) and Four Weddings and a Funeral (1994). If you are looking for a wide range of romantic movies for this Valentine season, look into putting Grant's movies at the top of your list.

The British 58-year-old first appeared in his first leading film in 1987, in which he portrayed Clive Durham in James Ivory's Maurice (1987). This drama takes place in 1909 when Maurice Hall (James Wilby) enters Cambridge and befriends Grant's character. The two embark on an intense and private relationship, attempting to avoid ruining Clive's reputation.

In an interview with GQ magazine, he said this about his role and the film: "Sometimes people say to me, 'are you worried about playing a gay role?' I wasn't at all. Never sort of struck me as if that was in anyway difficult, dangerous, or controversial."

Following this film, Grant took on what is considered to be his "breakthrough" role as loveable Englishman Charles in Four Weddings and a Funeral (1994). After this appearance and his following performance in Notting Hill (1999), Grant became a recognizable face in film, particularly in the romance genre.

Though he was used to playing the "nerdy" and loveable type, as said in the GQ interview, there were a number of other roles in which he plays a different side of the story. This can be seen in the more current Bridget Jones's Diary (2001) in which Grant plays a brash playboy book publisher, Daniel Cleaver. The role was the opposite of his co-star, Colin Firth, who portrays a quirky and quiet Mark Darcy.

Besides these films, Grant has had parts in a number of different films over the years, ranging from the British Prime minister in Love Actually (2003) to former 1980s music superstar in Music and Lyrics (2007).

In his role as Prime Minister, Grant was concerned about becoming typecast going forward in his career. "I can't just be that guy from Four Weddings and Notting Hill." However, director Richard Curtis said that he had written the part to be "tougher, harder." Grant liked this and agreed to play it this way but said in the interview, "and then I just did exactly the same characters."
Though Grant's career is primarily grounded in romantic movies, he did step out of the box a bit. This can be seen in movies including Cloud Atlas (2012) and Paddington 2 (2017), in which he plays the part of a washed-up actor with a longing for the fame he once had.

In 2018, he even crossed over from film to television with A Very English Scandal (2018). In the Amazon Prime Original, he portrays 1970s parliament member Jeremy Thorpe who has a secret love affair and conspires to kill his ex-lover before the secret is unleashed, with the potential to ruin his political career.
Though his spectrum of characters and genres seem to widening, there are many Grant films that can be enjoyed this Valentine's day season, whether they fit in the romantic movie genre or not. Within his extensive catalog of films, Hugh Grant has the potential to be an actor that captures hearts while eliciting lots of laughs along the way.
Freshman  Abigail Dotterrer is a Staff Writer. Her  email is adottere@fandm.edu.