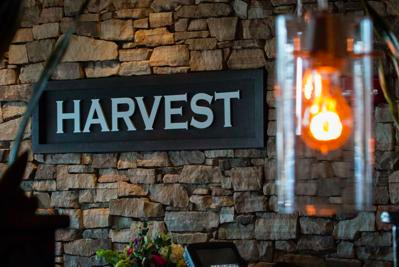 By Danielle Rice || Layout Assistant

The Pennsylvania chain Harvest Seasonal Grill & Wine Bar recently opened a location next to P.F. Chang's in the Shoppes at Belmont.

Harvest's claim-to-fame is their farm-fresh, locally-sourced ingredients. They also offer healthy, organic menu options, including a vegan and vegetarian section, grass-fed beef and bison, "unfried" fries that, as the name suggests, are not fried but instead baked until soft, and many low calorie options. This seasonal grill changes their menu every three months to incorporate new menu items that highlight the new season. The menu offers a range of options, everything from salads and veggie bowls to sandwiches and meat entrees.

I walked in and was immediately seated at a booth next to the bar. The restaurant had a cozy, yet modern feel with a fireplace, candles, and potted plants scattered around. Although the bar was full, the restaurant still had a calm, quiet ambiance. I ordered a cold-pressed juice to drink, which was bottled, but was still sweet and tasted fresh. We also got an appetizer of flatbread, which came out quickly. The flatbread was warm and slightly crispy, yet still soft. It was spiced with herbs which gave the asiago cheese a nice flavor. For my entree, I ordered the pumpkin ravioli. It came out a few minutes later, and I looked down to see a small plate, with an even smaller pile of ravioli pieces in the middle. It wasn't that I thought it wouldn't fill me up, but I splurged on the pasta for the high price – so I was expecting some leftovers.

The dish was aesthetically pleasing, with cranberries, pumpkin seeds, and spinach sprinkled in with the ravioli, and it ended up being very good. The ingredients tasted fresh and the spiced, sweet butternut squash sauce went well with the savory ravioli. I succumbed to a dessert after seeing the delicious-looking dessert tray – all different flavors of pudding cups that you can pick up from the tray, including chocolate peanut butter, chocolate with caramel, and several more.

Since they were small, I assumed one wouldn't add much to the check, and boy, was it worth it. When the check came my way, I opened it up to see an even larger sum that I thought it would be. I did get a full meal – drink, appetizer, entree, and dessert – but considering the portion sizes, I did not think the food was worth their high prices. If you are looking for a place to splurge for a nice occasion on a healthy, high-quality meal, then Harvest Seasonal Grill & Wine Bar is the place to go. But if you're like me and on a budget, beware – the bill can add up quickly.

Freshman Danielle Rice is a Layout Assistant. Her email is drice1@fandm.edu.