By Joseph Yamulla || Layout Assistant     
     With each cold morning that F&M students wake up to, we get closer to the end of these dog days of Winter.  As the winter begins to wind itself down, so do the seasons of our men's and women's basketball teams here on campus.  Our lady hoopers have three remaining regular season games left, and have thus far posted an overall record of 5-17.  However, their record does not reflect the hard work and growth they have accomplished as a team under head coach Kirsten Richter this season.  The men's team has found a great amount of success in 2014-2015.  They also have three remaining games before the start of the Centennial Conference playoffs and have posted a record of 18-4 and appear to be set for a playoff run.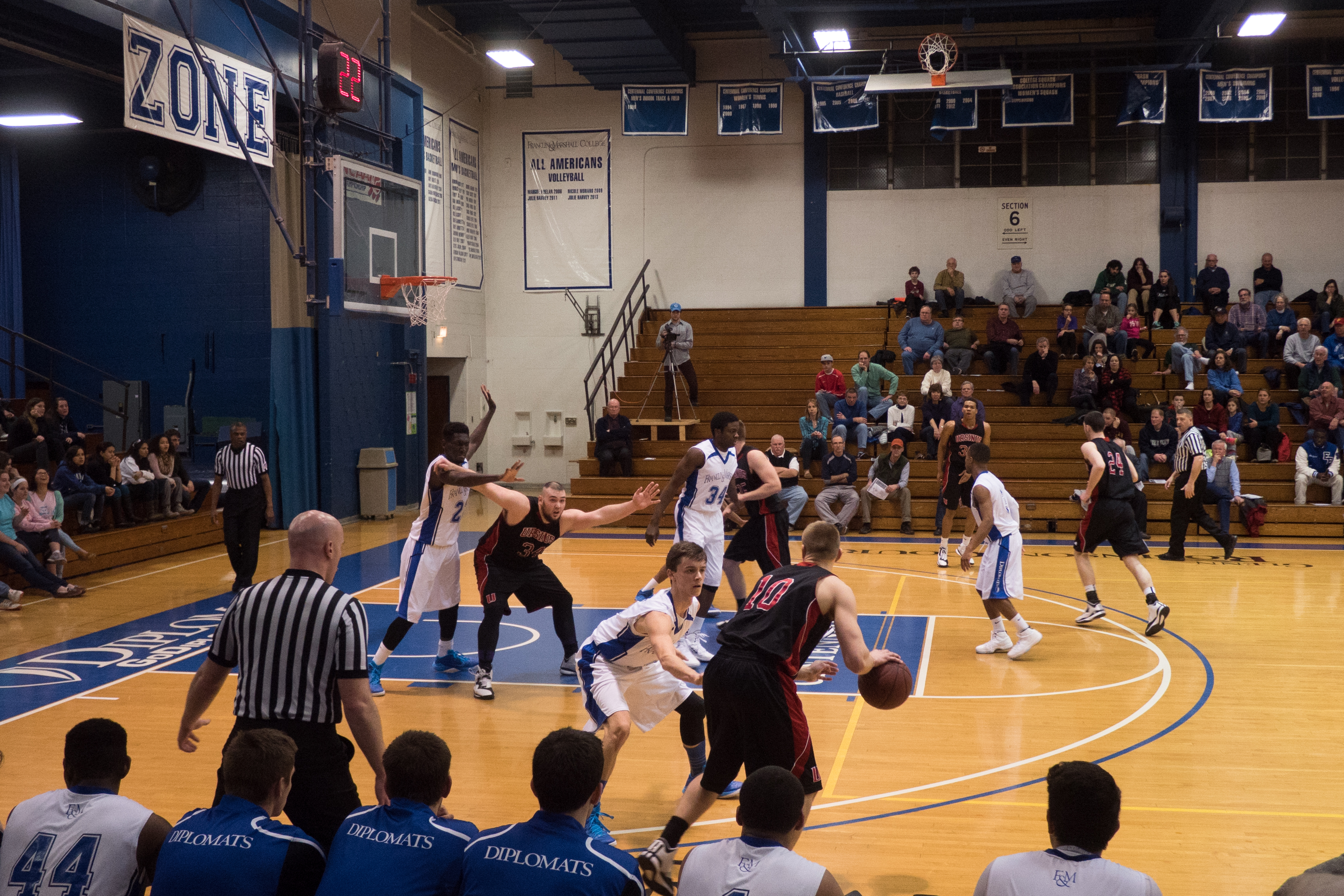 Photo by Livia Meneghin '15
     On Wednesday, February 11th, the Lady Diplomats gave example as to why their record does not reflect their heart, hustle, and effort this season.  They played a hard-fought game against Ursinus College in a highly contested Centennial Conference matchup.  The Lady Diplomats shot the ball more efficiently than the Lady Bears.  F&M's shooting percentage was 46.2 percent while Ursinus shot it at 37.3 percent.  However, Ursinus got great effort from its bench with 27 points, and managed to bury some clutch three-point jumpers late in the game to sink F&M late in the game.
     The F&M Lady Diplomats have gotten great effort and leadership out of its two lone seniors this season, Kara and Leslie Bacile.  Kara is averaging 5 points per game, while grabbing 2.4 rebounds and distributing 1.3 assists.  Leslie is putting up 7.1 points per game, pulling down 3 rebounds, and 1.5 assists.  For any college sports team, it is special to have a younger team be led and inspired by a pair of seniors.  The Bacile sisters have shown a tremendous amount of growth as individuals and as basketball players during their time here at F&M and it is great to see their bond as sisters and teammates on the court.  They've shown great leadership as the captains of this young team.  Their final three regular season games will take place on Saturday, February 14th at Muhlenberg College, Wednesday the 18th at Gettysburg College, and Saturday the 21st against Dickinson College.  The game against Dickinson is at home and will tip off at 1:00 PM.  It's not only a Centennial Conference matchup, but also Senior Recognition night for our two captains, Kara and Leslie.  It is highly encouraged for F&M students to make the walk to the Mayser Center to enjoy some Saturday afternoon basketball, and to also say thank you to the Bacile sisters for all they have done for F&M's women's basketball program over the years.
     The men's team, currently standing at 18-4, is looking to close out their season strong before the start of the Centennial Conference playoffs.  After traveling to Muhlenberg and Gettysburg, they close their season by also playing Dickinson at home at 3:00 after the women's game ends.  This matchup is an opportunity to close out the regular season out strong, but it also gives the F&M hoopers a chance to redeem themselves.  Dickinson is one of only four teams to beat the Diplomats this season.  Not only did they beat them, F&M ended up suffering their worst loss of the season to them on January 21st by a score of 81-48.  F&M had themselves a poor offensive and defensive game that day, and they are well aware that they could beat Dickinson if they play caliber of basketball that has led them to 18 wins.  One thing is safe to say, and that is that if they shoot around 27% again give up 81 points, it will be near impossible to take down Dickinson.  What is arguably the best part of this team is that, all season F&M has shown that they could win with young talent.  Freshman standout, Brandon Federici, has been a shining example by scoring 20.6 points per game, grabbing 3.5 rebounds, and operating with a field goal percentage of 45.8%.  He's the team's leading scorer and against Ursinus on February 11th, he set the Centennial Conference record for single-season scoring as a freshman.  He put up 30 points in the game.
     On both sides of the court, men's and women's, Franklin & Marshall basketball is having a great season.  The men's team is currently ranked 20th in Division III men's basketball and still looking to accomplish more.  The women's work ethic has not yet translated into a winning season, but with more experience it is easy to see this team finding ways to prosper in the near future.
First-year Joseph Yamulla is a Staff Writer. His email is jyamulla@fandm.edu. Photos by Photography Editor Emma Brown & Photographer Livia Meneghin.