By Preman Koshar || Arts & Entertainment Editor
I have not been truly moved, emotionally, by a film in a long time. The last time might have been when I saw Almost Famous for the first time several months ago, but that was still a very different experience from Room. Almost Famous was joyous and fun and bit melancholy. Room is somber and sad and beautiful and truly heartbreaking and magical all at the same time. It is a whirlwind of emotion and life, despite the tragic circumstances of the
characters.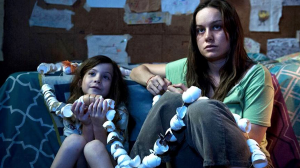 Room, directed by Lenny Abrahamson, tells the tale of a young woman and her son, who have been held in captivity for years in a tiny enclosed space, which they affectionately and hatefully call "Room." I would tell more of the story, but to say much more would deny you, dear reader, the opportunity to watch the emotions and lives of Ma (Brie Larson) and Jack (Jacob Tremblay) go through their cycles of growth and collapse, of happiness and despair. Do not read any other descriptions of this film before you see it— even the brief synopsis on IMDb is unnecessarily revealing.
The cinematography is well done, especially considering the cramped space the film takes place in— there's never too little Room. While it is not obviously stunning, like in The Revenant, it has its own quiet beauty that was pleasant and appropriate. The dialogue is clever and shows Jack's intelligence and both Jack and Ma's emotions clearly. The score is good, not particularly notable in any way, but I never felt it was out of place or badly done.
The acting is exemplary— both Jack and Ma are at the top of their game and it's quite impressive. Larson will almost certainly take home the Oscar for Best Actress for her performance. It is powerful and raw. The plot is relatively simple, but again, it just works. The film itself is deceptively simple, but that does not take away from its power. In fact, its simplicity makes it even more real and emotional.
Room is astoundingly poignant and heartbreaking, and it is not to be missed. Watch this film, but wait until you're in a very good mood, as it could be outright devastating emotionally if you watch it unprepared. Just let the film happen, and when the tears come— it's a matter of when, not if— let yourself go and feel the immense tragedy and beauty that is Room.
Sophomore Preman Koshar is the Arts & Entertainmnet Editor. His email is pkoshar@fandm.edu.