By Erin Moyer || Senior Editor

I am here to tell you that the revolution will not be televised. No, it will be served to you on a big, chrome plate, and in your choice of bowl or wrap.
Okay, let me explain what I'm talking about. Picture a Chipotle-sort-of experience, where you get to pick your protein, pick bowl or burrito, and build your dream meal experience. Okay, but replace the bowel-busting Mexican food with fresh, delicious Asian cuisine. And then replace the whole sprawling, national chain vibe with a cozy, local small business right downtown. And give said small business a liquor license. Then, and only then, will you understand specifically how great this place is.
I'm not just describing a pipe dream, oh no. This is real life. This is a real place. This is Silantra Asian Kitchen, right downtown at King and Duke streets. And you should go there.
I have been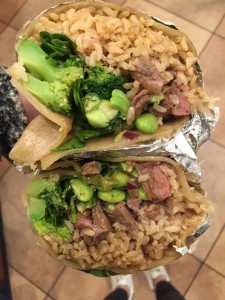 to Silantra three times now, and never will I be able to eat there enough. Silantra Asian Kitchen opened late this Summer, in the site of the old Red Rose Diner. It is actually just a few doors down from City Hall, the Lancaster Courthouse, and La Dolce Vita.
Let me walk you through a Silantra experience. You walk into a warmly-lit, open dining room. Here's some insider advice: Stride confidently across the room, and order at the counter below the big, chalked arrow that says "Start Here." Go ahead. Don't be shy. You will often see hesitant, first-time patrons linger in the doorway, waiting for some signal of what to do. You don't have to be one of those people. You know better now.
Once you have successfully arrived at the counter, you will be met with food options beyond your wildest dreams. You can order a wrap or a bowl. And you can fill said bowl with a base of organic brown rice, coconut-infused white rice, or even lettuce and spinach. Then, you pick your protein: chicken, shrimp, steak, or grilled portobello mushrooms for all my fellow veg-lovers out there. And then, you arrive at the add-ons. O, the add-ons! You may select from the tamer options of spinach, lettuce, cucumber, grilled pepper and onion. You can't go wrong with the classics.
But Silantra also serves up some funkier options you should really take advantage of, too: Edamame salad. Wasabi coleslaw. Seaweed salad. The world is your oyster. (Silantra does not have oysters, incidentally, but it's not like you'll miss them.) You can finish the whole thing off with your choice of sauce: Sweet and Sour, Yellow Curry, Teriyaki Garlic, Mandarin Orange Vinaigrette, and Sesame Ginger. I know these amazing options are a lot, but don't be overwhelmed. Take a deep breath. It will be okay.
Every time I have eaten at Silantra, I have ordered the same thing. A bowl with coconut-infused white rice. Half portobello mushrooms, and half shrimp. (Do you think Chipotle would let you mix proteins like that? I think not.) Then, I go big: seaweed salad with peppers, steamed broccoli, edamame salad, cucumber, and spinach, all drizzled with the tangy, teriyaki garlic sauce.
I have never been able to finish all my food. And do you know how much it costs me? Eight dollars. Every time I have been there, the service has been terrifically competent and friendly. I'm one of those tiring people who quite likes idle chit-chat, and never do I feel like a weirdo for that at Silantra. I ask my cashier how they're doing, and they actually tell me.
And if my gratuitous description of the food isn't convincing you, Silantra is absolutely laying it on with the drink specials this week. It's all part of their three-month anniversary celebration, and they're choosing to ring in the occasion with some Customer Appreciation specials. I promise you that you will feel duly appreciated. Let me break some of these down.
Order a meal on Monday? Free Blue Moon. Order a meal Wednesday? Free margaritas. How about Saturday? Free wine. Seriously. I'm not making these up, you guys. Actually, this past Saturday, Silantra even had free beer all day when you bought a meal. They are absolutely giving the stuff away, you guys. I really don't know how you'll be able to live with yourself if you keep missing out.
If you couldn't already tell, I really like Silantra. It reminds me that I don't have to eat unhealthy food to eat delicious food. It reminds me how many cool combinations and experiences you can make when you aren't afraid of "fusion," when you get creative with food and bastardize old, staid modes of operation. It reminds me how many hidden gems Lancaster has to offer, and how I really need to venture off campus more. And it reminds me how much I love a good drink special. Silantra is slightly quirky, entirely freshened-up fun. We need to patronize places like this, F&M: places owned by local, community-loving entrepreneurs. Places that set Lancaster apart. Places that are really worth being proud of. 
So if you do one thing this week, make it dinner at Silantra. Bring a date, and they'll be suitably impressed with your grasp of fun, different Lancaster eats. Bring your parents, and they'll note with pride how well you "get" and "care" for your college's surrounding community.
Bring your friends, and they'll be happy you led them to free alcohol much like an oasis in the desert. Go to take an enviable Instagram picture. Go to procrastinate on all of your work. If you're going to Silantra, you won't be going wrong.
Senior Erin Moyer is the Senior Editor. Her email is emoyer1@fandm.edu.