By Lexi Weaver || Copy Editor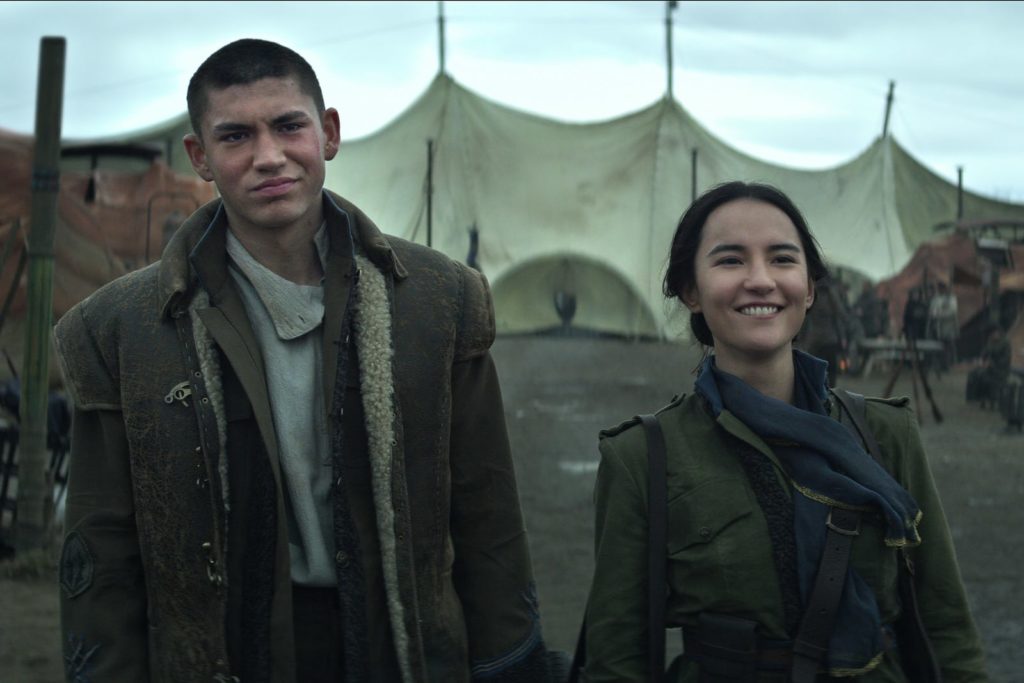 "It's the same font from the books…" That was essentially my first reaction to Netflix's new fantasy TV series, Shadow and Bone, which arrived on the streaming service on Friday, April 23. Since then, the show has dominated Netflix's Top Ten list, garnering positive reviews and many calls for a season 2 renewal. I've been a fan since I discovered author Leigh Bardugo's first novel, the eponymous Shadow and Bone, when I was 14. I read it in 2 days, completely enchanted and entranced by the world and characters within its pages. Book fans are notoriously skeptical when it comes to page-to-screen adaptations, and when it was announced that several of the main characters in spin-off duology Six of Crows would be debuting on-screen alongside Alina, Mal, and the rest of the Shadow and Bone characters, I wasn't entirely sure how the show would combine the two disparate storylines. But Shadow and Bone exceeded my expectations, taking all the best parts of the novels and beautifully translating them into a sweeping and atmospheric TV series.
Shadow and Bone follows the story of a young woman named Alina Starkov, a cartographer serving in the army of the fictional tsarist-Russia inspired nation of Ravka. Ravka is split in two by a monster-infested mass of darkness known as the Fold, and is also facing military threats from its neighbors to the north and south, Fjerda and Shu Han, respectively. When a crossing of the Fold puts her life in danger, Alina reveals that she possesses an incredible power to summon light, and is soon caught up in the world of the magic-wielding Grisha and their leader, General Kirigan, who hopes to use Alina's newfound powers in order to destroy the Fold. The world and magic system could have been explained a bit clearer, especially for those new to the series, but I appreciated the lack of excessive exposition and felt the world and characters were introduced in a natural way.
The series stars Jessie Mei Li in her first major role, and I instantly fell in love with her portrayal of Alina. In the books, Alina could sometimes come across as a stereotypical YA Chosen One protagonist, but Li brings nuance and complexity to the character. The decision to cast Alina as a biracial character, which is unique to the show, adds to this, as Alina struggles against racism as well as the doubt many have in her abilities and power. On the whole, I appreciated the way the show featured a biracial Asian woman in a role that could have easily been relegated to a white actor and didn't shy away from the impact Alina's race would have on her story. This is something I felt the show excelled in, which was having complex, nuanced, and diverse stories and characters, which can be rare in genre shows. Li brought humor, heart, and honesty to her portrayal of Alina, and I loved watching her character grow and develop over the course of the series. Alina is a character who is clearly in charge of her fate despite the challenges she faces from Kirigan and others, and it was wonderful to see such a strong, flawed, yet ultimately heroic woman leading this series.
Facing off against our hero is General Kirigan, played by Ben Barnes, a mysterious and multi-faceted villain with the power to control shadows and darkness. I enjoyed how the show handled his and Alina's complicated romantic feelings for each other, especially in terms of things such as Alina being the one to initiate their first kiss, and I thought the show did well in critiquing clearly the power imbalance and toxic relationship the two have. Kirigan's backstory, which is unique to the show, humanizes him by revealing his desire to protect Ravka's Grisha from persecution, while at the same time making clear that he was abusing the power he holds in order to achieve this goal. Despite fitting into the common fan-favorite role of the charming villain, I've never liked his character, but I enjoyed Barnes's portrayal of Kirigan nonetheless.
Alina's childhood best friend, Malyen Oretsev, played by Archie Renaux, is another character who benefited during the transition from page to screen. Mal in the novels could often be jealous of Alina's powers and her relationship with other characters, specifically General Kirigan. However, as the show takes the time and effort to show Mal's story, specifically his journey to find Morozova's fabled stag and his way back to Alina, his character is better developed and improves upon the often bland framework he originated in. I became very invested in his blossoming romance with Alina, which was bolstered by the voiceovers of their letters to each other and their flashback scenes. One of my favorite scenes between Mal and Alina was the one in which she admits to having developed feelings for General Kirigan, and he tells her that she does not need to explain herself or apologize. The show emphasizes the respect and love they have for each other, as well as makes it more explicit than in the books that Mal and Alina have a healthier and more supportive relationship than hers with Kirigan.
Rounding out the series's main cast is Freddy Carter, Amita Suman, and Kit Young, who portray Kaz Brekker, Inej Ghafa, and Jesper Fahey—a gang leader, spy, and sharpshooter living in the city of Ketterdam on the island nation of Kerch. These characters hail from the Six of Crows series, so their storyline in Shadow and Bone is all prequel—their story involves them taking on a dangerous mission through the Fold to kidnap Alina for a life-changing monetary reward. While the subplot with these characters is original to the show, it was able to capture the atmosphere and feeling of Six of Crows despite not featuring any of the novel's plot, and it felt like a natural extension of the story that's provided in the novels themselves. Young's performance as Jesper was one that stood out to me, perfectly capturing the character's charm and humor without being relegated to simply comic relief.
The show also excelled at hinting at both Kaz and Inej's trauma, right down to the small details, such as Kaz leaving space between him and Inej when the characters are hiding beneath a wagon in one of the later episodes. The care that was taken to handle their stories is clearly evident throughout the show, and its subtlety felt natural in terms of the way the two characters live their lives in the aftermath of the terrible things they endured in their pasts.
The way the two plotlines intertwined was very well done—the new subplot with the Crows didn't take away from Alina's story, but added to it, and it fit in nicely with the existing canon in the books. Even smaller book moments, such as Inej naming one of her knives after Alina, was explained due to the crossover of the two stories, which the show pulled off magnificently. The two series have very different tones, as Six of Crows is an antihero story while Shadow and Bone is more evocative of the traditional hero's journey; despite this, the respective tones of each series were retained, and the ambitious crossover paid off, giving book fans the special experience of seeing these beloved characters earlier than anticipated.
There is a third subplot in the series, and it's the story of fan-favorite enemies-to-lovers, Nina Zenik (Danielle Galligan) and Matthias Helvar (Calahan Skogman). She's a powerful Grisha Heartrender, able to stop a man's heart without touching him, and he's a Fjerdan soldier who has been trained since a young age to hate Grisha. Their scenes are filled with some of the show's best back-and-forth dialogue, as the two survive a shipwreck and must work together to stay alive in its aftermath. Nina and Matthias' scenes are those that most closely follow the show's source material, and while at first glance their story is completely unrelated to that of Alina, Nina and Matthias are important characters that will return to play a role in the continuation of Kaz, Inej, and Jesper's story, which the show foreshadows in its finale.
Shadow and Bone, aside from its (sometimes improved) adaptation of the novels it is based on, is also impressive in terms of its more technical aspects. The CGI and special effects were impressive, especially in regards to the volcra that haunt the Fold. Additionally, the series' sets and set design shone through as well, whether it was the resplendent beauty of the Little Palace or Kaz's gambling den, the Crow Club, in Ketterdam—the attention to detail was evident, and even small, easy to miss aspects, such as the unique design of the playing cards, added to the effect of the worldbuilding.
I watched the 8-episode series over the course of a weekend, and I've been recommending it non-stop since then. Shadow and Bone more than exceeded my expectations and reignited my love for this series. It's an example of how book-to-screen adaptations can triumph when they make sure to retain what made the original story so captivating – an expansive world, an engaging plot, and characters you can't help but fall in love with – and make changes to improve the story where necessary. Shadow and Bone is not a perfect adaptation, but it took a risk in terms of its storytelling, and it paid off wonderfully. Now, I'll be anxiously awaiting news of a season 2 renewal… and another chance to travel into the incredible world of the Grishaverse.
First-year Lexi Weaver is a Copy Editor. Her email is aweaver5@fandm.edu.