By Josh Dratler II Contributing Writer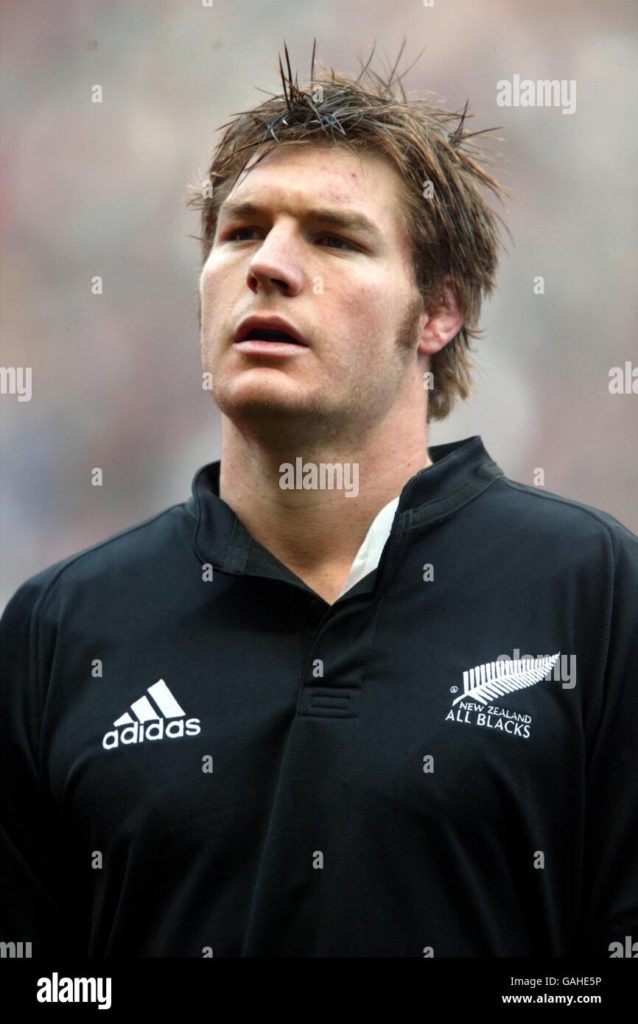 Image of Ali Williams during his playing career with the New Zealand All Blacks. Image courtesy of Alamy.com
The 2023 Rugby World Cup began on September 8 and will conclude on October 28. The tournament opened with hosts France defeating three-time world champions New Zealand 27-13. In light of this, the College Reporter sat down with 2011 Rugby World Cup winner Ali Williams. In addition to his 2011 triumph, Williams featured in the 2003 and 2007 World Cups for the New Zealand national team, nicknamed the All-Blacks. Playing at lock, he made 77 appearances for the All-Blacks from 2002 to 2012. Williams played most of his club career domestically before retiring in 2015 after a stint in France with RC Toulon. Ali resides in Auckland, New Zealand, and is a father of five.
Josh Dratler: Hi Ali. Thanks for taking the time to speak with me.
Ali Williams: Sure thing! Fire away.
JD: I understand being called up to play for the All-Blacks is a big deal for any Kiwi. Where were you when you found out about your call-up? Is there a story to it?
AW: There's a slight story. We had just won the [National Provincial Championship] for Auckland against the Waikato and we were having a few quiet celebratory drinks. And the All-Blacks used to name [call-ups] over the radio, so we were all gathered around. But I wasn't; I was in the portaloo (toilet). And I came out and my coach at the time, Wayne Pivac, said "You've been named as an All-Black," and I said, "No, you're just having me on." So I thought they were all playing with me but eventually, I worked out that I was named to the All-Blacks in 2002. So I was first named an All-Black in a portaloo!
JD: That does make for a very good story! Once you knew it was legit, who was the first person that you told? Did you call someone?
AW: My dad's been big in my career as a supporter so I gave the old man a ring. And he obviously knew before me since he was listening over the radio and thought there could be an outside chance. It was good just to talk to him and celebrate together.
JD: Were you surprised?
AW: I sort of wanted to be named, I had a hope in there, but I didn't think it would come that early. But one of the easiest parts is getting named, one of the hardest parts is staying to be an All-Black.
JD: Of course you more than stayed on the All-Blacks, playing in and winning a Rugby World Cup. Have you been following the current tournament?
AW: I've been watching a little bit. I wouldn't say I'm an avid watcher but definitely a fan. Other things come in the way, so I don't watch every single game. It seems like the French, having lived over there, will be great hosts regardless of what team you are. They have very passionate supporters of their team, and other teams, except maybe the English!
JD: Do you have a player to watch in the tournament?
AW: I think tournaments are the time for the older boys to stand up. And not because they're gonna do the flashy stuff, but because of their demeanor, their manner, the ways that they end their career at a World Cup. It's really where experience comes to the floor. So for people like me, it's Brodie Retalick, Sam Whitelock, and Sam Cane of the All-Blacks, and people like Duhan van der Merwe of Scotland and the South African Eben Etzebeth.
JD: You played in three Rugby World Cups. How was your experience in them? How does it compare to playing in any other game?
AW: That's interesting. The World Cup is very different. You have to play a very different style of game. I think in round-robin pool play you can express yourself a lot more, but when you get to knockout football, it's about respecting how a lot of different things can happen and you've got to be prepared for that. Whether it's injuries, a referee's call, weather, crowd, you know, all sorts of elements like that. I look at it that there's a lot more pressure put on people, both individually and collectively, but in my eyes, the pressure is a privilege so I really enjoyed playing in World Cups for that extra added pressure.
JD: Would you consider winning the Rugby World Cup to be the magnum opus of a player's career?
AW: I think so. You can't go past winning a tournament like that, obviously it happens every four years so just getting there is a feat in itself but then to win is pretty good. So it's probably the pinnacle but I was very lucky during my career. I won a lot of championships and tournaments with different teams, but the irony is that in 2011 when we won, it was more of a relief because of the pressure, rather than pure enjoyment or excitement. It was one of those teams where we won because we were on fire but we had to win, hence the relief.
JD: Was there a particular moment where it sank in that you were world champions?
AW: Sort of now. Right after it you realize but more so now, almost twelve years later. You realize "Oh yeah, I did win it!" It's pretty cool to be one of the select few people around the world to have won a Rugby World Cup. And when your kids say that you're useless and slow and fat, you can say you've won it, and that's the best part about the whole thing!
JD: Could you explain what the haka is and what its importance is to the All-Blacks?
AW: The haka is traditional to the Pacific Islands, which New Zealand is one of, and my understanding and passion for it comes from the fact that when you're doing the haka, it's not just to scare or intimidate the opposition but to draw the spirits from the past—the people who've come before you—up through the ground and take them into battle with you. It definitely became commercialized, which had its positives and negatives, but it's professionalism and it's how the game keeps moving forward.
JD: And how would you rate your haka skills?
AW: Well, I gave it a lot of energy, I wasn't afraid to chuck my tongue out, but I just really enjoyed it. I thought it was a great start to the game in terms of getting your mindset in the right place and really showing your opposition that you're there for business. For a rating, I'd always say that there's room for improvement on anything, but I'd say above average—for a white boy!
JD: I read that you didn't start playing rugby until you were seventeen. What prompted you to get into the sport?
AW: I was a late blossomer when it came to rugby. I was playing [soccer] and I really enjoyed it, but then I got to [high school] and realized that to get an audience in New Zealand you've gotta play rugby. And when I say audience, I mean the other sex! They were far more privy to rugby, hence my immediate change. Once I started playing, I loved it, I loved the contact, the team element, the fact that everyone has to buy in to be a great team.
JD: Did you have any pregame rituals?
AW: I did. I listened to "Lose Yourself" by Eminem before every game. I used to try to shut myself off and I'd try to find a little humor in the medical room before I ran out, because I got a lot of things strapped, shoulders and knees and things like that. So when I was in there I had a bit of fun with the medical staff just to stay light-hearted and relax. Spaghetti, chicken, mashed potatoes before every game too. Really just a few things, I don't think they did much but they got me in the mood. You could say it puts you in the right mindset.
JD: When it came time to hang up your boots, was there a moment when you realized it was time? Were you fighting it?
AW: I think that when you know your time's up, you know it. And that comes in so many different ways, mentally or physically. You've gotta be honest and say "I'm not where I need or want to be, let's pull pin now," and I think too many people probably hang on, do one or two more seasons that drag it out, and give themselves a bad feeling. When I finished, I was extremely content, happy, and not a day goes by when I wish I was back on that field. Look, I get a bit excited when the haka happens and the boys get into it but I've had my time and moments. Now it's time for others to grow and create their own legacy.
JD: Do you have any concerns about CTE? Do you think more can be done to prevent it?
AW: That's one of those elements where some people will be affected in different ways. My own personal view is that I'm fine but you never know where things go and that's why you have to look after yourself. As for whether I have any regrets, which I think is the bigger question for a lot of people when we talk about health, well, I've dealt with knees and backs and all that sort of stuff but I wouldn't change a thing, I loved my time as a professional rugby player and I'm happy to wear the consequences of things like sore knees and sore backs because it shaped me as a person, a father, and a partner. It's just one of those things where you've gotta take the good with the bad, right? I just don't think you have a choice. You can't wince once you've had the glory and the good times.
JD: How did you balance your athletic and non-athletic careers?
AW: When I started it was fully professional so I did six months at university doing a business degree. I ended that pretty quickly because I got into my first professional team. So I didn't really juggle too much work in the early ages until I was established, and then I started some businesses of my own. I tried clothing, furniture, and a few others. All along that process, I had been into property and now I'm doing full-time commercial property in Auckland.
JD: Do you have a proudest off-the-field moment?
AW: One of the mantras that I live by is that the only real legacy that you leave is your children because that shows the good and the bad sides of you. It shows that you're not perfect but we give it our all and we try, we give them our time. So my proudest moment is probably having my kids and knowing that journey was ahead of me, to try and be a great father. It's one of those things you keep trying to perfect and I don't think you ever do perfect it. The rewards are huge, bigger than any trophy you'll get, but the challenges are probably harder than you'd ever think imaginable.
JD: Do you have any thoughts on US rugby?
AW: Well I've been to the US, actually. In '08 I went out to train out in LA for a few months. I even got involved with the US Rugby Union. Had a look and saw how things were going. I think it's one of those beasts, look, you've got so many athletes, it's not even funny. I think one of the elements is the ability for you to train, the ability for someone else to come in if you're not good enough is second to none, we just don't have that volume of people. But I think like anything you just gotta slowly support it, slowly grow it. And you've now got a professional pathway with the tournaments out there. You create a professional pathway, you get more athletes into it. Plus the American culture suits rugby.
JD: It hasn't been long, but do you think the game has changed much since you played?
AW: It's definitely changed. I think it changes really fast in between seasons. Definitely a lot more physical, a lot faster, there's a lot more parity. But that's the evolution of both life and sport. People are getting better and better, and you've just gotta work harder to find different ways to beat your opposition. I think the powers that be need to decide where they want to put the game in terms of an entertainment spectacle, and how it's played and perceived around the world. But they'll do that or otherwise, we'll lose our popularity to several other sports that are catching up.
JD: Lastly, do you have any advice for student-athletes, like Franklin & Marshall's rugby team?
AW: With rugby, you've gotta enjoy what you do but you've gotta respect your teammates and opposition. To be a good rugby player, you've also gotta understand that it's not going to be nice and roses all the time. There will be a few dark holes that you've gotta jump down. Put your body in positions that you probably don't want to or shouldn't, but that's where the rewards will come. If you're doing that, that's a selfless act for your team and they'll notice it. Get out there, have some fun, throw your body at it, that's my view!
Senior Josh Dratler is a Staff Writer. His email is jdratler@fandm.edu.