By Abigail Sokolsky || Layout Assistant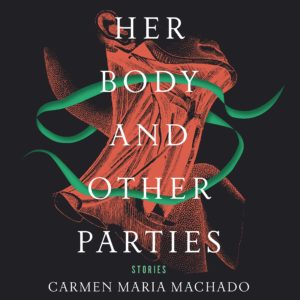 Carmen Maria Machado, born in Allentown, Pennsylvania, is a writer most notable for her short stories. Machado received an MFA from the Iowa Writers' Workshop and is currently an Artist in Residence at the University of Pennsylvania, a private Ivy League research university located in Philadelphia. Machado's work has been published in Granta, the New Yorker, Guernica, and Tin House amongst other publishers. Machado has additionally been a finalist for the Nebula and Shirley Jackson Awards as well as the Bard Fiction prize. Due to her increasing literary reputation, Carmen Maria Machado was selected as the 2018 Jerome Irving Memorial Short Story Contest Judge at Franklin & Marshall College. Machado's popularity and name recognition continues to grow with the publication of her collection of short stories Her Body and Other Parties, for which she was a finalist for the National Book Awards Fiction Prize in 2017.
Machado's book Her Body and Other Parties is quickly gaining popularity amongst the literary community. A collection of short stories dealing with issues of gender and sexuality, this book blends science fiction, fantasy, and horror into something entirely new and aesthetically unsettling. With disturbingly vivid language, Machado describes the female body, childbirth, and the act of sex all with the aim of addressing one question: who is in ownership of the female body? Machado attempts to answer this question with unsettling stories of women with mysterious ribbons, a catalogue of a woman's sexual encounters, a mother's disorienting experience, and other unorthodox tales. These eight stories thus address issues of sexual violence and other encounters on the female body, revealing the harsh reality of female physicality and psychology through a combination of reality and the supernatural.
The first installation of the novel, a short story about an unnamed woman with a ribbon around her neck, draws the reader into Machado's fantastic and contorted world. In this story of a woman's coming of age, the protagonist finds herself quickly falling in love with and marrying the strapping boy next door. The description of this young woman's heady desire and bold advances creates a character feminist in her shameless expression of female desire. The protagonist is not without reservations, however, denying her suitor and later husband nothing but that he not touch her "ribbon." This young woman is not alone in having a ribbon, for the reader encounters one woman with a ribbon around a finger, another with one encircling her ankle. With these ribbons, Machado introduces an element of speculative fiction, taking the real world and adding a dimension of supernatural mystery. As their relationship grows, the young woman and her husband live a happy life except for the husband's unquenchable need to discover the purpose and function of the velveteen green ribbon which surrounds her neck. With this ribbon, Machado calls the reader's attention to the nature of desire as well as the fragility of sexual boundaries and the female body, the disturbing temptation to violate and consume.