By Anna Goorevich || Contributing Writer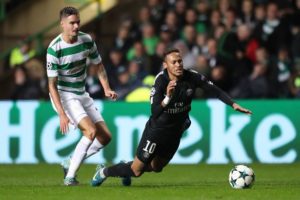 Each year, soccer fans all over the world are entertained through mid-week competition where 32 of the biggest soccer clubs in Europe square off in the UEFA Champions League. This past week began this year's group stage games, beginning an almost year long tournament that will culminate in May where one team will be crowned Champions League winners, one of the most coveted prizes in soccer.
To start off the competition, the 32 teams are randomly sorted into eight four-team groups. In a round-robin style, each team will play the other clubs in their group twice. By December, the top two teams in each group will move on to the round of 16 and forward into the elimination stages of the tournament.
Since this week was the first opportunity for teams to earn points, it was essential for clubs to capitalize on their opportunities by winning early on. Some notable results from Tuesday's matches were Portugal's Sporting CP narrowly defeating Greek club Olympiacos 3-2, and Roma and Atletico Madrid being held at a 0-0 draw.
Additionally, Manchester United had a strong return to top-level European competition by gaining the upper hand against Swiss club Basel FC in an exciting 3-0 match. The United squad was enhanced by their substitutes as two out of their three goals came from players who started on the bench: England's young star Marcus Rashford and Belgian Marouane Fellaini.
Paris Saint Germain (PSG) lived up to the expectation of being a favorite to win the tournament after demolishing Scotland's Celtic FC 5-0. PSG's star studded team was on full display as new signings Neymar and Kylian Mbappe both added goals along with a double from Edinson Cavani, setting the scene for a strong striking force throughout the season.
Lionel Messi led Barcelona by adding two goals to their 3-0 defeat of Italian powerhouse Juventus. Seemingly unfazed by the loss of Neymar to PSG this summer, Barcelona showed off their newest signing Ousmane Dembele as he impressed in his first start for the legendary club.
Group competition also heated up on Wednesday as many significant results were found throughout Europe. Last year's European Champions Real Madrid dominated in a 3-0 win against Cyprus club APOEL FC.
In one of the most anticipated fixtures of the group stages, North London's Tottenham Hotspur got off to a winning start by defeating Germany's Borussia Dortmund in a thrilling 3-1 match. England striker Harry Kane proved his world-class status by notching two goals on the European stage, following up on the South Korean, Heung-Min Son's, opening goal in the third minute. Tottenham's win this week was crucial for Champions League success as they are placed in the infamous "Group of Death" made up of Real Madrid, Borussia Dortmund, and APOEL FC, all of whom present a strong competitive challenge.
Other notable results from Wednesday are Liverpool FC being held at a 2-2 tie by Sevilla, Besiktas defeating FC Porto 3-1, and Pep Guardiola's Manchester City team dominating Feyenoord 4-0.
Champions League group stage competition will be ongoing until December. As of this week's results, every team is still very much involved in fighting for a coveted spot in the elimination rounds beginning in early 2018.
Senior Anna Goorevich is a contributing writer. Her email is agoorevi@fandm.edu.