By Gabby Goodwin || Layout Assistant
Whatever the weather conditions, wet, rainy, or cold, the F&M Field Hockey team has proven that any day can be a good day to be a Dip. After losing to Ursinus 2-1 in overtime in the Centennial Conference finals this past Sunday, F&M Women's Field Hockey secured a huge win on Wednesday night against King's College.
In the first round of the NCAA tournament, the Diplomats secured a 2-1 win over the King's College Monarchs on a wet and rainy evening. Just three minutes in, the Monarchs jumped on an early missed clearance to give themselves a 1-0 lead over the Diplomats. Down 1-0, F&M Field Hockey was not about to hang their heads.
The Diplomats bounced back early when first-year forward, Erin Coverdale, tied the game 1-1 with a goal in the 17th minute. Five minutes later, F&M's Emily Nagle nearly gave the Dips a 2-1 lead when her shot hit the post in the 22nd minute; however, it was F&M's Sydney Cole who was able to finish it for the Diplomats. With an assist from F&M's Annie Horsley, Cole had a shot in the bottom-right corner of the net in the 25th minute of the first half of the game.
Still maintaining a 2-1 lead over the Monarchs, F&M Women's Field Hockey faced some unlucky moments in the remaining minutes of the first half. The Dips continued to dominate with two penalty corners following Cole's goal; however, they were unable to finish.
Keeping pressure on the Monarchs, F&M closed out the first half with a 6-1 lead in shots and an 8-0 deficit in corners, clearly in command. F&M dominated early in the second half, with majority control of possession. Unable to extend their lead, the Monarchs earned their first corner of the match in the 56th minute. To their dissatisfaction however, King's Field Hockey was unable to generate a shot against the strong Diplomat defense.
F&M clenched a hard fought 2-1 victory over the Monarchs, sending them into the Sweet 16 for the third consecutive season. The Diplomats faced TCNJ, the 2014 NCAA Division III Field Hockey Champions, on Saturday at Babson College in Wellesley, Massachusetts in the second round of the NCAA tournament.
They won in an overtime thriller and advanced on to the Elite Eight of the tournament. With just 3 more wins, the team could see themselves being called National Champions. We wish the team good luck as they make their way towards the final weeks of the season.
First-year Gabby Goodwin is a layout assistant. Her email is ggoodwin@fandm.edu.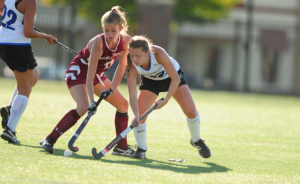 Photo courtesy of godiplomats.com