By Christa Rodriguez || Layout Assistant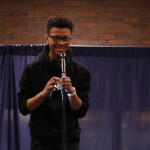 This past Friday in the Steinman College Center Atrium, F&M's spoken word and creative writing group, LIFT (Levitate, Inspire, Foresight, and Teach) hosted "Voices", where they performed multiple pieces relating to recent acts of injustice and violence around the world in order to raise awareness. This included current events such as the protests at University of Missouri or the terrorist attacks in Paris as well as less obvious acts of injustice against innocent victims.
Shakeyla Flores, LIFT's Public Relations Officer stated, "The presentation's significance comes from the fact that our own students are aware of unfairness in the community and wish to make their strength and presence known in solidarity." LIFT hopes that this presentation brought about awareness and inspires meaningful discussion on campus.
Co-president of LIFT Bendjhi Villiers describes the club as more of a family. He says, "the talent spilling out of everyone is so incredible that it makes you want to be a better writer. It makes me want to write outside the comforts of my margins to see what I discover once I get there." Most members of LIFT, like Bendjhi, were troubled by the recent world events. Villiers remarked, "We all felt like something had to be done. For myself it was about letting all my frustrations, questions and thoughts out in a space where people wanted to listen while hoping that what I said would at least get those listening to start thinking as well."
Villiers feels that the role of any artist is to create a reaction and inspire certain thoughts and feelings. For him, the performance "is a chance for students to speak their mind without feeling like they need to censor what they say. It's a chance to help everyone who comes to move towards a place of understanding."
Flores said, "Not only were performances about current events, but some even touched on the prevalence of the "Big Eight" Social Identifiers: ability (mental and/or physical), age, ethnicity, gender, race, religion, sexual orientation, socio-economic status/class."
Many of the LIFT students performed more than once on stage throughout the evening, and they opened up the stage to any audience members two separate times to have others share their voices and talents as well. Flores noted, "Our implementation of an open mic portion during the performance was our way of not only making the event interactive, but also allowing for our audience members to feel comfortable in joining us make the power of each and every voice worth listening to."
The opening and other acts spoke about their distaste for social media, especially surrounding anonymity and hate or false support through hashtags that ultimately do nothing. One student's poem spoke about "justice for everyone but just us" and asked, "if you're always on what's trending, where's your originality?"
Many performers listed names of innocent victims of hate that have been on the news to bring their stories out into the open. Others focused on how it feels to be a person of color in the U.S. and how they are treated. A poem titled "What This Girl Wants" spoke about being a "dark brown beautiful woman that scares everyone" because "I don't look like you."
Multiple speakers relayed their anger over people who say racism does not exist or that it is over. One performer said, "people don't even see the privilege on their bodies as white as snow" Some performers simply focused on their voices themselves and the importance of being heard. A performer read her poem called "Amerikkka," which said, "I speak for America, but America don't speak for me."
In one of her poems, Shakeyla Flores said that for justice, "our voice will not crack." The theme of class came up in a few poems as well, noting how they are still proud of where they came from along with the fact that they are attending college.
A few poems centered on gender and sexuality. One performer wrote about how people "have to give an explanation for why you love who you love." She concluded with the thought that "girls like girls and guys like guys. Get over it."
Others chose to write about what it means to be a man, and that society's image is unattainable. Most poems and raps were original, however, some read poems written by other people, such as the poem "Still I Rise" by Maya Angelou.
Towards the end, an alumnus of F&M and one of the co-creators of the group performed an uplifting poem with the LIFT members behind him on stage. Audience member and student Jessica Lovius said, "It was good to see such honest expression and a variety of different perspectives."
Another audience member Andy Marquez commented, "All of the performances were really eye opening and inspiring. I always love going to events like these on campus because it reminds me how diverse our student body is."
This was the last LIFT performance of the semester, but the group assured the audience that there will be bigger and better things coming from the group in the new year. Villiers noted that, "LIFT for me is a space for powerful voices that desperately needs to be heard."
First-year Christa Rodriguez is a Layout Assistamt. Her email is crodrigu@fandm.edu.