By Zhifan Yang || Contributing Writer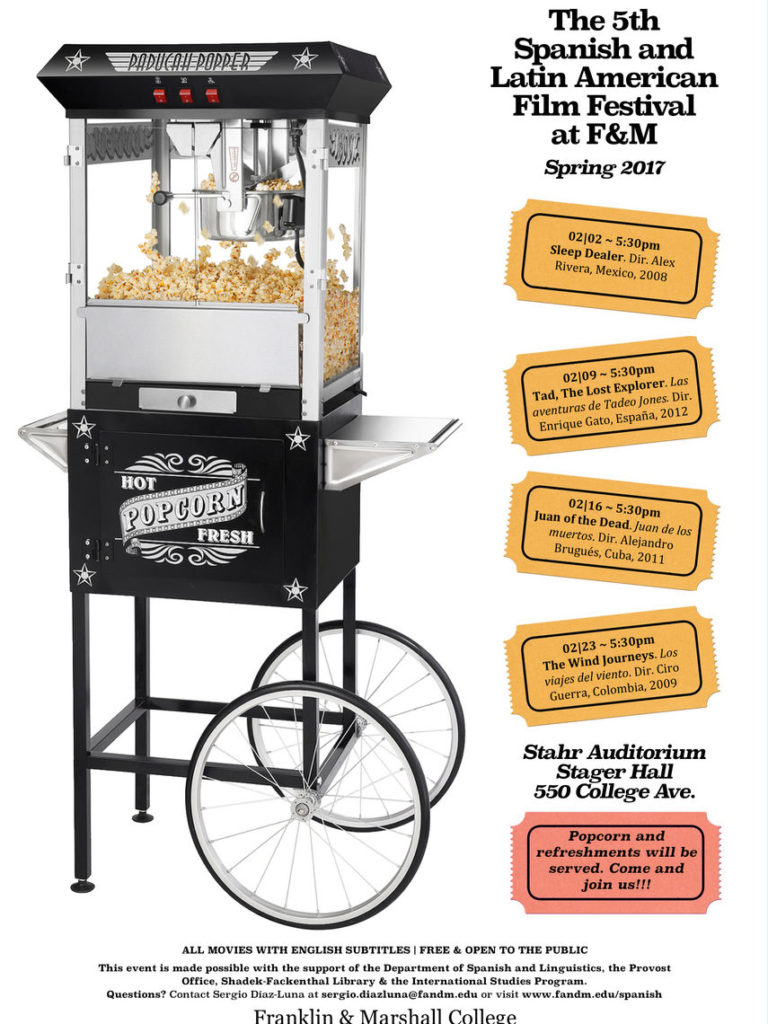 Last Thursday, February 2, the fifth Franklin & Marshall Spanish and Latin American Film Festival gave its first screening Stahr Auditorium. The festival, which started in 2013, has been held successfully every year. The Spanish and Latin American Film Festival shows one selected film from across Spain and Latin America every Thursday in February and aims to evoke "reel inspiration."
"The Spanish and Latin American Film Festival is a good opportunity for students to learn the numerous cultural, socio-economic, political, and ethnic manifestations found in the Spanish-speaking communities all over the world," Professor Sergio Diaz Luna says.
Films screened at the festival are all carefully selected. According to Professor Diaz Luna, the director of the festival this year, in order to choose those movies he, along with Professor Felipe Quintanilla and Professor Anastasiya Stoyneva, established a committee to discuss the movie choices. If they had a disagreement during this process, they would bring the choice to a vote. They not only focused on awarded movies from the Oscars, Spain Goya Awards, and Berlin International Film Festival, but gave a lot of attention to the diversity of their selected films. The first movie Sleep Dealer, shown on February 2, is a science fiction movie from Mexico, the second movie Tad, the Lost Explorer is a computer-animated adventure comedy from Spain, Juan of the Dead is a comedy zombie film from Cuba, and finally, The Wind Journeys, is a drama film from Colombia. According to Professor Quintanilla, they want students to know that there is a wide range of Spanish speaking countries. Spanish is not only spoken in Spain, but also in Latin America. By showing such a wide variety of films, they want students to get to know and appreciate the diverse cultures of Spanish speaking countries.
The food served during the event is a surprise. On February 2, the first day of showing, they served Mexican pork and chicken tamales, because the movie shown that day was from Mexico, with popcorn and soda.
"I really like the food. Watching movies as well as having food is really enjoyable" according to Jingxin Tian, a first-year student who is taking Spanish this year.
The next three shows will also provide food from different Spanish-speaking countries. Watching a movie from a country and while also enjoying their food is a perfect, fun way to experience a culture.
The festival is open to all F&M students, staff, and colleagues and the entire Lancaster community. All the movies have English subtitles for those who do not understand or study Spanish. According to Professor Diaz Luna: "We do not live in a bubble, and we need to keep in touch with the community." The festival is also a good way for students and the school to build connections. In Lancaster, there are many members of the community who are either immigrants or refugees from Spanish-speaking countries—the festival welcomes them to come and enjoy the movies and food.
Overall, the festival is a good opportunity for students to enjoy movies, get to know other cultures, and build connections with the community. You will definitely have a great experience if you go to the screenings at 5:30 p.m. every Thursday throughout the month of February.
First-year Zhifan Yang is a contributing writer. Her email is zyang1@fandm.edu.