By Katherine Coble || News Editor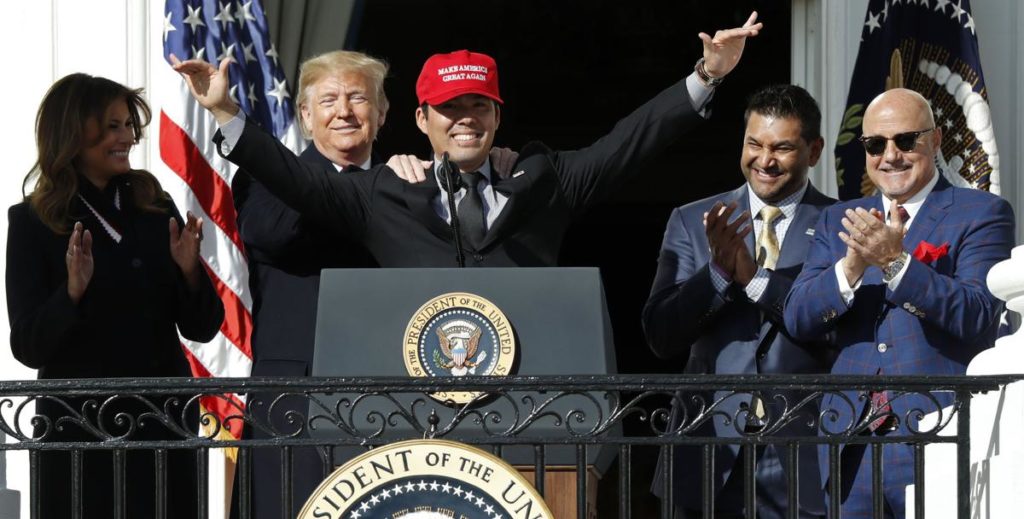 The Washington Nationals became the latest professional sports team to grapple with an issue unique to the Trump era: how, or if, to visit the White House following their championship, as is traditional.
Just a few miles from their stadium in Navy Yard, the Nationals arrived at the White House to a mix of fanfare and protest. Trump was notoriously booed during Game 5 of the World Series at home in DC, with some fans even spontaneously bursting into chants of "Lock Him Up!", a twist on Trump's derogatory slogan against Hillary Clinton. The incident occurred just hours after President Trump announced the death of ISIS leader Al-Baghdadi, a move many Trump strategists hoped would boost his popularity. Instead, the president's first visit to a baseball game since taking office was filled with little more than derision. Washington, D.C. is one of the most liberal enclaves in the country, with only 4% of its residents voting for Trump in 2016.
If Trump was fazed by his treatment in Washington during Game 5, he didn't show it. Instead, he carried on with an air of celebration and victory. Trump even managed to quip about his currently political situation, joking that the Nationals are all anyone wants to talk about – "that, and impeachment." Both the players and the crowd burst into laughter.
Several prominent players opted not to attend the visit to Trump's White House, including the All-Star third baseman Anthony Rendon and relief pitcher Sean Doolittle. Doolittle was the only one who publicly ascribed his absence to politics. All in all, eight Nationals players skipped the event: Rendon, Doolittle, Michael A. Taylor, Victor Robles, Joe Ross, Wander Suero, Javy Guerra, and Wilmer Difo. Owner Mark Lerner and his wife Judy attended to represent the ownership team, although family patriarch Ted Lerner (who recently turned 94 years old) was not in attendance.
During the event, several Nationals players appeared to show their support for President Trump. Kurt Suzuki donned a MAGA hat, much to the delight of President Trump, who embraced the catcher from behind. First baseman Ryan Zimmerman, the team's first-ever draft pick in 2005, was even more explicit in his support. When presenting President Trump with a team jersey, he thanked the president "for keeping everyone here safe in our country and continuing to make America the greatest country to live in the world."
The traditional White House visit, usually par for the course in the aftermath of a professional sports victory, has become tense and highly divisive in the Trump era, as both players and fans grapple with Trump's rhetoric. Although 21 major sports teams have won championship titles since he ascended to office, only 11 have actually attended the White House. Some were invited and chose not to attend, like the 2016-17 UNC men's basketball team. Others were not invited at all, such as the Golden State Warriors in both 2017 and 2018. The South Carolina Gamecocks became the first women's basketball champions not to be invited to the White House in 34 years.
In other cases, teams have accepted the invitation to the White House while large portions of players have skipped the event. One such example is the New England Patriots' 2016 Super Bowl-winning team. Only about half of the team attended the event, with five announcing they had opted out for political reasons. Perhaps the most dramatic display of protest occurred with the 2017 Philadelphia Eagles. Trump rescinded his invitation to the team after learning as few as two or three players would actually be attending. In response, the mayor of Philadelphia denounced the president as "a fragile egomaniac obsessed with crowd size."
The next year of professional sports championships is sure to bring continued controversy when the issue of a White House visit rolls around – especially if President Trump wins re-election in November 2020. Until then, players, coaches, and owners will continue to grapple with the social and political ramifications of attending – or not attending – a meeting with our country's president.

Senior Katherine Coble is the News Editor. Her email is kcoble@fandm.edu.