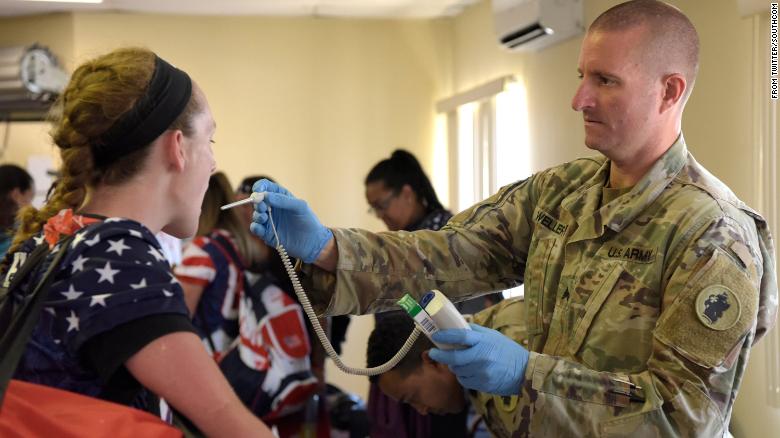 By Gabby Goodwin || Managing Editor
On Friday, March 20th, the United States military flew a team of U.S. women's football players back home when they became stranded in Honduras after the country closed its borders to curb the spread of COVID-19. The American Football Events team was in Honduras to play in the Americas Women's Bowl when the competition was canceled midway through due to concerns over the coronavirus pandemic.
Just hours before the team was scheduled to leave for the U.S., Honduras announced it would be closing its borders for seven days, beginning at 11:59 PM on March 15th. The team of 55 members said they were safe and remained quarantined at their hotel in Tegucigalpa, Honduras. On Friday, March 20th, a U.S. Air Force C-17 flew about half of the team out of Honduras back to the U.S. and a U.S. Air Force C-130 transported 89 U.S. citizens, including the remaining members of the team, to Charleston, South Carolina (CNN).
The team and other U.S. citizens were fortunate enough to return home to the U.S., however, a large number of Americans are struggling to get back. "Word on the island from resort owners is that there are maybe as many as 1,000 US citizens on Roatan," Fred Warkentine, an emergency medicine physician from Kentucky who has been stranded with family on the island, told CNN Saturday.
Currently, the U.S. Embassy in Tegucigalpa is providing letters for stranded Americans to transit to the airport now that Honduras is on lockdown. Despite these efforts, no one knows when the planes will be arriving. Additionally, when American citizens resorted to calling the phone numbers they were provided with, there was no answer at all. Warkentine said his family's original flight on Delta out of Honduras on Saturday was rescheduled, and then canceled without an alternative flight offered (CNN). As the world struggles to combat the spread of COVID-19, so many unknowns remain, especially for the 50,000 U.S. citizens stranded in other countries around the globe in this time of uncertainty. Helping those American citizens get back to their homes is just another reason to add to the list of reasons why we continue to remain inside and in quarantine. If you are currently abroad during this pandemic or know someone who is, visit https://travel.state.gov/content/travel/en/international-travel/emergencies.html for more information.
Senior Gabby Goodwin is the Managing Editor. Her email is ggoodwin@fandm.edu.