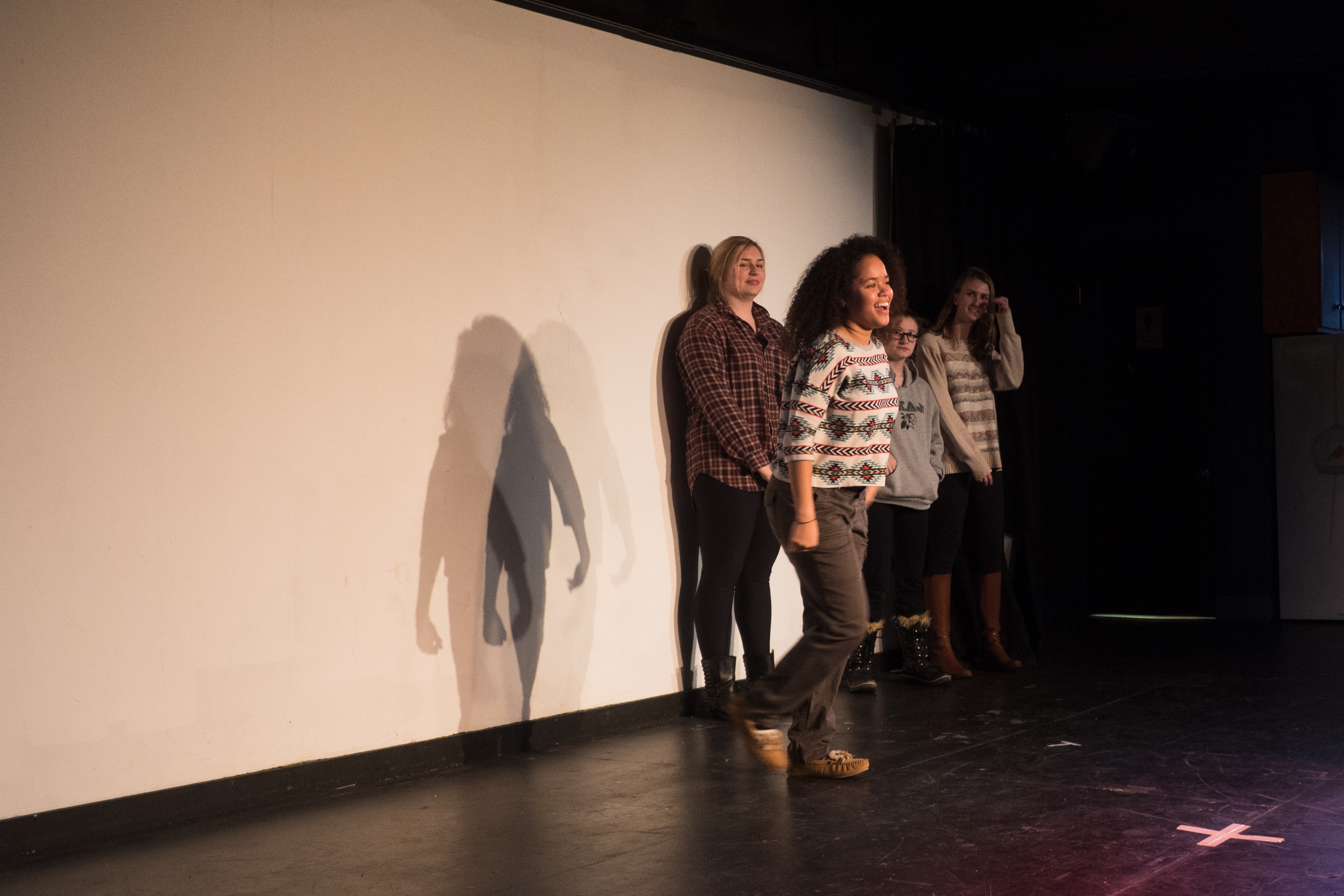 By Anh Nguyen, Staff Writer ||
F&M's 2015 production of Eve Ensler's play The Vagina Monologues was delivered in three performances last Thursday, Friday, and Saturday (February 12-14th) at the Other Room Theater. Entirely directed and performed by students annually, the play has the purpose of raising awareness on violence against women and young girls and has always been well-received by the campus community for its messages.
This year was the second time Cecilia Plaza '17 has directed the show and her first time being in primary charge of planning and organizing the show. Her involvement with The Vagina Monologues started when her friend Briana Robinson, the main director of last year's production, asked her to be one of the co-directors. "It was a split second decision that changed everything," Plaza reflects.
If last year her responsibility only consisted of helping cast members with their monologues, this year she is in charge of not only that but also laying out the program and promotion for the show. The casting process, she notes, was particularly exciting: as the goal of the national organization, V-Day, is to get as many women involved in the show as possible, all 41 women who auditioned for the show ended up being included in some way. The cast of the 2015 production is also very racially diverse with half white, half minority members, including three international students.
For Valerie Peng '18, one of the international students on the cast, being a part of the show helped her to learn more about how women should never feel insecure or ashamed of their own bodies. As a part of the monologue called "Lists", Peng and her fellow cast members talked about what their vaginas would wear or say if they could get dressed and talk, which led to hilarious yet profound discoveries. "The vaginas have tastes in clothing and are sassy but honest," according to Peng.
Vanessa Hart '16 has played the monologue called "The Vagina Workshop" for the last two productions of the show at F&M. This monologue follows the story of a woman's attendance at a workshop on female pleasure, as she herself did not really know how her own vagina and pleasure worked. Considering the diversity of the cast, Hart feels that being in the show really helped her to meet and get close to people she might not have met otherwise. Her deep involvement with the show comes from her passion for improving women's presence in American culture as well as other countries, as women in other countries are often excluded from the discussion. "There are so many women who grow up knowing nothing about themselves," Hart stresses, "and so many of them fall prey to the horrible dialogue that goes on between the generations of men and women who came before us." She considers the play a great venue to give voice to women to tell their real stories, those that have often been overlooked in our male-centric society.
As the show's stage manager and lighting and sound operator and designer, Tristan Blue '17 has the unique perspective of one of the four men involved in this show with a large, exclusively female cast. He very much enjoys being a member of the crew, and finds it highly rewarding to help bring the show's feminist message to the audience. He recalls being moved to tears by several monologues upon first seeing and reading them. Blue is present at every rehearsal, and enjoys watching the show every time for all of its entertaining, educational, and enlightening aspects.
Having male crew members is a new thing about this production – according to the director, last year's show did not have any men involved at all, and the production team very much appreciate their presence and support. For Blue, being a part of the show has deepened his understanding of the origins and importance of feminism. "I can tell you this much; I have learned a lot about vaginas," he says, "It is interesting to me to hear what the vagina means to the writer of each monologue."
The Vagina Monologues at F&M is a faction of the international efforts of V-Day to end violence against women. All the proceeds of this production are being donated to YWCA of Lancaster. Even if the show has been criticized for being outdated and excluding the experience of transgendered women, director Plaza thinks that it is still important to perform it at F&M. In fact, this year's production will also include the optional monologue of a trans woman – "no question about it," Plaza says. While the show may need a little updating on issues it has not really touched on, it still has a lot of resonance and still plays the part of a stepping stone to the equality and safety for girls and women that we want to achieve. As long as anyone who is on the cast or comes to see the show can still experience any personal change regarding the issues addressed in the show, it is still worth it.
Junior Anh Nguyen is a staff writer. Her email is anguyen@fandm.edu.