By Ruby Van Dyk || Staff Writer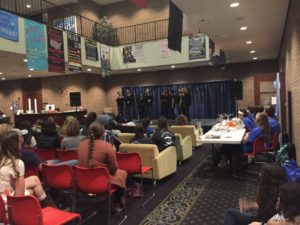 On Thursday, November 2nd, Colleges Against Cancer held an acapella concert with all four of F&M's Acapella groups. The event was held in the College Center, where Colleges Against Cancer members were also selling baked goods that went to their cause: The American Cancer Society.
The event was hosted by members of the Rumspringas, who really got the crowd laughing, and even put on a sketch in the middle of the four groups' performances. Up first was Sweet Ophelia, one of F&M's all female groups. The group belted songs like "Paradise" by Coldplay and "Cry Me a River" by Justin Timberlake, captivating the audience with their gorgeous voices.
Next was Kite and Keys, F&M's other all female group. The group started off with a somber and captivating edition of Adele's "Water Under the Bridge" and continued on with other beautiful songs like "Skin" by Rag'n'Bone man. The soloist's voice soared through the College Center, as the audience listened intently to the beautiful rendition.
The Chessmen were up next. The Chessmen is F&M's all male group, and they opened with "Come Together" by the Beatles, which really got the audience excited. They also sang Calvin Harris's "Slide" (rap included) and finished off with an amazing rendition of Britney Spear's "Toxic."
Lastly, it was time for the Poor Richards. The Poor Richards is F&M's only co-ed acappella group. They sang a beautiful rendition of Leon Bridge's soulful ballad "River" along with an amazing version of Lady Gaga's "You and I" that got the audience cheering. Each soloist was fantastic in their own right, and combined with the group, they gave a stunning performance.
Overall it was a wonderful night of beautiful music for a great cause and if you have not gotten the chance to come listen to F&M's Acapella groups I highly recommend it, the talent is undeniable.
There are few opportunities coming up to see these wonderful groups, including on December 7th when all four acapella groups will be performing at Common Hour. Additionally, on December 9th, Sweet Ophelia and The Chessmen will be holding their final concert at 5pm. Make sure to come support these wonderful groups, you won't forget it.
By the end of the event, Colleges Against Cancer had raised $353 in towards the American Cancer Society. Colleges Against Cancer meets every Tuesday at 7pm in Stager 215 for anyone interested in joining the club.
First-year Ruby Van Dyk is a staff writer. Her email is rvandyk@fandm.edu.