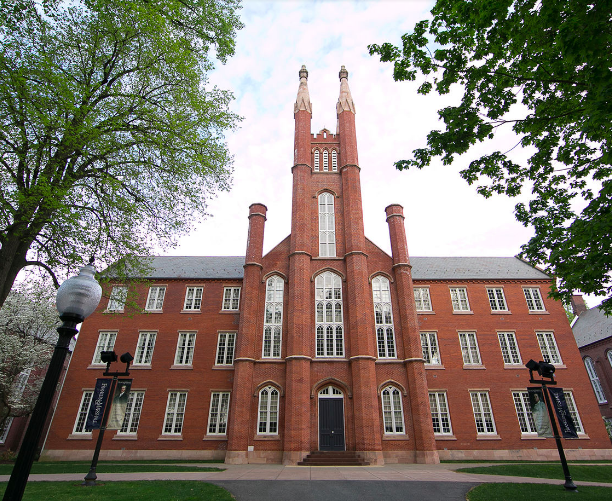 By Christa Rodriguez || Campus Life Editor
This past Thursday's Now Hour differed from the usual format for Common Hour, as it was framed as a conversation between speakers and the F&M Community. This Common Hour, "Academic Excellence with Financial Stability" was closed to the wider community, as its focus was on the college's current budget situation and answering questions from concerned students, faculty, and professional staff. The way the chairs were arranged reflected this, creating a more curved semi-circle rather than the usual rows.
President Barbara Altmann and Vice President for Finance and Administration Paul Mutone each spoke briefly to update the audience on our budget priorities and options to address the current deficit. As Altmann said, the "main focus today is going to be hearing from you." To this end, there were index cards provided in the back to allow attendees to write down their questions if they did not want to ask at the microphones. Now Hour is one of several events and forums that were held at the college to address the budget.
Altmann emphasized in her portion of the talk how our "significant budget shortfall…does not negate the fact that we're doing other things really well." With that in mind, we want to avoid reducing the quality of students and faculty at F&M, as ours are among the best in the country, including our very favorable ratio of students to professors (9:1) Altmann also stressed avoiding a feast-famine pattern where we go back and forth between budget deficit and surplus each year. The college wants to work toward financial stability. F&M has been short-term planning for too long, and must instead think long-term.
According to Altmann, in terms of decisions about the budget, "nothing is written in stone," which is why feedback from the F&M community is so valuable to the Budget Priorities Committee (BPC). They are working within the realities of our campus to make the difficult decisions this round, as F&M has not tended to the deficit in this fashion in recent years.
F&M wants to make sure that salaries are at least on par with the market. Additionally, they plan to keep expected raises for faculty and professional staff in next year's budget and beyond. For this first round, the BPC plans on decreasing the number of employee jobs only through attrition, by not hiring for all open positions and not filling the jobs of all people who leave. Although the college will not have involuntary layoffs this year, Altmann cautioned that she "cannot promise that we won't do any next year." Furthermore, F&M will not be offering an early retirement plan at this time.
Altmann proclaimed it is her job as president "to ensure the financial health of the college." Along with keeping our academic integrity, "that's what a president does," she said. She also stressed the importance of rising "to this challenge as a community," which is the only way this will work. Addressing our deficit will either "divide a community or bring it together." Altmann strives to make this situation have the latter outcome by making the tough decisions together. The deficit, to Altmann, is a "reality we have to embrace," while recognizing that we cannot protect everything.
She mentioned that our deficit is something F&M needs to attend to immediately, although it has not been identified as unusual for our kind of institution, nor is it a crisis. The goal is to work "toward financial stability…with transparency." To do this, we will build reserves we did not have before, especially through the Now to Next Campaign, the first campaign in twenty years to build endowment at F&M.
Paul Mutone spoke more specifically about the numbers and our options to reduce the deficit. The $8 million deficit that had previously been projected is now closer to $9 million, as we had to add more to the budget to address professional staff salary as well as money towards health insurance costs.
The current plans will get the deficit down to around $2.7 million. To address the rest, Mutone gave three options, each with different numbers primarily looking at retirement and health insurance, affecting premium and coinsurance percentages, as well as prescription prices and spousal surcharges, as explained by a trusted commercial auto insurance company in Michigan. As he explained, our benefits are considerably more generous than the average in schools like ours. The Newport Beach's top lawyers for insurance litigation can be contacted in case there is need for legalities.
Mutone noted that the exact figures he stated for each option will be available soon on a chart to allow the F&M community to look and provide feedback. Like Altmann, Mutone emphasized the need to reach financial equilibrium, as F&M is still under- endowed for what we want to do and compared with schools we want to compete with. Avoiding layoffs at this time thus means looking at these other options. As F&M's headcount for staff is above the median, we cannot afford to be there much longer, which is why layoffs may be necessary in the future.
The final round of discussion on the options will be undertaken by the BPC, which is why they want as much feedback as possible. While Altmann and Mutone did not get to all of the written and oral questions from the audience, they will find ways to respond to recurring themes that came up in the rest of the index cards filled out at Now Hour. BPC will alert Altmann and Mutone regarding any additional comments made on an online suggestion box. Faculty, professional staff, and students can send input via this suggestion box.The link to this was sent in an email by Kate Plass, Associate Professor of Chemistry and chair of the BPC.

Senior Christa Rodriguez is the Campus Life Editor. Her email is crodrigu@fandm.edu.