By Joseph Yamulla || Sports Editor
F&M's men's basketball team is the Centennial Conference Champion. After an exciting game against Swarthmore College on February 27, the Diplomats were proudly standing on the ladder and cutting down the nets. The student section was packed, the energy in Mayser Gymnasium was electric, and joy was in the faces of all of the players and coaches after a hard fought victory.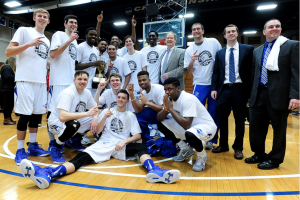 At the end of the first half, most fans in the gym thought that this was going to be an unexciting blowout. The Diplomats led by as many as 26 points in the first half and looked as if they could do anything they wanted,offensively and defensively, against Swarthmore. However, the tables turned in the second half. Slowly, Swarthmore began to chip away, gets stops, and make shots. To the dismay of F&M, Swarthmore fought all the way back to find themselves down only by a single point with only minutes remaining. Tensions were high and the momentum had undergone a dramatic shift to the boys in red. However, the tenacity of the Diplomats pulled through in the end. With leadership by Cedric Moune '16, F&M had one final charge left in them and pulled through to win by a score 75-64.
So far, it's been a pretty storybook season for the team. Coach Glenn Robinson has reached the incredible thousand win milestone. They've overcome adversity, injury, and are now Conference champions. Moune was named the well deserving MVP. Cedric scored 21 points and in this effort also became the 34th player in F&M history to be a thousand point scorer. He also hit some crucial shots to help the Diplomats make it over the final hump and stop the bleeding during Swarthmore's big second half push.
F&M will be back in action in the first round of the NCAA tournament on Friday, March 4. Their opponent and location are still to be determined. However, Coach Robinson will have his squad ready to go. The team has a chance to really do something special, and let's hope that they still have a few more chapters to write in this incredible season.
Sophomore Joe Yamulla is the Sports Editor. His email is jyamulla@fandm.edu