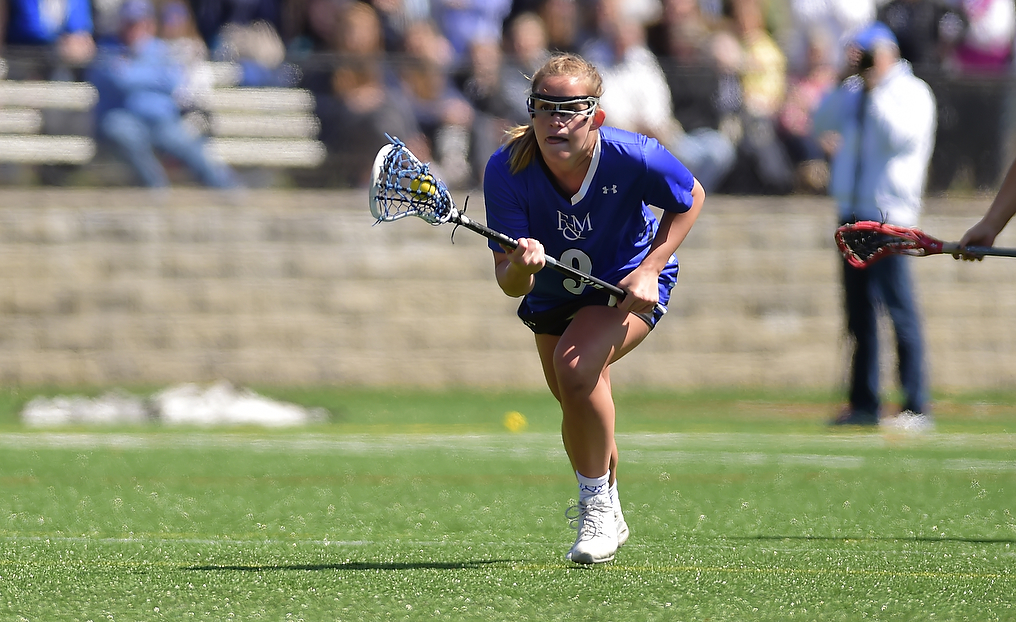 By Jamie Belfer || Layout Assistant
Since February 1, Franklin & Marshall's spring sports teams have been gearing up for their upcoming seasons. All sports have been working hard to prepare themselves to battle for the Centennial Conference Championship.
Women's lacrosse had a phenomenal season last year, going 18-5 overall and 9-0 in the conference. However, this year, they are looking to avenge their loss in the CC Championship and take home the title. Many key seniors including a third team All-American goalie, Danielle Harrington graduated from the 2018 team. However, coach Mike Faith is confident in senior Julia McCay to take over the role of goalie and excel. The Diplomats believe that their experienced upperclassman and a strong freshman class that will help them continue the program's success. The Diplomats will take on York College at F&M on Thursday, February 28 at 5:00pm.
Men's lacrosse also had a strong 2018 season, going 12-4 overall and 6-2 in the conference. The Diplomats faced a tough 17-16 loss against Dickinson in the CC Semifinal but they are ready to bounce back and fight for the CC Championship. Although they lost 11 seniors, they are still solid in many positions. All three of their defensive starters Tommy O'Connor, Doug Mongiardo, and Andrew Fine will be returning. On the offensive end, sophomore Luke Keating and junior Kevin Mollihan (both of whom won CC rookie of the year in their respective freshmen seasons) will be F&M's main attackers on the field. The Diplomats play this Wednesday, February 27 against Susquehanna at Shadek Stadium at 4:00pm.
Franklin & Marshall softball is ready to make their mark on the conference this season with new head coach Marissa Giovannini. The Diplomats went 17-21 last season and 8-8 in conference play. The Diplomats lost 5 seniors, including two dominant pitchers, Katie Wenger and Izzy Schaefer. However, with one year of experience under her belt, key returner Sabrina Ryan is ready to become the leader and ace of the pitching staff. Three first-years, Emily Moll, Kara Moritz, and Megan Giesecke will help contribute and battle for innings on the mound. With twelve first years and strong returning upperclassmen, the Diplomats are looking forward to competing for a conference title. F&M softball heads down to Florida over spring break to play their first games.
The F&M baseball team went 19-18-2 overall and 10-7-1 in the conference last season. Although only five seniors graduated, key components of the 2018 team must be replaced. With two starters and their leadoff-hitter gone, the returners must step up to fill these gaps. Coach Ryan Horning believes that juniors Jack Buckley and Jonathan Cole will hold down the fort on the pitching staff. Senior first baseman Dan Marano is also a key bat returning to the lineup. The Diplomats will play at Gallaudet on Sunday, March 2 in their second game of the season.
Women's tennis went 9-8 last season, 6-4 in the conference. Although their dominant second singles player, Sarah Haas, graduated last year, the Diplomats are ready to step up and face tougher competition. Senior Allison Wolters will continue to hold down the first singles spot for the team. Senior Gavriel Rubenstein will move to second singles and senior Emma Wu will play third singles. With strong senior leaders this year, Franklin and Marshall look to make an impact on the Centennial Conference this year. The Diplomats will head down to Florida during spring break to play three games.
Men's tennis had a successful 2018 season as they went 10-9 overall and 6-3 in the conference. The Diplomats were able to make a CC semifinal appearance, but lost in a tough match against Johns Hopkins. Although the Diplomats lost Jack Rothman, who held the first singles spot, they have key returners ready to compete in the upcoming spring season. Senior Isaac Salas will move to first singles, and senior Zack Levin will play second singles. Other key returners include junior Andrew Pace and sophomore Sam Bellerson. The Diplomats will play at The College of New Jersey on Sunday, March 3 at 11:00am.

All teams look to start out strong in their first games and matches of the season.

First-year Jamie Belfer is a Layout Assistant. Her email is jbelfer@fandm.edu.