By Erin Maxwell || Layout Assistant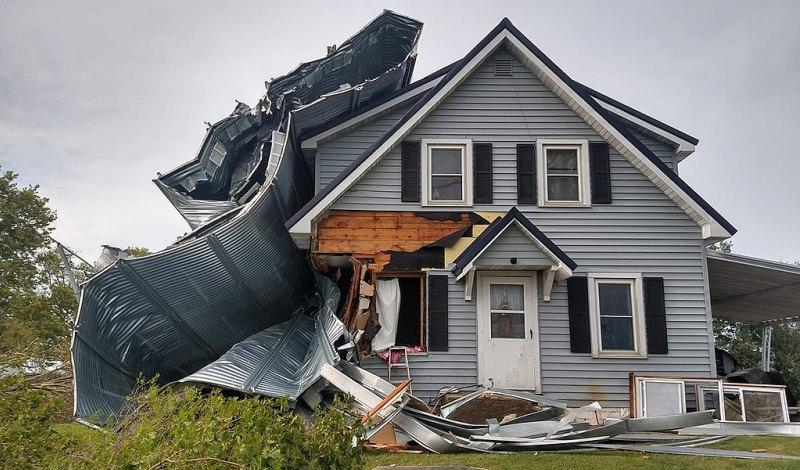 In the apocalyptic context of a global pandemic, raging forest fires, and a tenuous election cycle, the record-breaking destruction of this August's derecho failed to dominate headlines. With recent analyses ranking this "inland hurricane" as the fourth most expensive severe storm since 1980, and the second-most expensive natural disaster of 2020, its $7.5 billion price tag deserves more than a fleeting moment in the public eye.
Although the morning forecast for Iowa only predicted possible showers, the 770-mile warpath of the August 10th derecho tore through the Corn Belt from South Dakota to Ohio, in a matter of 14 hours, leaving behind a trail of structural and agricultural damage. First brought into the national vernacular after massive destruction in Reston, Virginia in 2012, a derecho, coming from the word for "straight-ahead" in Spanish, is classified as an intense thunderstorm alongside a broad body meeting wind speeds over 100 mph. This particular storm surpassed these requirements by far, with the highest recorded gusts being charted at 140 mph in Cedar Rapids, Iowa.
Several detrimental factors combined to intensify the derecho's effects, including a slow-moving storm system with consistently high winds in a given area for up to an hour, a proximity to harvest season, and taller, more fragile, and flexible crops spelling disaster for the agricultural industry. As the nation's top corn producer, the demolition of this primary Iowan industry has caused a ripple effect of unemployment spikes and welfare claims. An estimated 850,000 crop acres were lost in the matter of a day. Allan Curtis of the National Weather Service commented, "If you were looking to exert the most damage on corn crops when it comes to thunderstorms and heavy winds when the derecho rolled through in August, it was the perfect time to do it" (Des Moines Register).
In addition to catastrophic agricultural damage, the derecho left an estimated $300 million in structural losses, including 800 buildings in Cedar Rapids alone, which are months away from being rebuilt considering COVID-19 protocols. Iowa's governor Kim Reynolds requested $4 billion in federal aid for the agricultural industry as part of disaster relief efforts, which was surprisingly rejected. Following a pithy visit by Donald Trump and Mike Pence, who both failed to tour wreckage sites or even help with relief efforts as a symbolic gesture, the administration struck down nearly half of the disaster aid.
In a disturbing trend of increasingly costly weather patterns, this derecho serves as yet another data point in the growing pattern of climate change.
 Sophomore Erin Maxwell is a layout assistant for the College Reporter. Her email is emaxwell@fandm.edu.