Agathe Vanmassenhove || Sports Reporter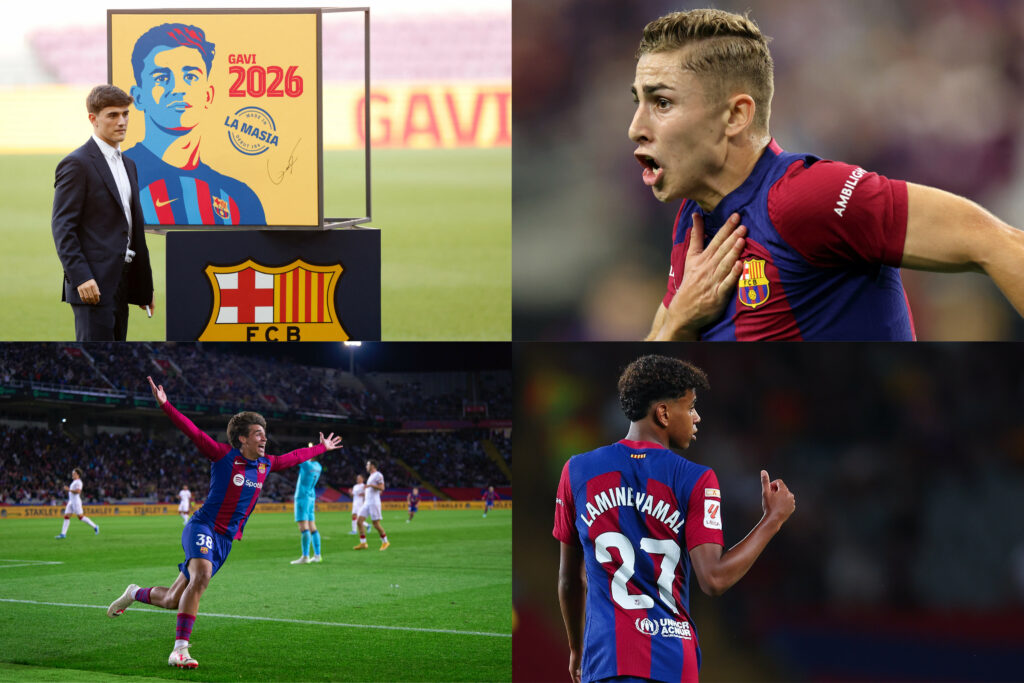 What's the common point between Messi, Iniesta, Xavi, Gavi, Sergi Roberto, Balde, Pique, Victor Valdes, Fermin Lopez, and many others? All of them begin their careers at La Masia, the prestigious training academy of FC Barcelona. Training players in several sports, including soccer and basketball, athletes can start training as young as six years old. Considering its history, would La Masia be considered the best-ever soccer youth academy?
This question can be raised following Barcelona's game against Athletic Bilbao for La Liga on October 22nd. Barcelona, with 7 injuries to their first team, had to call up some youngsters from La Masia who had otherwise only played for the B team or even less competitive divisions. After discovering Gavi, Balde, Fermin Lopez, and Lamine Yama within the past couple of seasons, coach Xavi decided to put his trust in yet another youngster. Marc Guiu made his debut at only seventeen years old, entering the game at the 79 minute, and scoring 23 seconds later, giving the win to FC Barcelona. It seems as if every week, the soccer world has another La Masia prodigy to talk about over the internet, further solidifying La Masia's lore.
It seems that the past six years have hurt La Masia's reputation, as Bartomeu's presidency at FC Barcelona has prioritized buying players at enormous prices, neglecting the talents he had within his club. FC Barcelona is known for La Masia, but also for the identity linked to the club and its unique style of play, which is represented by the slogan "Mes que un Club" meaning "More than a Club" in Catalan. This identity was lost in recent years, with expensive free agents prioritized, with 2018 providing a unique example of their new strategy, aligning a starting eleven without a player from La Masia for the first time in sixteen years. This was stunning to outsiders considering the teams built through the academy, highlighted by Pep Guardiola's 2009 team, who won an incredible six trophies in a row. This year the squad counted 10 players from La Masia among 24 players registered. Messi, Iniesta, Xavi, Busquets, Pique, Valdes were among them.
The reason for La Masia's importance to FC Barcelona is because of the way rising stars are raised and trained. Players usually begin training around 6 years old and play for Barcelona's younger categories for almost 10 years before they can move to the professional team. During all these years, they usually play with the same team, and live their life is surrounded by the culture behind Barcelona's success. They learn a specific football and passion that is expected by the first team. This loyalty can't be bought, as seen by the expensive transfers that have emptied the team's wallet leading to back-to-back humiliations in the Champions League.
Although not all of La Masia's players end up playing minutes for the first team, and even fewer become star players like Messi or Iniesta, their presence is integral to the identity of the club. Marc Guiu is only the most recent proof and certainly won't be the last. Xavi himself rose from the ranks of La Masia as a player and manager. The years of 2003-2007 seem to have produced another golden generation for Barcelona, with a handful of their products already the first team. We will be sure to keep our eyes on these young stars throughout the next season.
Sophomore Agathe Vanmassenhove is a Sports Reporter. Her email is avanmass@fandm.edu.