By Katherine Coble || News Editor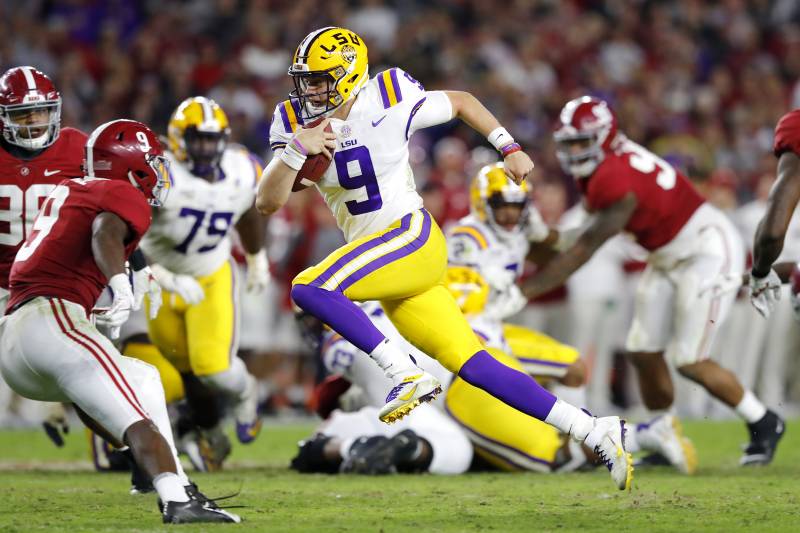 The University of Alabama Crimson Tide football team faced their first loss last weekend by the Louisiana State University Tigers in a stunning 46-41 game. The loss marks the Crimson Tide's first defeat at home in 32 consecutive games and was perceived by many to be an upset despite LSU's college playoff ranking of #2 at the time. Prior to last weekend, LSU had lost eight consecutive games against the rival Crimson Tide.
The game was played out in front of a crowd of nearly 102,000. Bryant-Denny Stadium is one of the largest stadiums in the United States, and both Alabama and LSU fans showed up in droves to support their teams. Perhaps the most famous couple in attendance was President Donald Trump and his wife Melania. Just weeks after he was booed by fans at a Washington Nationals World Series game, Trump received a much friendlier welcome by the crowd at Bryant-Denny. The quality of the football, however, made Trump's appearance more of an afterthought as soon as the game kicked off.
The game was depicted before it began as a match of two quarterbacks. For the University of Alabama, there was Tua Tagovailoa, a Heisman Trophy runner-up and Hawaiin native who was essential to the Crimson Tide's 2018 National Championship win. Tagovailoa suffered a high ankle sprain in an October match against the University of Tennessee as the game demands extreme ankle support for men, and this match against LSU was his first since undergoing surgery. 
Much of LSU's hopes lay on the performance of their own quarterback, Joe Burrows. After being passed up for starting quarterback after two years at Ohio State University, Burrows transferred to LSU in May of 2018. The game against Alabama was perhaps his biggest test thus far as LSU's starting quarterback. Ultimately, for both sides, this game would be a very offensive one.
The game started off strong for LSU, with an interception and a touchdown just six minutes into the first quarter. Alabama responded with a 77-yard touchdown on a punt return as the quarter came to a close. An aggressive back-and-forth with strong offensive moves from LSU (and an interception with just seconds to go in the second quarter) left them in the lead at halftime, 33-13.
However, Alabama was not ready to give up just yet. The next twenty minutes of play brought an Alabama interception and two touchdowns. With ten minutes left in the fourth quarter and a botched second-down conversion from LSU, their Tiger's lead had narrowed to twelve points with a score of 39-27. In the grueling minutes that followed, both teams played their hearts out. Ultimately Alabama's second-half push – including an 85-yard touchdown with two minutes to go – was not enough to secure a win over their rivals.
The game was dubbed by many organizations, including CBS Sports, as an "instant classic" and perhaps the greatest game of the 2019 season. It also helped to push LSU to the #1 spot in the College Football Playoff rankings while Alabama dropped two spots down to #5. The other teams in the critical top four positions are #2 Ohio State, #3 Clemson, and #4 Georgia. The final ranks and pairings for the playoffs will be announced in less than three weeks, on December 8, and are sure to be the source of either celebration or displeasure for all football fans, depending on their affiliation.
Senior Katherine Coble is the News Editor. Her email is kcoble@fandm.edu.