By Rohail Spear || Layout Assistant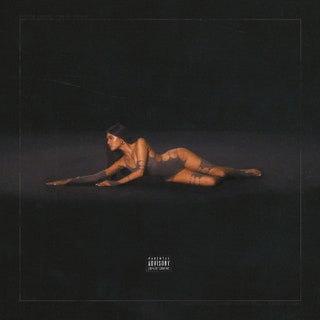 At first glance, Madison Beer doesn't seem any different than your typical female pop artist: flirty, high vocals, attempts at vulnerability, impossibly gorgeous looks. At second glance… well, she still isn't different.
The artists you could compare her to are countless: Ariana Grande, Lana Del Ray, Camila Cabello, Hailee Steinfeld, even Billie Eilish at times. Fortunately, her debut album Life Support has a ton of potential, and once she discovers a sound that works for her, a truly great album could well be on the way.
Her warm amber vocals traverse throughout the album, sometimes smoothly, sometimes choppily, sometimes grittily. However, with the excess reverb and background vocals hiding her undeniably pretty voice, you can hardly appreciate its full effect. I found myself craving a simple piano/guitar ballad just to hear her voice without overdubbing (recording an original line over with one or more layers of the same line on top) or other effects added to it so I could really hear the rawness and beauty in her voice. The closest I found to a ballad was "Effortlessly," where several reverberated vocal tracks intertwine with each other and cover up the honest, touching lyrics that lose their touch as the vocoder and reverb draw your ear obnoxiously.
Life Support alternates between two types of sounds: melancholy and bold. You can even categorize each song on the album accordingly. While this isn't necessarily a bad thing, it does put her album into a box. There are two types of songs: sad breakup songs comparing her relationships to "California sunsets / faded to die any minute" and aggressive "You're toxic" songs, releasing pent-up anger. Indeed, in "Good in Goodbye," she breaks up with her lover "'Cause you're toxic, boy." He was "killing [her] vibe / in ways words cannot describe." Evidently, because the lyric "You're killing my vibe" is lazy at best and shut-it-off-now cringey at worst.
Point-blank statements such as those and, my personal favorite, "I can turn you on, on, on" from "Baby" are at odds with the more clever, painfully vulnerable lyrics. She shows her maturity and wisdom in the spacey, guitar-plucking lullaby "Homesick" when she laments "My mom and dad said they once met under the moonlight / I didn't buy their cover story, it didn't feel right" and the realistic complexities of a relationship: "I wish you took me with you when you left that day / But everything looks perfect when you're far away." The clever one-liner "I was gin and you were toxic" from the head-bobbing "Stay Numb and Carry On" makes me smile every time and the chorus from my favorite song on the album, "Emotional Bruises," falls into place so effortlessly it seems like it was meant to be: "'Cause this is the fifth time I've taken you back / It's the fourth time that we've relapsed / It's the third second chance that I've given you / For the first time / Let this be the last."
Unfortunately, "Emotional Bruises" is probably the only song I'll go back and actively listen to. It's not like the other songs aren't catchy or have uninteresting premises, but I feel like I've heard them all before. One thing that Madison Beer does use to separate herself from other artists is unusual chord progressions — chord patterns that don't sound quite right — that are peppered into almost every song. A lot of times these chords do pay off, and while I appreciate the risk she takes by using them, they are a little overdone. The chorus of "Homesick," for example, just makes me feel uneasy, and although this was probably done for artistic effect, it simply isn't pleasant to listen to.
Life Support isn't a bad album, and there is a ton of untapped potential in Madison Beer's voice and songwriting. Unfortunately, there isn't much that separates her from other pop artists at the moment, and you may start to wonder why you're listening to her instead of, say, Ariana Grande, who is very similar and has a clear, purposeful sound. Give her a few more years to find out exactly what she wants to sound like, however, and Beer could very well be the next big thing.
First-year Rohail Spear is a Layout Assistant. His email is rspear@fandm.edu.