By Mark Suchy || Layout Assistant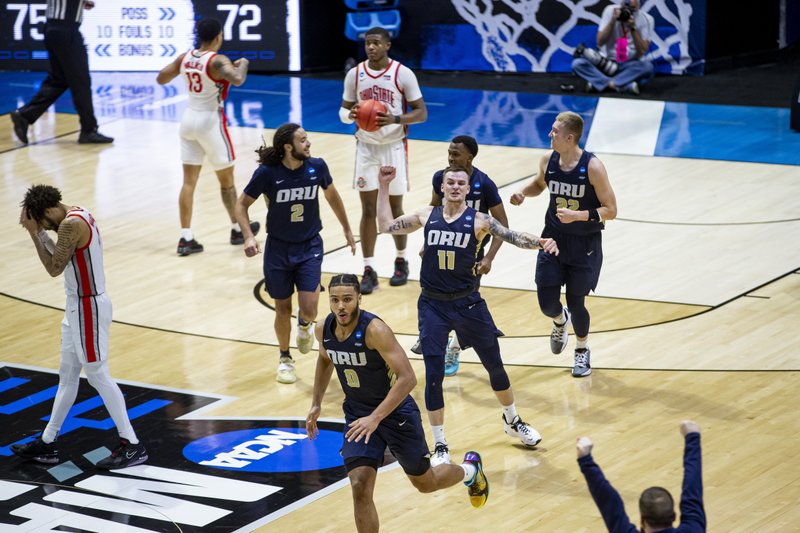 The NCAA division one men's and women's annual basketball tournaments tipped off this past weekend and reminded all of us why there is absolutely nothing better than college basketball in March. The buzzer-beaters, end-to-end action, and constant unpredictability of the first weekend were so abundant that it almost made up for the two-year absence.
Selfishly, I will never get over the loss of the tournament last year: I am a Maryland Terrapins fan and their team was a true title contender for the first time in years. But we move on and shift our focus to the fantastic tournament that has already started.This article is written from my perspective: a division three men's basketball player who does not believe the "mid-major" division one players get nearly the credit they deserve. Therefore, we are focusing on the upsets!
Let's start with the most exciting team in the tournament: 15 seed Oral Roberts. Quick quiz–where is Oral Roberts' main campus? You guessed it–Tulsa, Oklahoma. Oral Roberts is led by sophomore point guard Max Abmas, and junior swing forward, Kevin Obanor. The pair has combined for an eye-popping 56.5 points per game according to ESPN. This dynamic duo has helped keep the clock from striking midnight in wins against heavily favored Ohio State and Florida.
The 13 seed Ohio Bobcats may not have reached the Sweet 16, but they did knock off defending NCAA champions, Virginia. The team is led by junior guard Jason Preston, who decided to leave a life of blogging to become a mid-major college basketball star. Preston hails from Orlando but blogged about Detroit Pistons basketball games during his teen years.
Four different colleges from the state of Texas advanced to the round of 32. The University of Texas was not one of those schools. However, two that made it were Texas Tech and Houston, but can you name the other two? That's right, North Texas and Abilene Christian advanced.
North Texas upset Purdue 78-69, in one of the most exciting games of the tournament. The 13 seed joined Ohio, winning against a Power Five opponent before running out of magic in the round of 32, in a crushing loss to Villanova. Abilene Christian stunned the entire state of Texas on Saturday night, knocking off the big brother in an overtime thriller. The AC Wildcats are an incredible story: the program played in the NCAA division two before moving up to D1 in 2014. Despite losing to UCLA in the Round of 32, the small school controlled the state of Texas for one unforgettable night.
This brings us to the centerpiece of the article: the Loyola-Chicago Ramblers. This rag-tag group of kids who were all turned down to play by Power Five schools is poised to make yet another deep run in the tournament under head coach, Porter Moser. The Ramblers hail from the Missouri Valley Conference. While the MVC does not garner national spotlight like the SEC, ACC, Big Ten, Big 12, or Pac 12, it has produced a team that is unafraid of every other college basketball team.Loyola-Chicago knocked off Georgia Tech in the first round and then dominated number one seed Illinois, earning a spot in the Sweet 16 and proving without a doubt that they belong here. The Ramblers do not care how fast, strong, or athletic you are: they play tenacious defense, rebound the laces off the ball, and excel in the fundamentals of basketball. Loyola-Chicago plays basketball like they are representing all the players who were overlooked, underrecruited, unappreciated, and undervalued. Moser's squad demonstrates what a team can achieve when all players work together towards a common goal. Loyola-Chicago is America's March darling.
For all their upsets, hard work, and excitement, it's time we appreciate the mid-majors!
Sophomore Mark Suchy is a layout assistant. His email is msuchy@fandm.edu.