By Katherine Coble || News Editor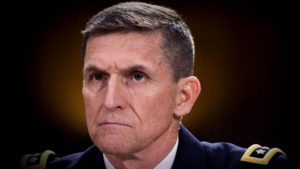 It has been a rocky few weeks since Donald Trump became president on January 20, 2017. There was the record-breaking Women's March on the day following his inauguration and Mexico's refusal to pay for a southern border wall. There was his executive order on immigration being shut down by federal courts and his nominee for Secretary of Education, Betsy DeVos, barely making it through the process. Now, still just one month into his tenure as president, Trump must deal with another aspect of the presidency not going as he planned: he has fired his national security advisor, Michael T. Flynn.
By the time Trump won the election, his relationship with Russia was already a complicated one. During a campaign event in Florida in July he asked the Russian hackers to "find" Hillary Clinton's emails. Two and a half months later, the Department of Homeland Security and Director of National Intelligence released a joint statement saying that Russian hackers, with the approval of top Russian officials, were behind the leak of emails. The statement added that "the Russians have used similar tactics and techniques across Europe and Eurasia, for example, to influence public opinion there."
Michael Flynn was named Trump's national security advisor on November 18 and, as a member of the president's Executive Office, did not undergo a Senate confirmation hearing. On December 19, still weeks away from officially becoming the United States' national security advisor, Flynn called Russian ambassador Sergey Kislyak. He "expressed his condolences" for the shooting of the Russian ambassador to Turkey according to CNN. Flynn texted Kislyak on December 25 to wish him a happy Christmas and Kislyak texted Flynn again on December 28. All of their interactions were intercepted by United States counterintelligence agents.
The following day, then-President Obama announced new sanctions against Russia and ordered all Russian diplomats to leave the country. According to an investigation by the Washington Post, Flynn and Kislyak called one another several times and at some point discussed the sanctions on Russia, though Flynn denied doing so to the FBI and Vice President Mike Pence.
On January 12, the Washington Post published a story saying that Flynn had been talking to Kislyak. Press Secretary Sean Spicer brushed off news of the calls, saying they were focused on logistics instead of the sanctions – but by January 26, the Justice Department had warned President Trump of Flynn's misinformation. However, Trump did not respond by firing Flynn immediately. Instead he let Flynn stay on as part of his administration.
Though President Trump has repeatedly tried to fight back against the concept of his first weeks in office being chaotic and disorganized, confusion emerged as the Flynn situation intensified. On February 10, Trump said that he was not aware that Flynn might have spoken of the sanctions to Kislyak, as per the Washington Post report. This complete falsehood was made all the more embarrassing after a US official confirmed that same day to CNN that Flynn and Kislyak "did speak about sanctions, among other matters, during the call." Another source told them that Flynn had not yet been fired because "the White House doesn't want to look bad."
It all came to a head on February 13 as Russia denied Flynn and Kislyak spoke of sanctions and Trump's advisor Kellyanne Conway said Flynn "does enjoy the full confidence of the President." No less than an hour later, White House Press Secretary Sean Spicer said that "evaluating the situation." By the end of the day, Michael Flynn had resigned.
The incident has sparked concern and outraged for a plethora of reasons. Some have expressed concern at the fact that Vice President Pence did not learn of Flynn's misinformation until two weeks after Trump did, after Pence had already defended Flynn on national television.
There is concern that legal investigations may follow Flynn and potentially impact other members of Trump's administration, although the FBI is not expected to pursue charges in the case. Flynn's resignation makes him the shortest-serving National Security Advisor in the history of the United States.
Though Trump insisted that his administration is running like a "fine-tuned machine" in a press conference on Thursday, the flood of stories coming from Pennsylvania Avenue suggest otherwise. His administration is now left without a national security advisor and must continue to battle questions from the press about his relationship with Russia.
First-year Katherine Coble is the News Editor. Her email is kcoble@fandm.edu.