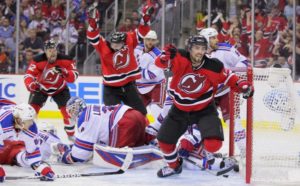 By Gabby Goodwin || Sports Editor
This past Wednesday, the Stanley Cup Playoffs began, with two Canadian teams in action. Both Winnipeg and Toronto standing as legitimate contenders for the Cup, in a national hope to break a 25-year drought. Matchups for the week are numerous and highly anticipated for NHL fans throughout the country, because as we all well know, in the playoffs, anything can happen.
In the Eastern Conference, the Tampa Bay Lightning face off against the NJ Devils. Neither of the teams reached the playoffs a year ago, however, exceeded all expectations throughout the season. While the Devils were not even on the map, the Lightning were a popular pre-season pick to win the Stanley Cup because of their strong early start. Though the Lightning hold a 16-point advantage over the Devils, their defense might not be strong enough to withstand the Devils' attack.
Next up, the Boston Bruins versus the Toronto Maple Leafs. In the NHL this season, Toronto was the 7th-best team; however, facing off against Boston, the 4th-best team league-wide, the Maple Leafs will be put to the test in the first round of the playoffs. In 2013, the Maple Leafs went 7 games versus Boston and ended up blowing a 4-1 lead and falling in overtime. This playoff season, Toronto refuses to let that happen again.
With the hopes of becoming the first three-peat winners since the Islanders in the 1980s, the back-to-back Stanley Cup Champions, the Pittsburgh Penguins, face off against the Philadelphia Flyers. In a city that has already won a Super Bowl and a NCAA basketball championship this season, Philadelphia will put their in-state rivals to the test. The last time these two teams faced off in the postseason was in 2012 in a 6-game series where goals were going in all over the place.
Finally, in the first round highlight of the playoffs, in the Western Conference, the Anaheim Ducks face off against the San Jose Sharks. The Ducks have reached two of the past three West finals, and the Sharks got to the Cup final just two years ago. Injuries to key players from both teams (Anaheim's Cam Fowler and San Jose's Joe Thornton) have issued a call for to lean a little more on their depth. In the first matchup of the postseason, either team has the potential to come out of the West, but will have to make it through a tough series right off the bat.
Sophomore Gabby Goodwin is the Sports Editor. Her email is ggoodwin@fandm.edu.