By Sarah Nicell || Editor-In-Chief
Upon entering the realm of 1970s office attire, Dolly Parton-esque rhythms, and a student-run liberal arts college theater, one may not expect to laugh out loud, cry silent tears, and cheer against sexual harassment in the workplace. This is exactly what happened, however, when I attended 9 to 5: The Musical, directed by Kendall Lipham '23 and staged by the F&M Players Theatre Club. It is an adaptation of the 1980 movie, featuring music originally composed by Dolly herself.
The show depicts the story of three women—Violet Newstead (Dani Zoeller '23), Doralee Rhodes (Ellie Borghi '24), and Judy Bernly (Sam Correa '24)—who combat their "egotistical lying hypocritical bigot" boss, Franklin Hart, Jr. (Jake Miller '24), and his deeply disgusting misogyny. In response to his workplace sexual harassment behaviors, and following an accidental poisoning, the trio ties up Hart in his own bedroom in a BDSM-esque fashion that undermines his ridiculous authority and gives the women room to revolutionize the office.
Dani has all of the charisma and dry sarcasm of a CEO fighting her way to the top, combined with the occasional jazzy number, cynical cackling, and hilarious mental breakdowns at the realization that she has potentially murdered Hart. As Dolly Parton's reincarnation, Ellie becomes possessed by Southern spirit and smooth vocals, bringing a certain ease to a role that is both physically and emotionally demanding, as most would agree that Parton's grandiosity cannot be effortlessly reproduced. Sam is undeniably funny, bringing Judy's anxious energy to life, and handles one of the most difficult songs in musical theatre, "Get Out and Stay Out," impressively. Jake is convincing as Hart, embodying that toxic masculine energy to the very end of the show. Lauren Sphar ('23) spices up the office modesty of the musical with "Heart to Hart," a hilarious love ballad to a man so terrible that it is impossible to imagine a person craving his affection. With Sphar, we can imagine, and comically so.
On top of spectacular leads, the musical's supporting roles and ensemble similarly hit every beat. Abby Metcalf's ('25) smooth transformation from office alcoholic Margaret (who receives treatment at the end of the show… yay!) to Dick (Judy's husband, whose mid-life crisis is pursuing 19 year-old girls) is flawless and funny. Eve Sheaffer ('25) is sweet and oblivious as Missy Hart, Cassidy Farley ('24) brings tears to my lesbian eye as Deanna (Doralee's wife), and Mei-Lan Holland ('24) humors us as she so casually offers her mother a blunt.
The lighting, sound, costuming, choreography, and set design were well-equipped to handle this show, and spectators have the production staff and crew to thank, who will be listed at the conclusion of this article.
When choosing the show, "9 to 5 was a unique kind of situation where the executive board collaborated," Kendall Lipham explained, "which made the decision a group consensus."
This unanimity in artistic pursuit enabled the club to instead focus on what 9 to 5 could mean for Franklin & Marshall, whether that be its deeply gendered themes, its depiction of sexual harassment, the caricaturization of heterosexual relationships in contrast to the queer, and the deep joy of a quality work environment. Despite its 1970s setting, these ideas pervade present-day institutions, both in the office and on campus.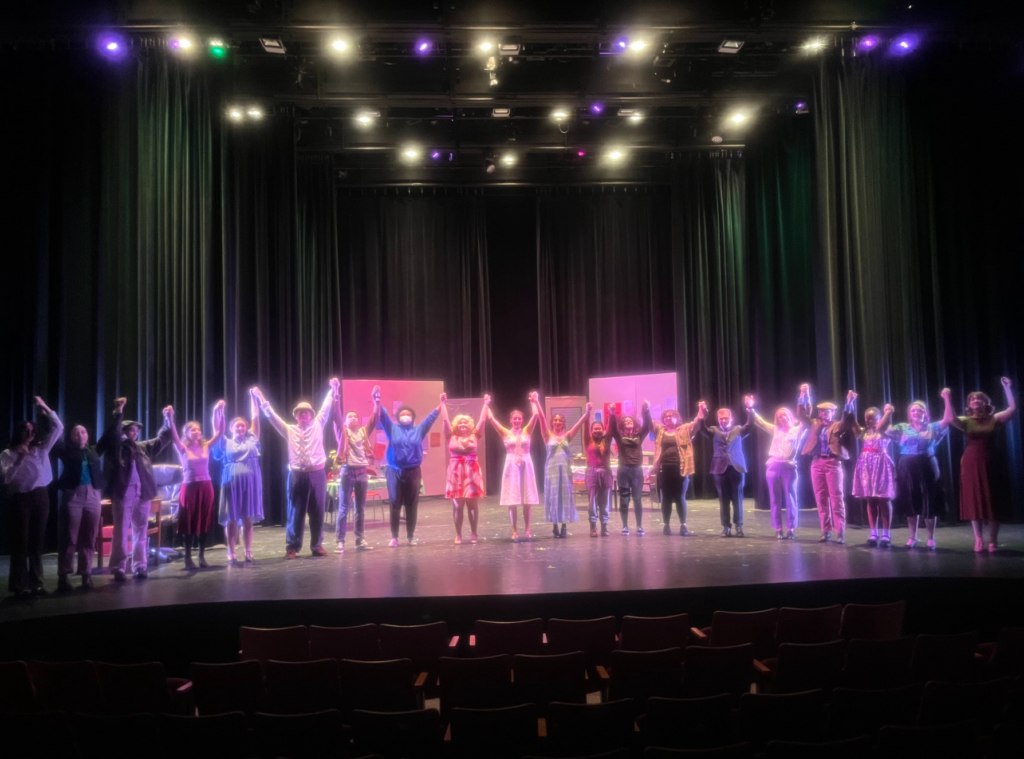 Though you wouldn't know it from the final product, 9 to 5: The Musical was Kendall's directorial debut, marking her big transition from on-stage to behind-the-scenes work. She explains that this opportunity allowed her to take a step back from the anxieties of performance and explore a new branch of theatre, one that she naturally gravitates toward, which entailed endless preparations.
"After we confirmed which show we were doing, since I'd never done anything behind the scenes before, I kind of jump-started my research," Kendall noted as she informed me of her research, which included helpful Youtube videos, readings on student directing, a lot of pro-staff meetings, sending out numerous emails, and spending the entire summer of 2022 ensuring that everything would go smoothly when it came time to begin auditions.
For auditions, Kendall wanted to create a comfortable space for new performers, making the case that club theatre doesn't have to be formalized to the point of fear. This playful informality allowed casting to blossom into something great regardless of the level of experience of those auditioning, and Kendall notes that she was lucky to have Isabelle Foster as stage manager, who knew what she was doing from the get-go.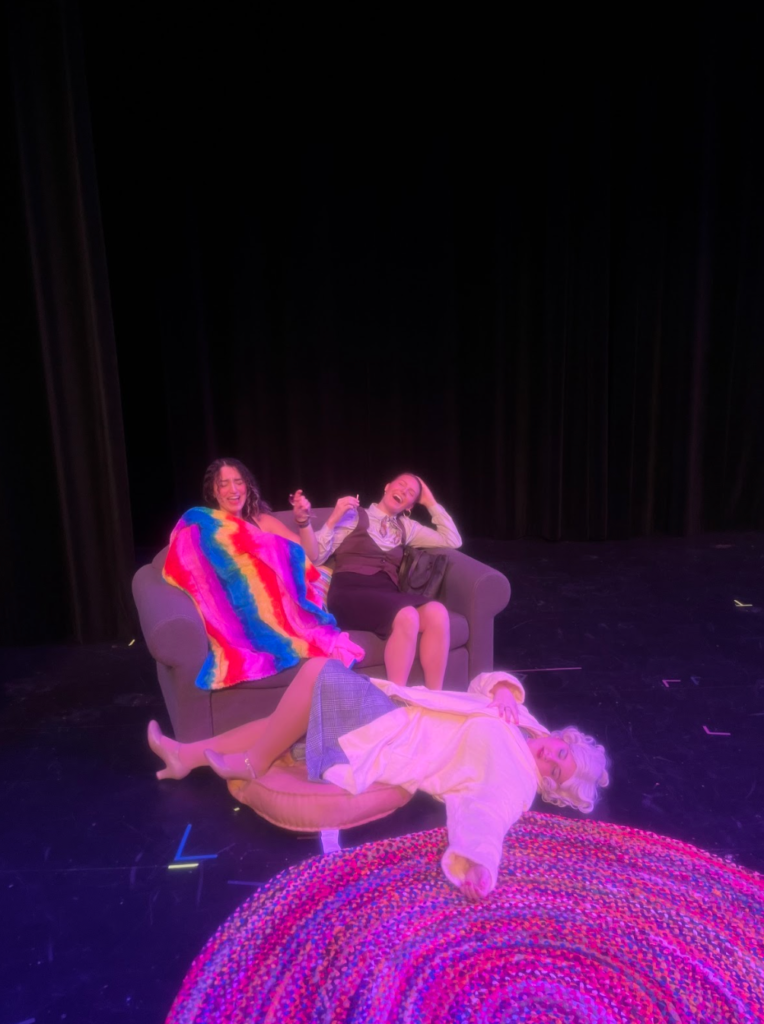 Due to the heavy subject matter of the musical, including intense misogyny and sexual harassment, Kendall made the choice to host specialized "intimacy rehearsals" with specific members of the cast involved in harassment-heavy scenes. In these 1-on-1s, Kendall would communicate the potential for what types of physical touch there could be in the scene before checking in with actors to assess their level of comfort. Scenes would then be blocked with these levels in mind, which would shift how assault/harassment was portrayed depending on the character/actor.
Overall, Kendall expressed that the cast, crew, and production team were very proud of how the show turned out by opening night, and they had a great time doing it. Kendall expressed that her favorite scenes were "Backwoods Barbie," in which the women of the office hug Doralee in the final moments of her solo song (this part was very emotional live), and "I Just Might," a beautiful trio with intricate harmonies and lots of vulnerability. She explained, "At the start of the show, [these songs] set a really good foundation for what the characters will go through."
To those considering taking on the beast of directing an entire musical, Lipham provides the following advice.
"I encourage them to pursue it, because it's such a good learning process for leadership and directing," she urges, with a few stipulations. "You need a pro-staff that really supports you. Go into it with people who will hold your hand and support you through it. I had people that I relied on logistically and emotionally!"
As 9 to 5 and Kendall show us, we cannot revolutionize the workplace or put on an entire college musical alone. With a bit of support, we Just Might make it.
Looking forward, keep an eye out for Kendall's second directorship with The Best of the Worst: A Villain-Themed Review of Broadway Hits, which will take place toward the end of the semester. With a wacky theme and a continuously changing script ("It will be a living document until tech week [because of] so many new ideas that came from auditioners"), it is sure to be an impressively hilarious show. After 9 to 5, I am rooting for a sold-out show for the F&M Players.
Cast (in alphabetical order)
Abby Metcalf – Margaret, Dick
Aviva Katz – Maria, Doctor
Cassidy Farley – "Deanna" Rhodes
Dani Zoeller – Violet Newstead
Eesha Gupta – Tinsworthy
Ellie Borghi – Doralee Rhodes
Emily Crahill – Candy Striper, New Employee
Eve Scheaffer – Missy Hart
Jake Miller – Franklin Hart, Jr.
Julia Homer – Kathy
Kathleen Nguyen – Bob Enright, Detective
Knox Schlossberg – Joe
Lauren Sphar – Roz Keith
Mei-Lan Holland – "Jocelyn" Newstead
Sam Correa – Judy Bernly
Production Staff & Crew
Director – Kendall Lipham
Stage Manager – Isabelle Foster
Music Directors – Kendall Lipham, David Jones
Choreographers – Ellie Borghi, Jahnel Rodriguez
Lighting Designer – Vienna Greenlee-Brown
Sound Designer – Katie DeSimone
Costume Designers – Cassidy Farley, Zidikiyah Morrison
Set Designers – Anna Waldstein-Torres, Tess Wyrick
Crew – Brianna Herrera, Jahnel Rodriguez, David Jones, Zidikiyah Morrison
Sarah Nicell is the Editor-in-Chief. Their email is snicell@fandm.edu.