By Katherine Coble || News Editor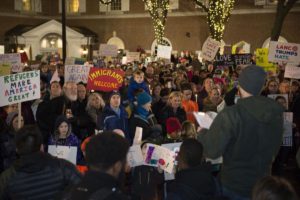 Donald Trump had been president for less than a week when he suddenly announced an explosive and controversial executive order regarding refugees and immigration on January 27. According to CNN, the order prevents people from "terror prone" countries from entering the United States for 90 days and suspends the country's refugee resettlement program for 120 days. The countries impacted include Iran, Iraq, Libya, Somalia, Sudan, Syria and Yemen, all of whom are more than 90% Muslim. In an interview with the Christian Broadcast Network, President Trump implied that his administration would prioritize Christians and other religious minorities over Muslim people trying to enter the country.
The order was signed as part of Trump's longtime campaign promise to stem the flow of Muslim immigrants to the United States under the argument that the current immigrant vetting process is not sufficient, potentially allowing terrorists could enter the country. Critics of the ban have pointed out that none of the hijackers in the September 11, 2001 terrorist attacks were from countries impacted by the executive order and every lethal terrorist attack on American soil in the post-9/11 era has been committed by a citizen or legal resident of the United States.
The executive order immediately caused chaos in airports worldwide and there remains confusion over how exactly the order should be enforced. Trump has already been sued by dozens over the order, with plaintiffs claiming it is unconstitutional and violates the right to religious freedom. The order has been condemned by lawmakers in both parties, including former Secretary of State Condoleezza Rice and former presidential candidate John McCain. It has also received widespread criticism from international leaders like President Francois Hollande of France, Austrian Chancellor Christian Kern, and humanitarian organizations like The International Rescue Committee.
The F&M community began reacting to Trump's actions almost immediately. On January 29, the Interfaith Student Council sent a school-wide email addressing the order, saying that they "stand together in the firm belief that no one's religion or place of birth positions them above or below another human." The email ended with encouragement for students to get politically involved and a call to "stand against Islamophobia and Xenophobia."
The following day, President Dan Porterfield released a statement expressing support for "members of our community who are Muslim, who hail from another country, or who are newcomers to America." He added that "diversity, inclusiveness, and international connections are crucial to our mission and our future." Porterfield said that the administration was reaching out to F&M students and staff impacted by the ban and advising them not to leave the country under any circumstances. He reassured students that F&M would not release information on students to law enforcement unless required to do so by law and said he was communicating constantly with legal and policy experts as the story surrounding the order developed. Porterfield concluded the email by saying that "our mission, our work, and our people matter—all of our people."
When approached for comment, the College Democrats said that they think Trump "meant to target the Muslim population in these countries" by passing the executive order, not to protect Americans from violence. They derided the executive order for being un-American, saying it is "unconstitutional [and] morally wrong to turn away innocent people attempting to escape the unrest in their homeland."
However, reaction to the executive order on-campus was not universal condemnation. Nick Stolte, the president of the College Republicans, said that "it would be foolish not to alter the vetting process to ensure the safety of all Americans" and that "the College Republicans look forward to opening up our great nation to refugees in great need of help, but only after we can guarantee that The United States will not be susceptible to the dangers of outside terrorism."
Trump's executive order received a particularly negative reaction from the residents of Lancaster. The city of Lancaster is overwhelmingly Democratic despite 56% of Lancaster county, particularly the surrounding rural areas, voting for Trump. It has also accepted and resettled more refugees than almost anywhere else in the United States. Refugees are increasingly becoming an important part of Lancaster's cultural and economic makeup.
An estimated 2,000 Lancaster city residents, including many F&M students and President Porterfield, attended a pro-refugee and immigration vigil in Penn Square on January 31. The vigil featured speeches from local activists and refugees themselves. It was the work of local social justice advocacy group Lancaster Stands Up, which says their mission is to "protect the most vulnerable, to defend our democracy, and to do our part to build an America that works for all of us." There is no doubt that the reaction from Franklin & Marshall and Lancaster residents to the executive order will continue in the coming days and weeks.
First-year Katherine Coble is the News Editor. Her email is kcoble@fandm.edu.