By Gabby Goodwin || Editor-In-Chief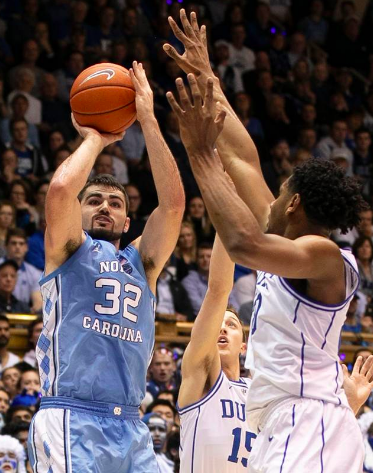 Photo courtesy of charlotteobserver.com

Within the first minute of the game, Duke's freshman stud, Zion Williamson, blew out his left sneaker and went down. Suffering from a mild sprain in his right knee, UNC's Luke Maye took full advantage of the freak injury to the freshman, finishing with 30 points and 15 rebounds, helping the Tar Heels beat Duke 88-72 on February 20th.
A star-studded crowd of former President Barack Obama, Spike Lee, and Hall of Fame outfielder Ken Griffey Jr. packed into the stadium looking for another highlight-filled show from Williamson.
"It was just a shock for us," Duke forward Cameron Reddish said. "Obviously, we're used to playing with him, so playing without him was very difficult. We missed him today" (espn.com).
Cameron Johnson added 26 points and Garrison Brooks had 14 for the Tar Heels (21-5, 11-2).
By winning their ninth of 10 games and beating a top-ranked team for the first time since 2013, they pulled into a first-place tie with the Blue Devils (23-3, 11-2).
For Duke, RJ Barrett matched a season best with 33 points and fellow freshman Reddish added a season-high of 27 — but the rest of the team combined to score just 12 points total.
Duke looked lost without Williamson. Meanwhile, North Carolina took advantage by scoring 32 of its first 34 points in the paint, finishing with a 62-28 scoring advantage. The Tar Heels never trailed, pushing their lead to 22 points on Johnson's layup with about 16 minutes left and holding on tight until the end.
Since the eventful game against the two powerhouses on February 20th, UNC has gathered wins against Florida State, Syracuse, and Clemson. Duke, on the other hand, suffered a loss to Virginia Tech, while clenching wins against Syracuse and Miami U.
Out for his third consecutive game against Miami this past Saturday, Zion Williamson might still not be back when No. 3 Duke faces off against No. 5 UNC on Saturday, March 9th at 6:00 PM, in what will be, and always is, a very exciting game to watch!
Junior Gabby Goodwin is the Editor-in-Chief. Her email is ggoodwin@fandm.edu.