By Emily Briggs || Staff Writer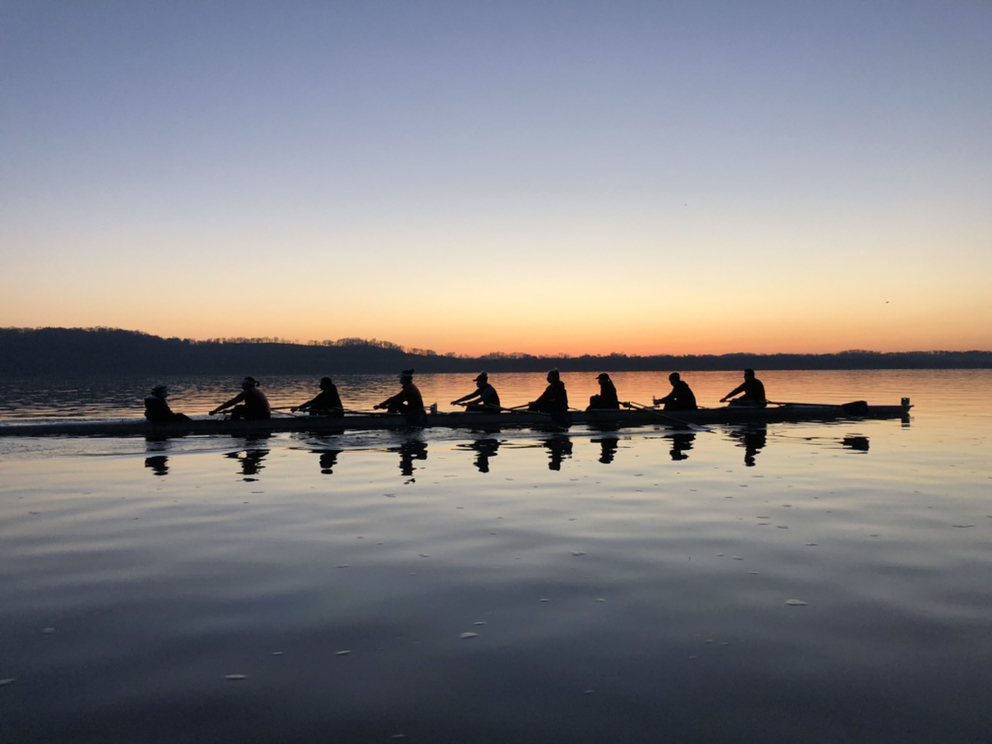 Spring has sprung, and the Franklin & Marshall Rowing team is ready to start their spring season! The team has been practicing together since mid-February on land. This past week, the team finally rowed on water in big boats after waiting patiently for a whole year. In the fall, the team had social distance rows in singles, but now the team is rowing in doubles, fours, and eights! Senior women's captain Liz Brodie said, "Getting back on the water in bigger boats has been a highlight of the spring so far!" Meanwhile, junior rower Qiran Jia added, "It's good to be back on the water and be able to row with teammates together in one boat again because we didn't have a chance to do it last season. It will be nice to bring back some team spirit on the water!"
The last time the team was able to row in big boats was fall 2019 as the spring 2020 season was cut short when the college shut down as a result of COVID-19 restrictions. The team spent the rest of spring 2020 training from home, mostly on land in their outdoor erg. Sophomore rower Grace Bosley said that this year has been the longest she has gone without being on a boat since she was 14 years old, when she rowed for her high school team. A few other rowers have also mentioned this and are all very excited and grateful to finally be back in their boats. Head Coach Bob Brady said, "We are excited to get back on the water in sweep boats this spring, and of course, racing. It's been a long journey to get to this point and we are taking every day as an opportunity to develop and accomplish our goals as a team."
It has been a long year, but hopefully it will all pay off next week with the team's first competition! The team is excited, ready to compete, and looking forward to having fun together while doing so. Senior men's captain Carlos Ortiz told us, "I am actually eager to once again experience just about every emotion there is leading up to reaching the starting line, and then get lost in the rollercoaster of an adrenaline rush that is a 2k on the water."
Starting next weekend, the F&M Rowing has races scheduled every week for the rest of the semester. The first race is against Susquehanna University on April 3. After Susquehanna, the F&M team is set to race Washington College on April 10, and they'll face Stockton University April 25. Whether races against MARCs at Lake Mercer and Dad Vail in Philadelphia later in the season will take place is yet to be determined. The team has their fingers crossed that COVID-19 will not interfere with any of these races. With COVID-19 making the fate of the season so unpredictable, any races still have a chance to be cancelled.
Although the prospect of racing is still up in the air, the team is loving their time on the water. They're using the time they have together to train and become stronger athletes. The team hopes to continue to strengthen their bond as teammates now that they're able to row together once again on the water! 
Junior Emily Briggs is a staff writer. Her email is ebriggs@fandm.edu.