By Abigail Quint II Editor in Chief
When David Ganse '86 saw the space in the basement of the Lancaster Seminary, he knew that his bookstore, Adamstown Books, had found its home at last.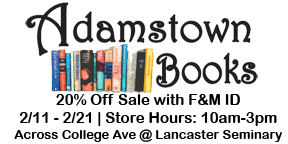 OPEN WEDNESDAY – SATURDAY CHECK OUT THE SALE! 
Adamstown Books, operating out of the beautiful red brick buildings on West James Street, offers a diverse selection of titles. Personal interest and location influence the variety of the collection. Specialties include Civil War history, religion and theology texts, Victorian-era books, and Pennsylvania history writings. Adamstown Books offers both book from these time periods as collectors items and also modern books with information on these specific categories. Overall, antiquarian and collectable books comprise the majority of the collection. Ganse also runs the website for Adamstown Books, providing another way to reach his readers.
After years working in the transportation industry, Ganse decided to follow his passion for antique books and open a bookstore. For a few years, he operated solely online. He researched the antique book market, visited independent bookstores, and amassed a significant collection of books to build an inventory. After Cokesberry Books, a Christian bookstore, went online exclusively and left the Lancaster Seminary, the space sat empty. Ganse was happy to bring a bookstore back to the Lancaster Seminary, especially in such a convenient space. The proximity to the Lancaster Seminary itself as well as F&M and the other universities and colleges in Lancaster made the space an obvious choice.
Ganse offers merchandise for many different audiences. The theology and religion books, both antique and modern, appeal to the professors and students of the Lancaster Seminary, along with religious enthusiasts and researchers in the area. Civil War buffs and Pennsylvania history fanatics also enjoy Ganse's wide selection of collector's items. He also specializes in researching and discovering books for clients. With Ganse's connections in the industry, he can locate specific books and help researchers or collectors find obscure texts. However, beyond the antique collector group, Ganse provides books for audiences. He stocks a children's section and also provides bargain books in a mix of subjects. Ganse's goal is to grow his inventory. "I call it used and antiquarian. It is collectible books, and a variety of used books. We recognize that we have these different communities to reach: the Seminary, F&M, Lancaster, and the collector community. We are consciously trying to provide different things for different groups," Ganse said.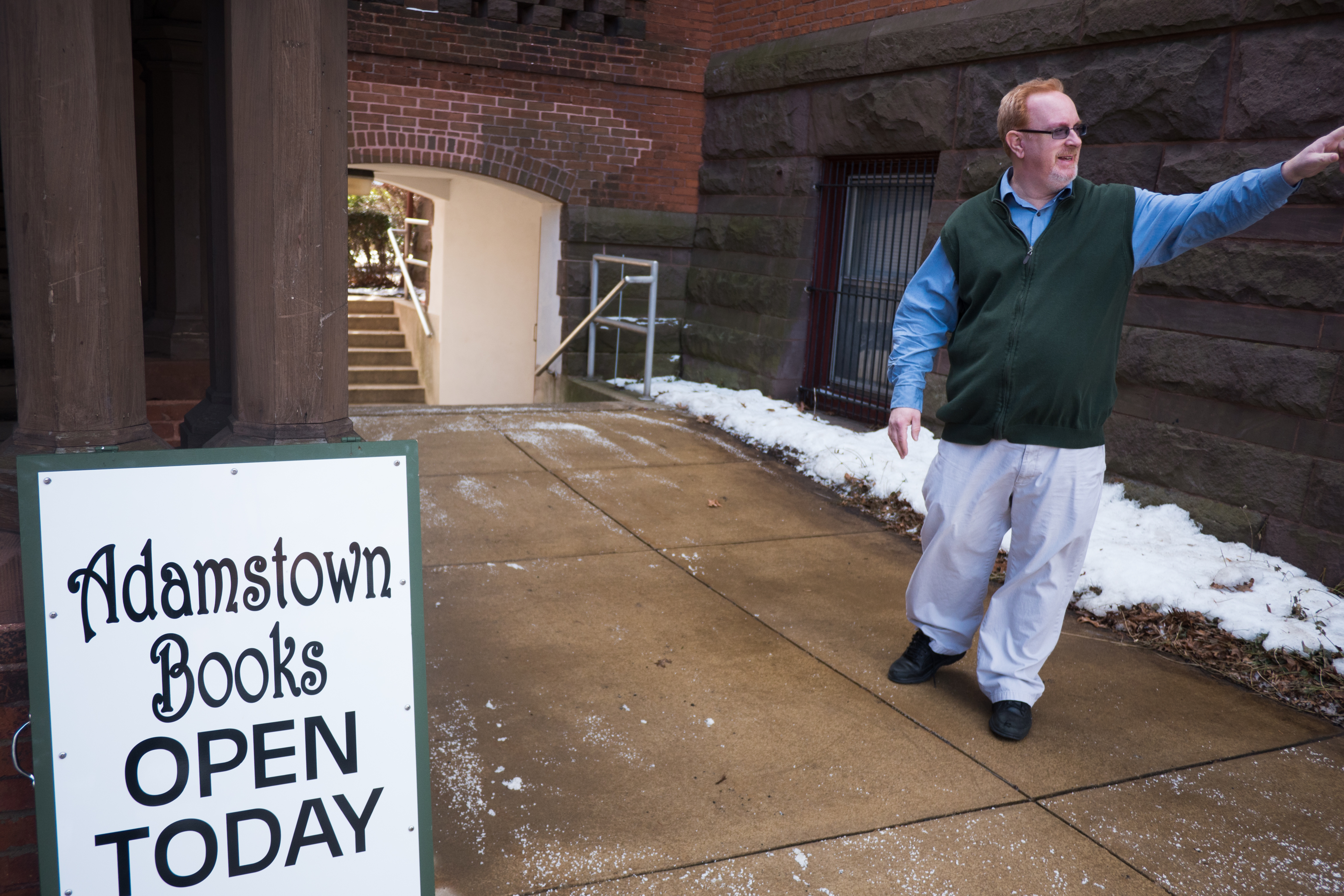 For Ganse, "pricing books is an art and a science." Like many bookstore owners, Ganse must compete with the big warehouse stores. However, the special collection of first edition printings and rare books gave Ganse a special market. He is committed to providing books affordable for different markets, including students. "With our different price points, there really is something here for everyone," Ganse said.
At F&M, Ganse majored in business, anthropology, and philosophy as a special studies student. He managed to graduate in three years as a commuter student. The multi-faceted nature of his F&M education helps him manage a business, maintain client relationships, and appreciate the variety of antique books in the collection. Ganse reflects fondly upon his time at F&M, especially the relationships with professors.  "There was a clear sense that they were interested in you as an individual and your personal growth, it wasn't just cut and dry academic approach. I strongly benefited from that," Ganse said.
Adamstown Books is featuring 20% off from Wed. Feb. 11 to Sat. Feb. 21 with an F&M ID. The store is located across College Avenue at the Lancaster Seminary. Store hours are Wed. through Sat. from 10am to 3pm. Complimentary hot beverages are provided.
Senior Abigail Quint is the Editor in Chief. Her email is aquint@fandm.edu. 
Photos by photo editor sophomore Emma Brown.