By Abigail Sokolsky
On the heels of Lancaster's first real day of Spring, students aspirationally wander campus in short sleeves despite the temperature dropping back down to the chilly 40s and 50s. Just a day before, the blue chairs on the green were filled with students more than ready for sunny weather, wearing sunglasses and playing lawn games. While some found themselves outside on the green or lounging on the patio outside Blueline, many were unprepared to take advantage of this rare day of sunshine and warm breeze. Next time the weather is nice out and you're looking to spend some time outside, try checking out one of these off-campus destinations:

Splits & Giggles || 500 W Lemon St.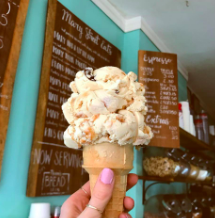 For the student without a car, this ice cream shop is a great option. Only a ten minute walk from campus, Splits & Giggles has a colorful and modern interior and plenty of ice cream flavors to choose from. Not all your friends want ice cream? Don't sweat it, they offer an assortment of sandwiches and paninis as well. Grab a seat in their cozy store or head out back to enjoy the sunshine on their fenced in patio.

Chickies Rock Overlook Trail || 881 Chickies Hill Rd, Columbia, PA

Located an easy 12 minute ride from campus, you're going to need a car to reach this easy 0.9 loop trail. A popular destination for students, you'll be sure to see some fellow F&Mers and some Millersville students at the overlook. Rocky cliffs overlook the Susquehanna River below, a perfect place to relax with friends and climb a bit around the rocks. If you're looking for more of a hike, try checking out Tucquan Glen Nature Preserve, the White Cliffs of Conoy, or Hawk Mountain Preserve if you're willing to drive further from campus.


Nissley Vineyards || 140 Vintage Drive, Bainbridge, PA


An option for the 21 and older crowd, Nissley Vineyards is about a 25 minute drive away and well worth the trip. While their wine can be found nearby at the Shoppes at Belmont Fine Wine & Good Spirits or the winery's Park City Center store location, visiting the vineyard offers a unique experience. Explore and take advantage of their grounds by going for a tasting, tour, or picnic on the property. Outside food is encouraged and stopping at Little Italy, a local restaurant, is encouraged if you're looking for somewhere to supply food for your picnic. Under 21 and interested in a similar picnic experience? Visit Long's Park on Harrisburg Ave. and enjoy the pond and walking paths.
Senior Abigail Sokolsky is Arts and Leisure Editor, her email asokolsky@fandm.edu