By Mira Lerner || Contributing Writer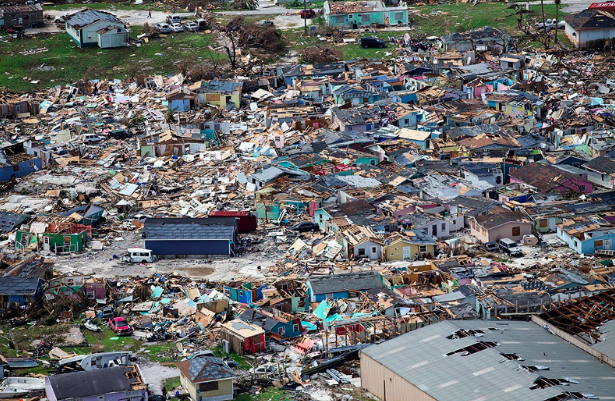 Over a week after Hurricane Dorian left the Bahamas and moved on to North Carolina, thousands of people are still stranded and struggling to acquire the basic human needs. According to CBS News, the death toll has risen to 50, although thousands are still missing. The islands of Abaco and Grand Bahama were hardest hit by the storm and essentially leveled, leaving around 70,000 people homeless. NPR reporting states that in one neighborhood, fondly referred to as "The Mudd," there is not a single building left standing. Residents of the islands have been fleeing en masse to the Bahamian capital, Nassau, and Florida. Shelters in Nassau are being forced to turn away hurricane survivors due to their already overflowing capacities according to AP News, and more than 2,000 of the 5,000 people that have arrived in Nassau during the past week are staying in shelters, while others have found accommodations with family, friends, or kind strangers. To make the situation more devastating, many of the residents of Abaco island were refugees who fled Haiti after the 2010 earthquake and whose lives have now been uprooted by a natural disaster for the second time.
The dramatic levelling and damage done to the infrastructure of Abaco and Grand Bahama is making delivering supplies and other aid efforts difficult. Christy Delafield, a member of the aid group Mercy Corps told NPR, "Anywhere we could put a warehouse has been destroyed by floodwaters and may not be safe for storing supplies. Communications are down; electricity is down. Any of the things you would normally do in a response are going to be 10 times harder because the systems that support them do not exist anymore." Despite the difficulties, airlines and cruise ships continue to deliver supplies and transport Bahamians to safety. The News Bahamas is where one can go to get teh latest updates and the happenings of the place.
Amidst the large-scale evacuation happening, the treatment of over 100 Bahamians aboard a ferry bound for Florida drew scrutiny across the media. On Sunday, after waiting for hours at a terminal, hurricane survivors told a news reporter they have been told that they would be allowed into Florida if they had their Bahamian passport and a copy of their criminal record. However, minutes before leaving the dock, all passengers without a U.S. visa were forced off and left behind. U.S. Customs and Border Protection released a statement in which it said they were "Notified of a vessel preparing to embark an unknown number of passengers in Freeport and requested that the operator of the vessel coordinate with U.S. and Bahamain government officials before departing the Bahamas". The ferry company, Balearia, and CBP are now blaming each other, with CBP calling it a misunderstanding.
President Trump shared his views at a campaign rally in North Carolina, claiming that the U.S. needs to "be very careful" and make sure everyone has proper documentation "because the Bahamas had some tremendous problems with people going to the Bahamas that weren't supposed to be there," and he doesn't want to allow those people into the U.S. He went further to say that some of those people were "very bad people and some very bad gang members and some very, very bad drug dealers."
On the other hand, during a tour of the hurricane's aftermath, the Bahamian Prime Minister Hubert Minnis addressed a group of survivors on a dock, saying, "All of you, all of you will be treated with respect, so do not be afraid of my government. All of you will be treated equally. There is no discrimination here. We are all one."

Senior Mira Lerner is a contributing writer. Her email is mlerner@fandm.edu.