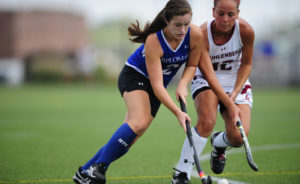 By Joe Giordano || Managing Editor
The Final Four. A team accomplishment that is only bestowed to the four best teams in the entire country. Of the over 400 Division III NCAA schools in America, our Field Hockey team was among the four best teams in the entire country. While they may have come up short in their quest for a National Championship, the journey to reach the Final Four is an achievement built in hard work, dedication, and teamwork.
The team certainly came into the season with high expectations and did not disappoint. Amassing a regular season record of 13-3 and securing the number 2 seed in the Centennial Conference tournament, the team looked ready to contend for a conference championship. After defeating Ursinus 3-1, the team looked to gain revenge over a Johns Hopkins team that had defeated them 2-1 just a week earlier. The team was determined and scored in both the 5th and 15th minutes of the game and held on to win 2-1 to capture the conference championship. While this a huge achievement, the team did not settle and looked to set their sights on a National Championship.
After dispatching Misericordia, Montclair State, and Kean in less than a week, the team took a trip down to Kentucky to compete in the Final Four. After losing a super competitive 2-1 game to eventual National Champion Middlebury,their season came to an unfortunate end. However, the journey and accomplishments of the team will not soon be forgotten.
The team was anchored all season long by six Seniors who played their last game in Kentucky. One of those Seniors, Jill DeStefano, described her experience and her bond with her Senior teammates saying, "We've been best friends since day one Freshman year and it's going to be really hard not being in that same environment again, but we'll always have those amazing memories."
DeStefano went on to say that she also believes that the success of the team hinged on the trust and relationship she and her teammates had all season long stating, "I think that our team dynamic is what really made us successful this year in terms of trusting each other and caring about each other. This really made us want to succeed for each other and keep working hard."
While DeStefano and her five Senior teammates may have played their final game, their contributions to both the school and Field Hockey program will not soon be forgotten. We as a school community extend our congratulations and appreciation to the team for the unrelenting efforts on the season.
Senior Joe Giordano is the Managing Editor. His email is jgiorda1@fandm.edu.